The thing about this mushroom and rocket pesto quiche is that it's so simple to make yet it feels all kinds of fancy. I think it's the pesto.  It elevates it to another level and is quite unexpected, as is that vivid green colour. I also love that whilst you can make the pesto yourself as I've done here, you can also make it easy on yourself and buy one from a store.  There are so many lovely varieties of pesto out there too, so you can really play around with the flavours.
I'm playing a little with the pastry too.  I do love a cheesy shortcrust as I adore how crusty and crumbly it is but also has a nice firm sturdiness to it that means you can hold a slice in your hand gif you need to.  Plus the cheese really compliments the quiche filling ingredients too.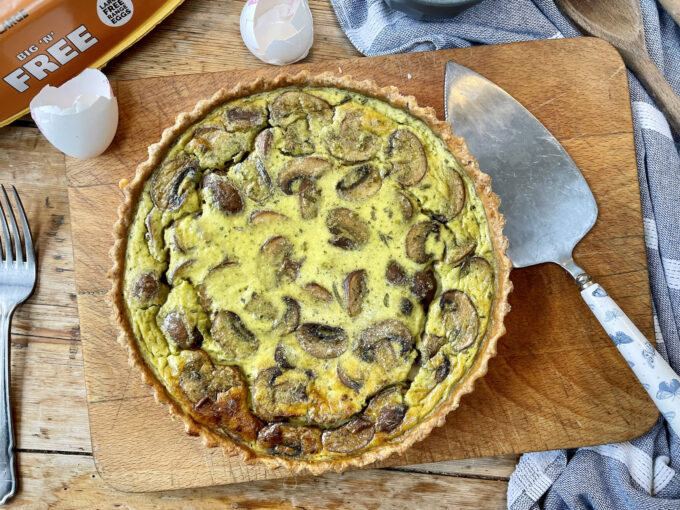 I'm using some wonderful eggs from the Free Range Ethical Eggs Company.  As you can imagine, not only am I delighted by their wonderful ethical status but also at how fabulously delicious they are!
for the cheesy rye flour pastry
150g plain flour
100g rye flour
100g butter
50g finely grated Emmental cheese (or any strong cheese)
1 teaspoon finely chopped fresh herbs – I used thyme and rosemary
water to mix
for the filling
roughly 8 to 10 mushrooms of your choice (I used chestnut mushrooms) – thickly sliced
3 or 4 tablespoons of pesto – use this recipe and replace the nettles with rocket
a garlic glove – grated
butter and olive oil
fresh rosemary and thyme– finely chopped
salt and pepper
3 large free-range eggs – lightly beaten
100ml single cream
2 tablespoons Greek Yoghurt
a little milk to loosen the mix
I'm using a 23cm fluted tart tin with a loose bottom, which I've buttered liberally.
THE PASTRY
make the pastry by rubbing the butter into the flour in a large bowl until you have something resembling breadcrumbs, stir in the grated cheese and fresh herbs then add a tablespoon or two of cold water and bring together into a dough with your hands, you may need to add a little more water to create the dough but you will feel how 'short' the pastry is.  Wrap in cling film and pop in the fridge for at least 30 minutes
SAUTÉ THE MUSHROOMS
in a large pan gently melt a generous amount of butter with a little olive oil and add the mushrooms and gently sauté until starting to soften and take on a little colour (roughly 5 mins).  Add the garlic and chopped herbs and sauté for another few mins.
Turn off the heat and set aside whilst you roll out your pastry.  Season well with pepper and salt.
Now your pastry should be ready, roll it out and line your greased quiche pan. Place it onto a metal baking sheet. This will guarantee a cooked and crispy bottom as we're not blind-baking.
In a bowl, beat the eggs into the cream and yoghurt.  Stir in the pesto. Pour the sautéed mushrooms into the pastry case followed by the yoghurty egg mix and bake on 160C for about 25-35 minutes until golden and set, set aside on a wire rack to cool. Carefully remove from the tin to serve.
For more quiche recipes, check these out on Dom in the Kitchen.
Eat and of course, enjoy!