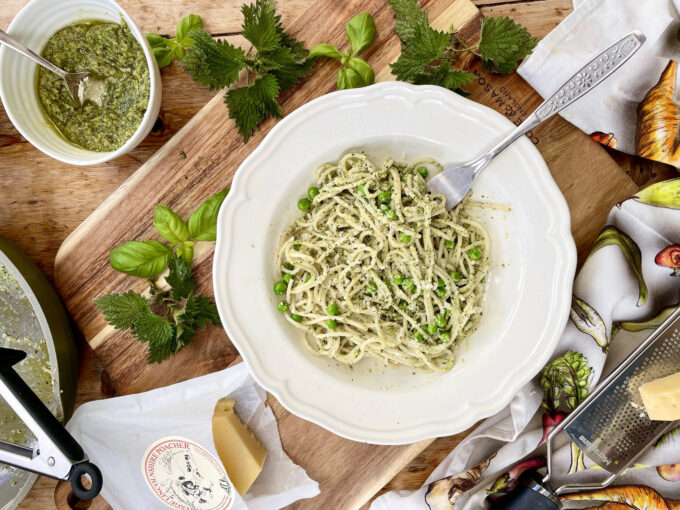 This nettle, pea and basil pesto pasta is a celebration of the humblest of roadside weeds.  Whilst the stinging nettle wouldn't be everyones first choice as food it is actually delicious and packed with antioxidants, vitamins and more iron than spinach.
It may seem odd to choose a plant that has so much childhood trauma associated with it but honestly, the stuff grows everywhere and it's free and healthy.  What more can we ask for?  Be sure to try and pick the younger smaller plants and take the top 4 leaves only.  They're juiciest!
if you're still not convinced, or too worried about picking them you can replace the same amount of stinging nettles with spinach, rocket or watercress, or even just more basil and peas.
25g fresh nettle leaves – use the top 4 leaves if possible.
25g peas – I used frozen peas
25g fresh basil leaves
75g parmesan or vegetarian hard cheese – finely grated
75g pine nuts or chopped walnuts
120ml Extra virgin olive oil 
3 garlic cloves
Salt and pepper
Remove the peas from the freezer 10 mins before you make this recipe.  If you forget to do this then let them sit in a cup of boiled water for a couple of minutes, then drain well and set aside.
Wear a pair of washing up gloves to handle your stinging nettles.
Place the nettles into a steamer and steam them for no longer than 1 minute to remove the stinging properties. Don't over-steam them or they lose their flavour.  Once steamed you can handle them without gloves.  If you don't have a steamer, place the nettles in a bowl and pour a little boiling water over them. Place a plate over the bowl and leave them for 1 minute.
Making the Pesto
To make my pesto I'm using my smeg handheld blender that is basically a mini food processor.  it doesn't have access to drizzle in oil so I did the 'all in one' method and quite frankly it worked superbly so I recon this pesto could be made in a Nutri bullet or any kind of blender.
Remove the nettle leaves from the stalks, then add the leaves, along with the peas, basil and nuts to a food processor and pulse several times to mix. Add the garlic, cheese and oil and pulse again until you have a lightly chunky pesto.
Stir in salt and pepper to taste.
Cook the pasta as per the instructions and once drained, mix the pesto through and serve hot. Try and keep a cupful of pasta cooking water to mix in with the pesto as it will help lubricate the dish. I've thrown in a few peas at this point to add a little more sweetness to the dish.
For more pasta recipes, check out these on Dom in the Kitchen.
Eat and of course, enjoy!