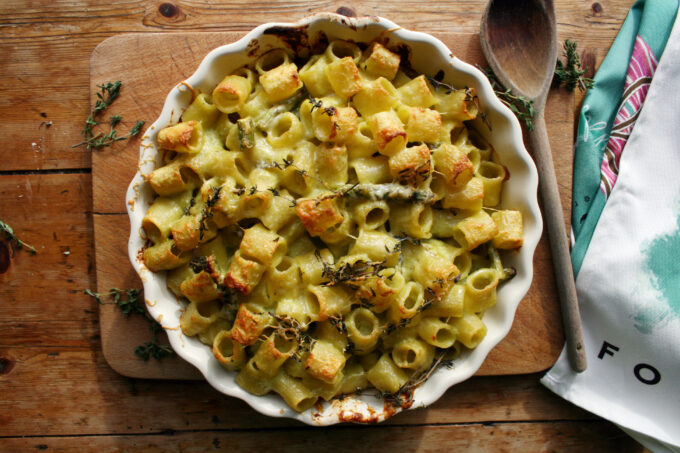 This pea, asparagus and greek yoghurt pasta bake is such a simple concept but it tastes so good.  I'm also so glad it turned out OK because I was kind of making it up as I went along. I'm usually quite confident about savoury pasta dishes where I just 'throw things into a pan' but I wasn't quite sure if my concept of blending the sauce ingredients would work.
Asparagus
I'd picked up some wonderful asparagus from the local greengrocer. I simply adore asparagus and usually wait until the British grown stuff comes into season but something tempted me to buy it and I'm so glad I did.  The taste reminds me of warm Spring days and balmy Summer evenings which is exactly the vibe we all need right now.
It's a one pot dish which is always a bonus although I did then tip it into a second ovenware dish to bake, it could have actually just gone into the oven in the pan I sautéed everything in.
500g pasta – I used mezzi rigatoni from Sainsbury's
1 bunch asparagus (roughly 8 stalks) – chopped
2 banana shallots – finely chopped
2 cloves garlic – crushed
bunch of fresh thyme
100g frozen peas
1/4 litre stock made with milk and a teaspoon of stock powder
250g Greek Yoghurt
150g strong cheddar cheese – finely grated
Pre-heat the oven to 180C.
Boil the pasta according to the packet but take it off the heat about 3 minutes less than stated, drain and set aside
Sauté the onions and garlic in a little butter and olive oil until beginning to soften.  This should take about 5 mins, then stir in the time and cook for another couple of minutes.
Add the chopped asparagus (chop the tips larger and the rest of the asparagus into finer chunks) and stir in, let it gently sauté for about 5 mins, then stir in the peas and let them sauté for another 4 mins. Take out the asparagus tips only and set aside.
Pour in the stock and let it bubble away for a few minutes until everything is super-soft. Now blend with a stick blender until completely smooth.
On a very gently heat, stir in the yoghurt and the cheese and stir until it's all melted and combined, then tip in the pasta and asparagus tips and stir together.
Pour it into an oven-proof dish, sprinkle with cheese and bake for about 20 mins until golden and crispy on top.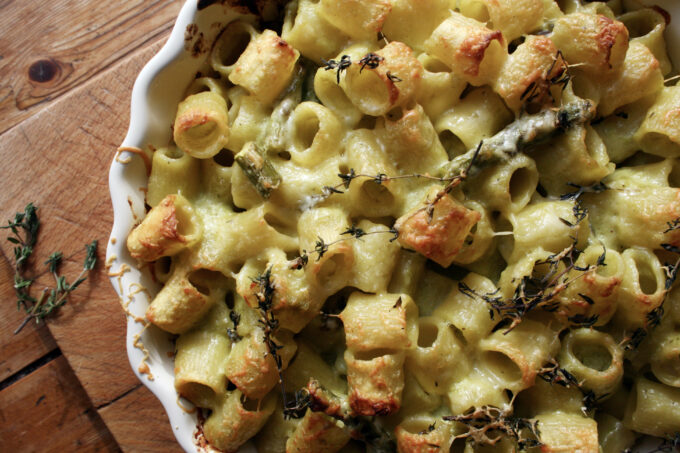 Eat and of course, enjoy!