Oh my word this banana, espresso, choc-chip traybake is so unbelievably good but just so naughty.  I had such a craving for something sweet but I think I went a little bit overboard. Especially when I added the chocolate caramel condensed milk icing that is quite frankly, filthy!
I've been trying quite hard recently to lose a little belly fat.  I've found that now I'm in my 50's it's a task that is a lot harder to do than when I was in my twenties, although I am actually slimmer now than when I was in my twenties so I guess I should be thankful for that! I know I have to reduce calories but it can be very hard during lockdown, especially with the amount of rum I'm consuming!
So I caved and made these.  I don't regret it, they are so good!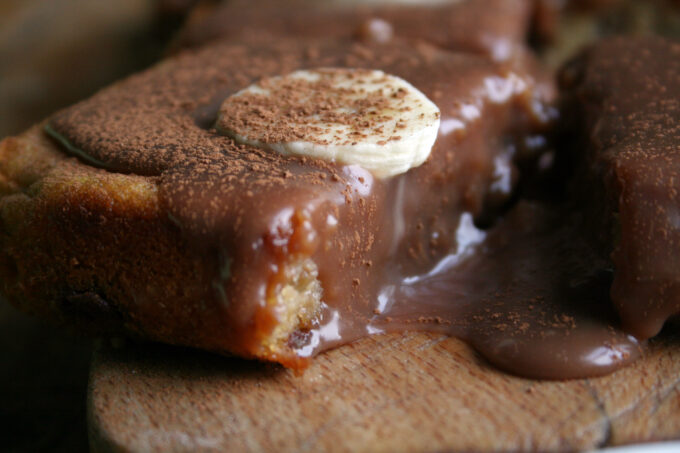 for the traybake
185g self-raising flour
3 free-range eggs – mine were medium in size and weighed 185g in their shells
185g caster sugar
150g chocolate chips
185g butter – soft
2 shots of espresso (which I made in my wonderful smeg coffee maker)
1 teaspoon vanilla bean paste
2 ripe bananas – mashed
for the icing
175g tin of condensed milk
100g chocolate -cut into chunks
100g butter
Make the icing first by melting everything very slowly in a pan on a very low heat.  Stir constantly.  Once everything has combined take it off the heat, transfer it into a bowl or container and pop it in the fridge whilst you make the traybake
Grease and line a 20cm x 30cm baking tray with parchment paper and pre-heat your oven to 170C fan
Beat the butter and sugar until pale and fluffy – this takes roughly 6 mins in a stand mixer or about 10 mins in a bowl with a wooden spoon.
Beat in the eggs and half the flour until well combined, then beat in the remaining flour, mashed bananas and vanilla. Finally fold in the espresso and the chocolate chips.
Pour into you baking tray and bake for 30 mins or until it's golden on top and springy to touch. Set aside to cool completely before slathering in the filthy icing
Eat and of course, enjoy!