mushroom cream-cheese oven-baked orzotto
Unless you've been living under a rock you can't have failed to notice the bonkers tik-tok feta and tomato pasta dish that's been seen a billion times across the globe. Essentially some clever kid in Scandinavia baked a block of feta with some tomatoes and garlic and then stirred it into cooked pasta.  It's actually a really clever idea, quick and simple yet full of flavour and encourages cooking with fresh ingredients which I'm all for.
Orzo
This mushroom cream-cheese oven-baked orzotto is a simple twist on this which swaps out the tomatoes for mushrooms, the feta for cream cheese and the pasta for orzo. Plus it's all baked in the oven – even the pasta, like an oven-baked risotto.
If you've not cooked with orzo before, it's absolutely brilliant stuff. It looks like rice and can be treated just like rice but it is in fact pasta. Orzo works really well in oven-baked dishes but is also superb to add to soups and stews to add a little bite.
This recipe is a one-pot-meal which is genius and saves a lot on washing up and hassle.  I wanted to pep-up my lunches and I think this is my new favourite lunchtime recipe.
This was enough to feed 2 adults at lunchtime but the recipe is easily adaptable
1 medium onion – finely chopped
150g mushrooms – I used a mix of baby portobello and chestnut mushrooms
2 cloves garlic – I left them in their skin
1 teaspoon fresh or dried thyme
1 round of Boursin – choose a flavour you like, I went for garlic and herbs
olive oil and seasoning
1 cup / 200g orzo pasta
1 cup / 200ml boiling water – you may need a little more, so keep it on hand
100g frozen peas
Pre-heat the oven to 180C fan. You will need a medium sized baking tray or oven-proof dish.
Lay the mushrooms, onions, and garlic into the dish and season well with salt and pepper.  Drizzle with olive oil and stir well.
Make a space in the middle of the dish for the cream cheese and lay in out.  Drizzle a little olive oil over the cheese and then scatter some herbs all over. Bake for 30 mins.
Sprinkle the orzo onto the dish and stir it all together.  As you stir, squeeze the now soft baked garlic out of it's skins and discard them. Pour over the boiling water and stir together.  Bake for a further 10 – 15 minutes depending on how el-dente you like the pasta.
Halfway through the baking, stir in some frozen peas.  You may at this stage need to add a little more water, just half a cup should do it.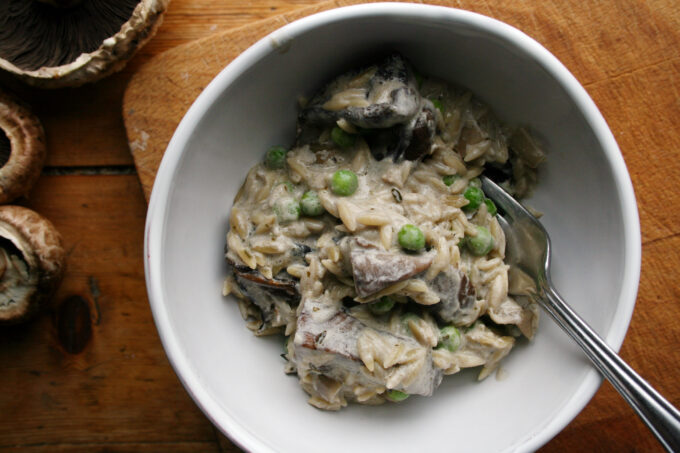 Eat and of course, enjoy!