Sometimes a simple soup can lift a day.  This spinach and mushroom soup is the perfect antidote to a week of chilly grey days that seemed to have dragged.  My body has a way of telling me that it needs something less complicated and a little healthier and I was drawn to the big bag of spinach on the list at our local on-line greengrocers and I'm glad that I reached for it.  The soup is earthy and rich. The combination of mushroom and spinach is an absolute classic and although you may not think it would work well in a soup it in fact does very well.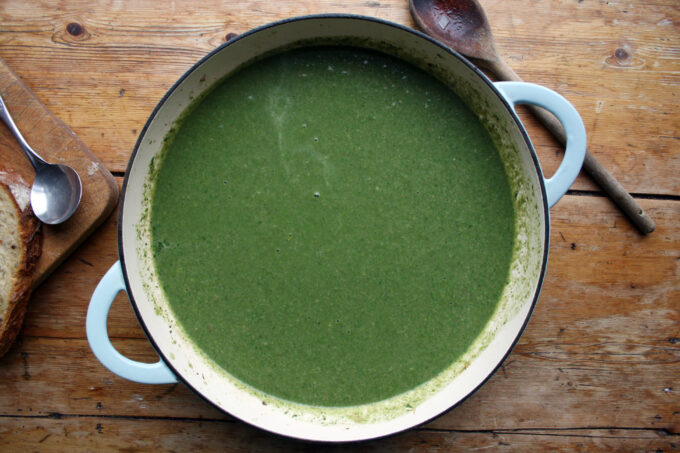 Mum's the word
When it comes to soup no-one knows better than my mum.  She's a soup magician and can conjure a bowl of something glorious seemingly out of thin air.  If you've got an onion and some veg in the back of your fridge, she can create wonders. Very often I will just chuck a few things into a pan and hope for the best but when mum does it, it seems to turn out really well.
This spinach and mushroom soup is one of her classics.  She'll randomly just send me the recipe to remind me to make it. I'm so glad she does as it's superb.I'm making it for 2 of us and think this is enough for a couple of bowlfuls each but obviously you can double the recipe for more.  I am also using fresh baby spinach but frozen spinach works just as well, in fact mum would probably say it works better. Just substitute like for like.
1 medium onion – finely chopped
one medium potato – finely chopped
250g mushrooms – I used chestnut mushrooms but any would work – finely chopped
2 cloves of garlic
plenty of freshly ground pepper (I don't add salt until the end because sometimes the stock can be salty enough)
250g bag of fresh baby leaf spinach (same weight in frozen spinach is good)
1 litre good quality vegetable stock
2 tablespoons greek yoghurt (optional but makes it really pop!)
In a large pan heat some olive oil and a little butter on a gentle heat. Add the onions and potatoes and sauté for about 5 mins until both begin to soften.  Add the mushrooms and stir around until everything is coated in oil and butter. Let the veg gently sauté for another 5 mins until the mushrooms begin the yeald.
Add the garlic and plenty of freshly ground pepper and let the garlic cook off for another few minutes.
Pour in the stock and let the whole pot simmer for about 10 minutes (if using frozen spinach, add it at this point.) Place the fresh spinach on top, place the lid on and let the spinach wilt into the soup. This should take no longer than 5 mins.
Take the soup off the heat to cool by half (roughly 15 minutes) then add a couple of dollops of greek yoghurt and blend the whole lot together with a stick blender.
Serve with another dollop of yoghurt and plenty of freshly ground black pepper.
Eat and of course, enjoy!