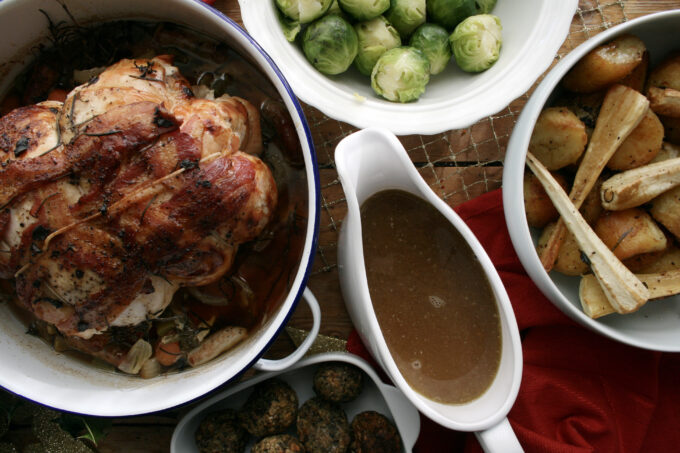 Sixmas Course 4 – The Main Event
OK, so go for a turkey if you want a turkey but even a small turkey is quite large for 6 people.  Why not take a visit to your local poulterer and ask them to build you something for 6.  I visited the wonderful folk at A. Dales & Sons Poulterers in Louth, explained what I wanted and a week later he had created this incredible beast for me.  It's essentially a turkey crown but to keep it gloriously moist it's got pork mince wrapped in pheasant breast which is then tied into the crown, which has a layer of yummy bacon wrapped around it. How incredible does that sound?
I'm serving it with the classics, I genuinely think people over do it on Christmas Day for no reason last all, so I'm making roast potatoes (who needs two types of potato, that's just mean on the host?) Then, parsnips, carrots and Brussels sprouts.  I'm not going to tell you how to cook yours because we all have our favourite way (here's the trimmings I made last year)  but what I am going to give you a recipe for is the best gravy in the world. You can never have enough gravy for Christmas lunch and this one is simply epic.  It's a twist on an amazing recipe by Jamie Oliver and it's quite literally a meal in itself. This you most certainly want to and can make in advance and freeze.  I always double the recipe because it's just so popular.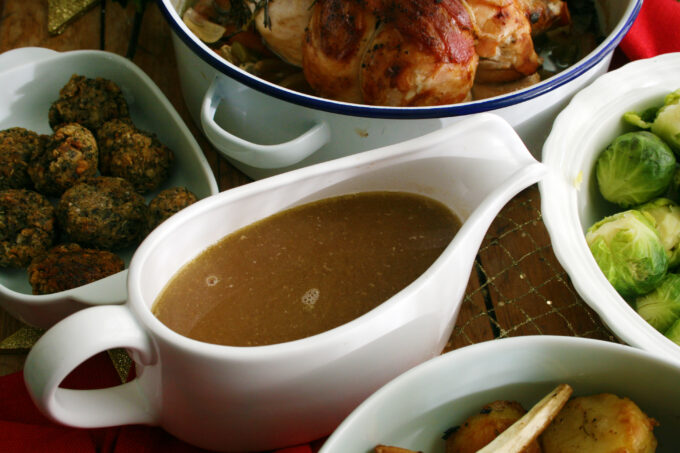 2 onions
2 carrots
2 sticks of celery
2 rashers of higher-welfare smoked streaky bacon
2 fresh bay leaves
2 sprigs of fresh sage
2 sprigs of fresh rosemary
2 star anise
10 free-range chicken wings
olive oil
60 ml sherry or port , optional
4 tablespoons plain flour
2 tablespoons cranberry sauce
Preheat the oven to 180ºC/350ºF/gas 4.
Peel the onions, wash the carrots, then roughly chop with the celery and bacon. Put the veg, bay leaves, sage, rosemary and star anise into a sturdy high-sided roasting tray, then scatter the chopped bacon on top.
Break the chicken wings open, bash with a rolling pin to help release extra flavour as they cook, then add to the tray. Drizzle with oil, season with sea salt and black pepper, toss, then cook for 1 hour, or until tender.
Remove the tray from the oven and transfer to a low heat on the hob. Really grind and mash everything with a potato masher, scraping up all the goodness from the base of the tray (the longer you let it fry, the darker your gravy will be). If you want to add sherry or port, now's the time to do so; just leave it to cook away for a few minutes.
Gradually stir in the flour, then pour in 2 litres of boiling kettle water. Simmer for 30 minutes, or until thickened and reduced, stirring occasionally.
When the gravy is the consistency of your liking, pour it through a coarse sieve into a large bowl, pushing all the goodness through with the back of a spoon. Taste and season to perfection, cool to room temperature, then pour into containers or bags and pop into the fridge or freezer, ready to finish off on Christmas Day.
My Sixmas Dinner so far: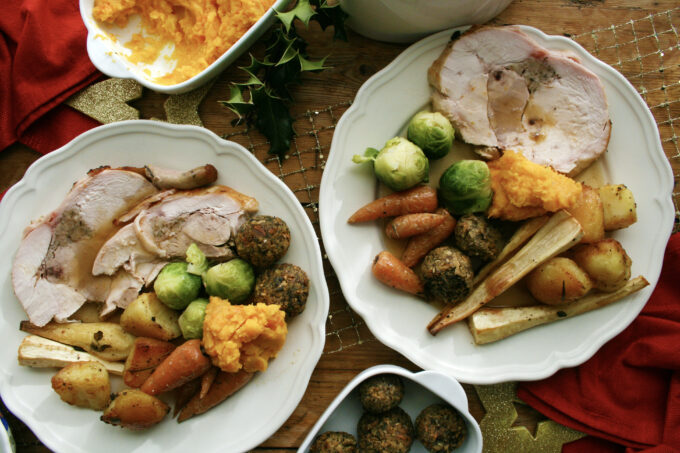 Eat and of course, enjoy!