Sixmas Course 3 – Smoked Salmon Terrine
So part of the beauty of my Sixmas concept is that you're not supposed to sit down and eat it all in one go, I love the idea that you spread this meal out a little – take your time to eat it.  Have a glass or two of bubbles between each course.  There is no rush, you have all day.
This Smoked Salmon Terrine is an absolute classic and whilst it looks fancy it's actually really simple to make.  It's light and not terribly filling so works perfectly as a little break between courses.  Served with a crunchy slice of melba toast is the done thing and actually won't fill you up too much. For a simple veggie version, use thinly sliced courgettes instead of salmon.  I season them well and griddle them first, then set aside to cool. Again, this can easily be made the day before and kept in the fridge.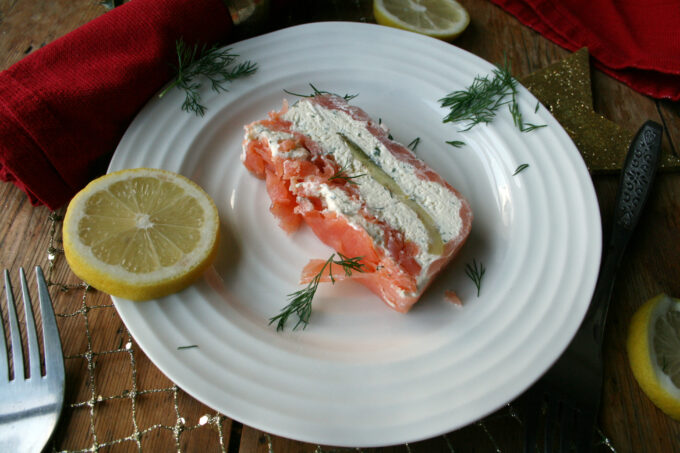 600g smoked salmon slices (I'm using slices and trimmings to save a little money)
600g cream cheese
150ml double cream
zest and juice 1 lemon, thin wedges to serve
1 tbsp very finely chopped dill, plus a few fronds to serve
2 tbsp finely snipped chive
a little oil, for greasing
melba toast or toasted soda bread, to serve
Grease a loaf tin, a 900g/2lb one is ideal but you can use one slightly smaller or bigger. Line with cling film, then cover just the base with one layer of smoked salmon slices, trimmed to fit neatly.
Whizz the cream cheese, cream, lemon zest and juice together in a food processor to combine. Scrape out and stir in the dill and chives with some seasoning. Spread an 8th of the cream cheese mixture over as evenly as you can. Top with a layer of salmon slices.
Repeat with the cream cheese and salmon – you should be able to do 7 layers of cream cheese (By starting with just an 8th of the mixture, it means as the tin widens you'll have enough to put a bit more as you go further up creating even layers.) Finish with a last layer of salmon (and treat yourself to a smoked salmon sarnie with any trimmings!) Cover with cling film, pressing down gently, then chill overnight.
To serve, turn onto a platter and gently peel off the cling film. Scatter with a few dill fronds and serve with lemon wedges and toast.
My Sixmas Dinner so far:
Eat and of course, enjoy!