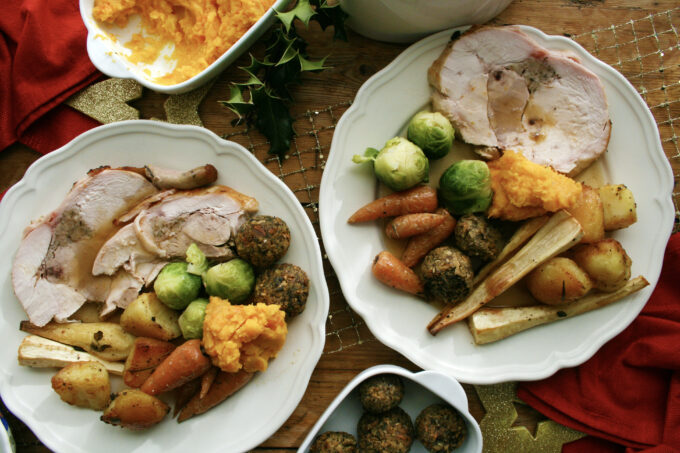 Well, it's the 1st of December so it's officially Christmas and I thought I'd kick off with something festive for the week ahead!
There's a lot going on out there in the world and I think if you're anything like me you're searching for some stability and tradition this Christmas.  It's unlikely I, or anyone else for that matter, can currently offer you the stability but a little bit of tradition should hopefully help us all feel just that little more festive.  So I've devised a Christmas dinner menu for 6 people that takes all the best bits of the big day that I've always loved and offer them up in 6 courses.  From a fancy and very festive Christmas Cocktail, The Christmas Spritz, through to the classic trifle with a twist, there should be something here for everyone and whilst yes, it may seem that there's a lot going on here but let's face it, it's likely we're all going to have a lot of time on our hands over the next few weeks. It's all pretty traditional stuff and I'd encourage you to speak with your local greengrocers and poulterers and get them to do as much of the primping and preening as possible.
Today's offering is the Sixmas Course 1 – The Christmas Spritz.
Sixmas Course 1 – The Christmas Spritz
This is the perfect way to start any meal and I love to serve it once everyone has sat down.(Rather than before the meal when everyone is already giddy with booze.)  It's a moment to take a moment.  A breather for the chef and the guests, to raise a glass and think of loved ones. It's a simple champagne cocktail but has rum and wintery spices to warm it up and make it festive.
60g golden caster sugar
30ml water
1 tbsp allspice
200ml rum (I'm using a dark spiced Rum called Kraken)
90ml lime juice
600ml champagne
orange twist
Makes six cocktails – you will need 6 champagne glasses.
First we make a spicy syrup. Gently warm the golden caster sugar in a pan with the water and allspice. Cook gently until the sugar has dissolved, then leave the mixture to cool. Strain through a sieve lined with a coffee filter (or a double layer of kitchen paper).
Pour 60ml of the spiced syrup into a cocktail shaker along with 200ml rum and 90ml lime juice. Shake with ice and strain between six flute glasses. Top up with 600ml champagne and garnish each with an orange twist.
My Sixmas Dinner so far:
Drink and of course, enjoy!