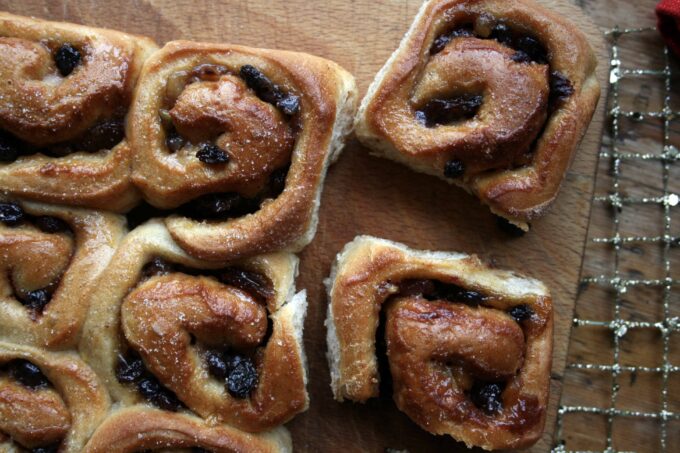 mini mincemeat Chelsea buns – #PassThePlate
I've made these mini mincemeat Chelsea buns to launch a little campaign that me and my dear friend Lisa Potter Dixon have created called Pass The Plate.
As a food writer and blogger I make a lot of food and I love that I share this passion with the people who follow my ramblings. I'm also very aware that many of us can be a little wasteful when it comes to food and that there are many people who aren't in the same fortunate position as me. Especially this year. So I wanted to do something about it.
People often ask if we eat all the food I cook and whilst I try to cook, photograph and share what we're going to be eating that week I very often have surplus cake or batches of soups and stews. I share as much as I can with my neighbours and friends and it's mostly often very well received but there's always an excess. I think it's something many of us do, particularly at this time of the year. My friend, the amazingly talented Lisa Potter Dixon feels the same way. We can't help but be excessive as we want to share our passion for food.
So for the next couple of weeks me and Lisa would love you to pledge to #PassThePlate to someone who may need it or love the gesture.
Maybe it's a tray of mince pies, maybe it's that extra portion of beef stew or maybe it's a plate of Christmas Dinner, with all the trimmings. Simply pack it up and pass it on.
We all know someone who's going to be alone this festive period, this year more than most; Is there a friend who has a grandparent who lives near by that they can't get to? Is there that dear sweet old chap who always says hello as you walk by? Why don't you connect with them and offer them your extra portion this Christmas?
There's no specific time that you should do it but we'd suggest any time between now and New Years Day would be perfect.
And don't worry, we've researched the health experts about cooking food for others during the pandemic and it's perfectly safe to do as long as you cook in a clean and safe environment, follow all the current guidelines of 'hands, face, space' as well as encouraging them to reheat the food properly if that's what they need to do.
It would be fab if you could share what you've passed on, via instagram using the #PassThePlate hashtag.
I decided to make a batch of mini mincemeat Chelsea buns to give to my neighbour Ann who hurt her shoulder a couple of weeks ago.  She's been so generous with giving us hens eggs, plums and apples over the past few months that I wanted to give her something sweet to cheer her up.
I've used the recipe below but instead of rolling one big log I divided the rolled out dough into two long oblongs and rolled them up.  I divided them into 24 swirls and baked 24 in a batch in a Swiss roll tin and baked 24 in a mini-cupcake tray.
for the buns
500g strong white bread flour, plus extra for dusting
30g caster sugar
1 tsp salt
7g (1 teaspoon or 1 packet) fast-action dried yeast
300ml whole milk
75g unsalted butter, plus extra for greasing
the zest of 1 clementine
2 tsp mixed spice
1 large free-range egg
for the filling
100g unsalted butter, very soft or at room temperature
100g light brown sugar
1 large jar mincemeat
1 large pear – grated
the zest of 1 clementine
100g mixed dried fruits
for the glaze
50ml milk
50g caster sugar
start with the dough… put the flour, caster sugar, salt and yeast into a large bowl and set aside. Put the milk, butter, clementine zest and mixed spice into a small saucepan and cook over a low-medium heat until all the butter has melted. Set aside until just lukewarm.
make a well in the middle of the flour mixture, then pour in the milk mixture and add the egg. Mix with your hands to form a rough, soft dough. Tip out onto a lightly floured work surface and knead for about 10-15 minutes until smooth and elastic. (I did this in my stand mixer, using the dough hook on low speed for 10 minutes.) then put the dough in a lightly greased bowl and cover with cling film. Leave it to rise for about 1-1½ hours or until it has doubled in size.
once it's risen, tip out the dough onto a lightly floured work surface and use a rolling pin to roll into a 40cm x 50cm rectangle. Using a spoon or spatula, spread the 100g butter in an even layer across the entire surface of the dough, then spread the mincemeat, grated pear, clementine and sprinkle over the 100g sugar. Top with mixed dried fruits and gently press with your hand to secure in place. Roll up the dough into a cylinder along the long edge, keeping the spiral tight. Using a sharp knife, cut into 12 even slices.
grease and line a baking tin roughly 20cm x 3cm and arrange the buns snugly in the base. Cover the tin with cling film, set aside and allow the buns to prove for 45-60 minutes until risen and puffy. While the buns are proving, heat the oven to 180°C Once proved, bake the buns for 25-30 minutes or until golden brown. While the buns are baking, prepare the glaze: put the milk and caster sugar in a small pan, then bring to the boil over a low heat. Remove and allow to cool.
Remove the buns from the oven and immediately brush with the cooled milk glaze, then sprinkle over some demerara sugar.
Eat and of course, enjoy!
If you want to join in please join and tag me and Lisa over on Instagram and don't forget to use the #PassThePlate hashtag!