… well this week has been quite something hasn't it? I guess many would think that a food blog is not the place to mention the terrible events of last Saturday in London Bridge but I consider my blog a personal space and have often reflected the way the weekly events have affected my life. Plus I think it would be hard and perhaps remiss of me to ignore them. As much as we all eat and drink we also all live in this world and as a Londoner I can tell you that these recent events have affected me greatly. These are the streets where we play. Where we conduct our everyday business. The places where we eat. Even more poignant for a food-lover, Borough Market is the cool epicentre of food innovation with its incredible stalls of international goods. It's the first place I send any visitor who loves food and wants to explore. It has a resonance for us that simply brings it all closer to home… and whilst we hear the amazing stories of heroism and resilience – and I truly believe we are a city and a nation where the phrase 'keep calm and carry on' is more than just a meme, it's our national motto, I also cannot help but to take a second to deeply feel the shock and terror. It would be foolish to think that I remain unaffected and that I don't see it in the eyes of the humans around me as I get on the tube and continue my day to day life. Like many of us I'm sure, I play out scenarios in my mind… what would I do… where would I go… how could I help…? I guess what I'm learning about myself is that whatever has happened or will happened, I am here, writing this at my desk in Central London, almost oblivious to the police sirens blaring up from the streets, about to go home on the tube and will probably pick up some delicious grub on the way home to boot!  I am, after all, a Londoner.

strawberry and apricot frangipane pudding
this pudding is like a bowlful of summer… it's light and fruit and sweet and so easy to put together.  I think it's also quite unexpected to serve a pudding in the summer when fresh fruit is in abundance and a simple fruit salad would suffice but that's what I adore about this.  Plus, this pudding makes very good use of those punnet's of strawberries that look great in the supermarket but in fact taste all spongy and gloopy when you get them home. It's also incredibly easy to knock together, is charmingly gluten-free and can be served warm with ice-cream or chilled with cream, both to stunning effect.
200g butter – room temperature
200g golden caster sugar
3 large free-range eggs
200g ground almonds
100g strawberries – quartered
4 apricots – sliced into wedges
the finely grated zest and juice of half a lemon
2 tablespoons Fage Greek Yoghurt
1 teaspoon Neilson-Massey Vanilla Bean Paste
I greased a 20cm fluted ceramic pie dish and pre-heated the oven to 160C
beat the sugar and butter together in a large bowl until light and creamy… and stand mixer will do this in 4 minutes, a hand held electric whisk will do it in 6 minutes and a wooden spoon will do it in 8 minutes.
add the eggs and 1 tablespoon of ground almonds and beat in, then add the rest of the ground almonds and gently beat in, followed by the Greek Yoghurt, lemon zest and juice, vanilla and half the strawberries and beat in – the strawberries will become mush – which is exactly what you want.
lay half the remaining fruit into the bottom of your dish and cover with the frangipane batter, then scatter the remaining fruit on top
bake for 45 mins or until darkly golden brown, then remove from the oven and let it cool to set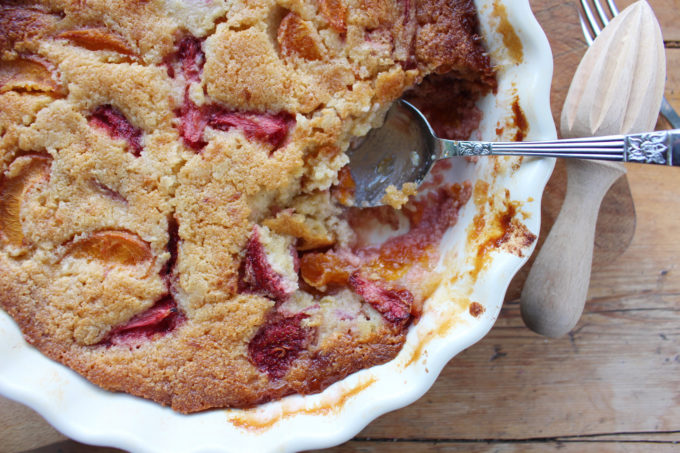 eat and of course, enjoy… and don't forget to vote!