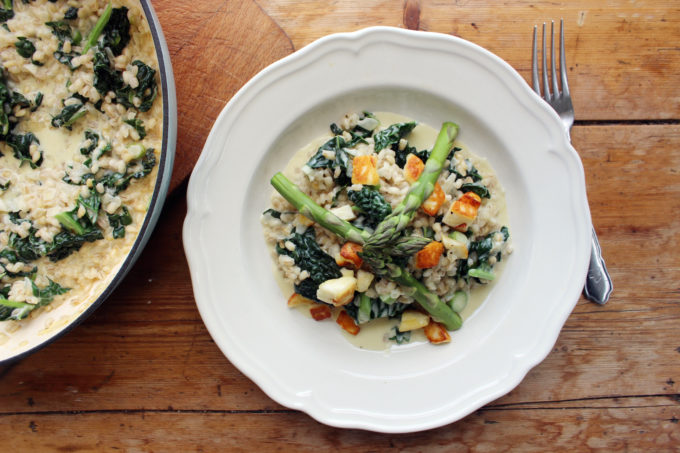 … as a food blogger I'm fortunate enough to work on some really interesting projects. Often I will be sent some glorious local produce to cook with and review and on oocasion I get to meet producers and even visit factories and farms. Sometimes it can be rather an unusual experience; I remember once having a photoshoot in a vast field of leeks near Market Rasen and another time I met an inspiring single estate chocolate producer in a rather uninspiring warehouse in Grimsby but last week pretty much topped them all when I was invited to take part in a 'TV-style' cook-off with the Senior New Product Development Chef Luke Pearson from Freshtime in Boston.
Our challenge was to create a convenient two-course vegetarian meal using surprise locally sourced seasonal ingredients and we were pretty much thrown in at the deep end with 30 minutes to assess the ingredients and brainstorm ideas for our starters and main dish – the latter of which we worked on together.
We were given 20 minutes to prepare each of our starters, which were judged by Melvyn Prior from BBC Radio Lincolnshire and my editor from Lincolnshire Life Magazine Caroline Bingham, on four main criteria – appearance, smell, taste and texture. No pressure then!
The idea behind the whole day was encourage people to try more fresh vegetables and show how easy it is to create delicious meat-free dishes.  As we all know there's been a massive rise in the popularity of the flexitarian diet, which involves adopting vegetarian eating habits for at least two days per week. Fresh time are the perfect company t help achieve this as they are one of the UK's leading producers of ready to eat salads and meals to supermarkets.
I was actually quite nervous when I turned up at the factory in Boston.  I consider myself an 'at-home' cook so to put myself up against a proper chef was quite a challenge, plus we were in his kitchen, an industrial kitchen I may add, where he knew the location of all of his pots and pans, knives and oils… once I got cooking though I actually had the best time.  Luke and I got on really well and it was actually a fun day to learn from each other and work with such wonderful, fresh, local produce.

pearl barley risotto with kale and prosecco
For my starter I made a rather lovely frittata with tender stem broccoli (which went down a storm with the judges…) but for our joint main course we prepared a stunning pearl barley risotto with kale and prosecco. I've actually never cooked with pearl barley before but it makes for such a divine and creamy risotto and is a welcome and healthy change to regular Arborio rice. I would highly recommend it. Of course we used plenty of fresh, seasonal and locally grown vegetables but as you can see from the recipe below, this could be easily adapted to any time of the year with any types of veg.
 For the risotto
Olive oil and butter
1 medium white onion – very finely chopped (you could use spring onions)
1 clove of garlic – crushed
1 glass of prosecco (or champagne or white wine)
150g pearl barley – rinsed well
1 litre good quality vegetable stock (I use Marigold Boullion)
100g kale – chopped
50g samphire
30ml single cream
60g parmesan or gran pedano cheese – finely grated
seasoning
For the topping – optional
3 or 4 stems of asparagus – sliced lengthways
1 packet of halloumi cheese – diced
chilli olive oil
to make the pearl barley risotto with kale and prosecco I use a large shallow casserole dish but a deep frying pan will work
place the pan on a gentle heat and add a splash of olive oil and a large knob of butter, once melted, throw in the onions and garlic and let them simmer and sauté gently until they go transparent – roughly 8 miuntes
pour in the pearl barley and stir, followed by the prosecco which you should stir in with a wooden spoon. Continue to stir as you add the stock a ladle-full at a time, stirring gently and thoroughly between each addition. You want the liquid to be almost gone before adding the next ladle-full. This is a long process but it doesn't have to be a dull one… pop the radio on and get into the groove, the time will soon fly by
once all the liquid has gone and you have a thick but divine risotto with the pearly barley gently swimming in a little liquid, test the barley. It should be soft but have a little bite, then throw in the samphire and kale, stir well and let it soften for 5 mins before pouring in the cream and stirring in the cheese, turn the heat off but keep in the pan
turn your attention to the topping… heat up a small frying pan and sauté the asparagus dry, with no oil or fat, until it begins to brown – roughly 3 minutes, remove the asparagus and set aside.
add some chilli oil to the pan and flash fry the diced halloumi until it turns golden, then set aside
assemble the risotto in bowls, with 2 ladles per person and a spoonful of halloumi and a cross of asparagus on top
eat and of course, enjoy!
SaveSave
SaveSave