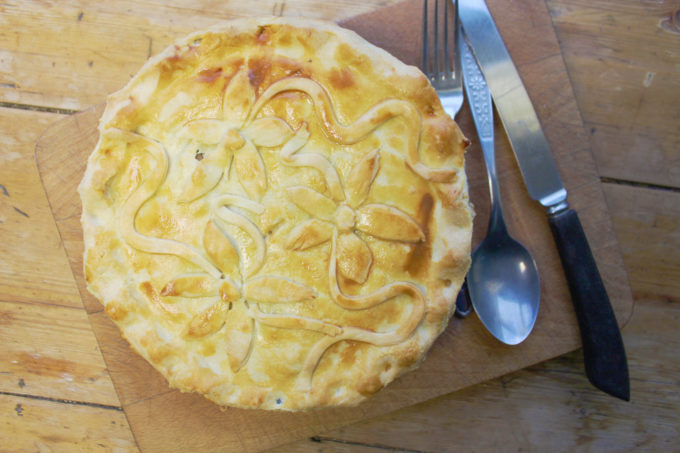 … regular readers will know that  i've long been thinking of biting the bullet and finally becoming a vegetarian.  Living with The Viking who has been a veggie for close to ten years I do a lot of meat-free cooking anyway so the leap would not be that great and even though I know i'd miss my beloved chicken thighs I don't really think i'd miss much else.  I actually buy red meat very infrequently and usually it's a steak in a restaurant and event then I always have that dreaded guilt when I make the purchase.  I do eat quite a bit of ham and cured meat at home which I usually use as toppings for salads in the evenings but I feel I could live without this.  I'm thinking I will start by reducing my diet to one of a pescitarian.  I absolutely love fish of all kinds and feel this is probably the most sensible way to do it without too much withdrawal.  It's how The Viking started his vegetarian odyssey and if he can do it then so can I. It would be great to know how if any of you guys became veggie and what that first leap was like and why you made the decision.
Much like The Viking, I have an affinity with animals and I'm not sure I can, with good conscience continue to say that I care about animal welfare and still eat meat.  Maybe i'm wrong… maybe my weak-willed hungry stomach will get the better of me? And maybe my love for chicken thighs will just be too strong…
I guess one thing it will do is force me to make my blogging and recipes a little more creative, which can only be good… how about my creamy wine, wild mushroom and vegetarian sausage pie
some of my favourite veggie food bloggers
Tin and Thyme  Tinned Tomatoes  Veggie Desserts

creamy wild mushroom and vegetarian sausage pie
this is a divine creamy wine, wild mushroom and vegetarian sausage pie that cheats a little in its creamy sauce with the use of a tin of classic condensed Campbell's Cream of Mushroom Soup.  I love this little hack – although to me it doesn't really feel like a hack as the pie tastes so glorious. It's a staple that can be found in every food shop across the globe and is so adaptable and delicious it can be used to make a very quick sauce for all kinds of dishes such as pastas, lasagnas, pies and even as a pizza topping.  I always have a can lurking in the back of the store cupboard somewhere.  I also much prefer a creamy pie in the summer.  There's something about cream and mushroom that feels lighter and summery compared to a gravy-filled pie.  These mushrooms came to me from the supermarket in a mixed pack of wild mushrooms which was really lovely and very handy but unless you're lucky like me or have a local wild mushroom supplier i think this pie would work equally well will large flat mushrooms or those mini portobello mushrooms that seem to be everywhere at the moment.
this recipe is enough for my small 20cm round shallow pie-dish… I like a nice thick pastry lid on my pies so you may not need as much as this
for the pastry
200g plain flour
90g butter
a little salt
cold water to mix
1 large egg – beaten well for glazing
for the filling
2 large salad onions (or one small white onion) – finely chopped
1 large carrot – peeled and finely chopped
2 sticks of celery – finely chopped
150g wild mushrooms – roughly sliced – not too fine
6 vegetarian sausages – I used the Quorn sausages as they hold their consistency very well
1 tin (249g) Campbell's Condensed Cream of Mushroom Soup
1 large glass of white wine
seasoning and fresh herbs – I used thyme and rosemary
start with the pastry – in a large bowl, crumble to butter into the flour and salt until it resembles breadcrumbs, then add a little dash of cold water and using your hand in a claw-shape, bring the mixture together until you form a dough.  You may need to add a little more water to bring it all together.  Wrap the pastry in cling film and pop it in the fridge for 30 mins whilst you make the filling
using a gentle heat, in a large heavy pan add some olive oil and a little butter and once the butter begins to melt throw in the onions, celery and carrots and let them soften and saute for a good 7 minutes.  Once the onions are translucent and the carrots are soft, add the mushrooms and plenty of fresh herbs, stir them well, coating the mushroom in glistening oil and butter and let the mushrooms soften and darken for roughly 8 minutes, season well with pepper and let them sweat away for another 2 minutes.  Remove everything from the pan and set aside, then add a little olive oil, turn up the heat and saute the sausages until they have a lovely golden brown colour.  Return the rest of the veg to the pan and stir well.
with the heat on high, pour in the white wine and let it bubble away to nothing, then pour in the condensed soup followed by half a can-full of water and stir well in.  The sauce should be thick but not gloopy.  Set aside off the heat and once cooled slightly pour it into your pie dish.
take your pastry out of the fridge and generously flour your work surface.  Roll out the pastry to your desired thickness and to a size that generously covers the top of your pie dish.
Brush the rim of your pie-dish with beaten egg. Cut a few inch-thick strips off the pastry edges (don't worry about how raggedy they are) and fold them around the edge of the pie dish, then brush the egg wash onto the pastry rim.
lay your rolled out pastry onto the dish and push down the edges – trim to neaten the edges and crimp with your thumb and forefingers. – I'm really rubbish at this but I like the rustic look anyway.  Use any excess pastry to make some decorative shapes and brush the top with beaten egg to keep these in place
bake in an oven on 170C for 20 minutes or until the pastry is golden
eat and of course, enjoy!