… I've managed to sneak back to the cottage for a couple of days.  The Viking had to stay in London, something that he particularly dislikes at the weekend but insisted that I go home.  Don't for a moment think, dear reader, that this was some kind of selfless sacrifice.  Oh no.  I was given precise instructions for dead-heading flowers and recording the motorbikes.  I'm not entirely sure which has priority but I'm pretty convinced if he could drag the TV out into the garden he wouldn't actually need me at all.  To be fair, I understand his passion for the garden.  He has transformed what was once a lovely but rather plain strip of grass and boarders into a stunning traditional cottage garden.  The beds are frothy with bee-loving flowers and he's planted it with a sort of un-trained, wild abandon which has given in such a natural feel.  Last year we even reclaimed back part of the over-wide driveway and extended the beds at the front of the house and so our view over the wolds as we sit and drink our morning coffee is one of utter beauty and tranquility.  The Viking started truly working on the garden at the same time that I started my blog 5 years ago.  The recession was in full swing and business was quite which meant we both had more time on our hands.  Thankfully we both found creative outlets that allowed us to express and I think we're appreciative of this in our own ways.  Even though I occasionally cook in the London flat I itch to get back to my kitchen at the cottage and I know The Viking feels the same way about wearing his gardening gloves. It allows him to breathe and be more than just a cog in the machine… during late May and early June our garden looks its absolute best so I do feel very privileged to be here and witness it in all its glory…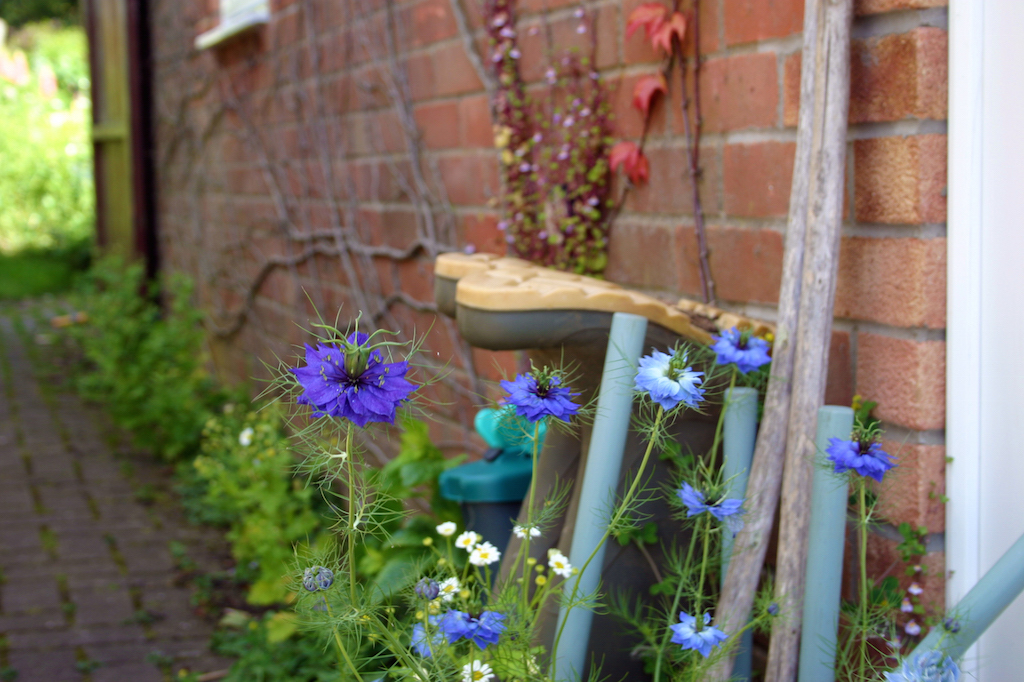 cherry frangipane tart
there's an abundance of cherries in the shops at the moment and I absolutely love them… I could eat them for days and it's very rare that i'll actually be bothered to bake them into a cake but this little frangipane tart is so perfect and pretty easy to make and there's something about cherries and almonds that work so well together… the addition if the cherry brandy lifts the tart from the 'rather wonderful' to the 'little bit special' and it's unlikely that i'd use the cherry brandy for anything else so I've got to use it when I can…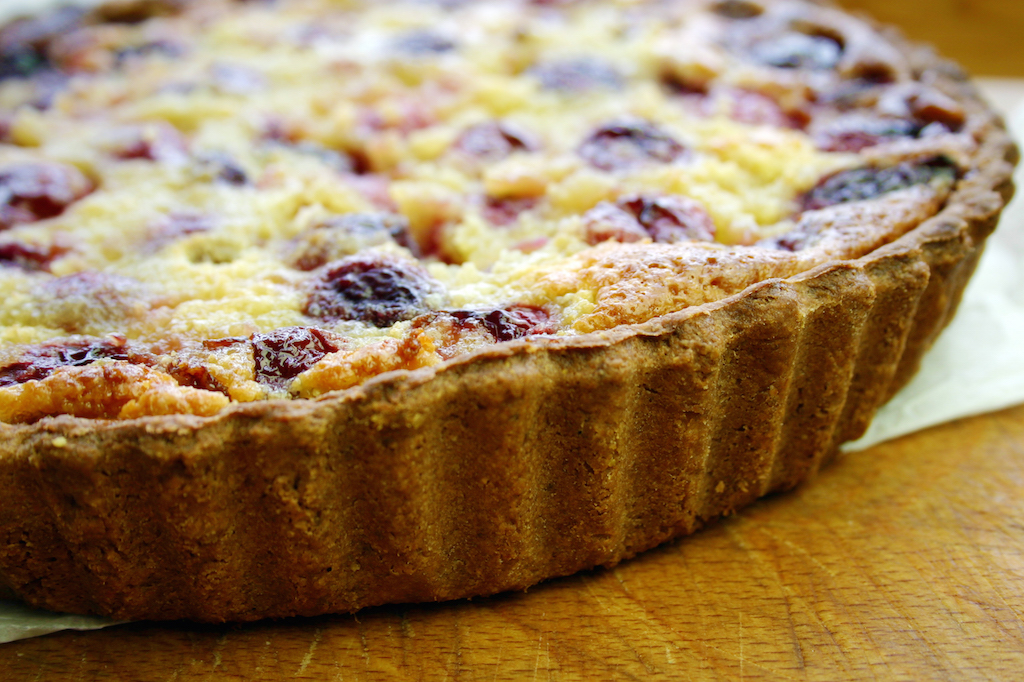 for the chocolate pastry
200g plain flour
25ml polenta
1 tablespoon cocoa powder
100g unsalted butter
1 tbsp caster sugar
1 egg – beaten
a little cold water to mix 
for the frangipane filling
140g golden caster sugar
140g ground almonds
140g butter – melted
1 large free-range egg plus 1 large free-range egg yolk
2 tbsp cherry brandy
500g cherries with their stones removed
make the pastry by all the ingredients to a large bowl and beating together with a knife, add a little water to form a dough. flatten it out onto cling film, wrap it and leave to rest in the fridge for 20 mins
pit your cherries and set them aside
make the filling by placing the sugar, ground almonds, butter, egg and egg yolk in a bowl and beat well to make a paste, then stir in the cherry brandy and chill for 20 mins.
pre-heat oven to 160C. and grease a 23cm fluted, loose-bottomed tart tin
roll the pastry out onto a floured surface and line the tin. Fill it with baking parchment and baking beans and bake for 20-25 mins, removing beans and paper after 15 mins. 
spread the almond paste onto the base of the pastry then cover the top with the pitted cherries and bake for 25 mins until darkly golden – let it cool completely before serving
eat and of course, enjoy!