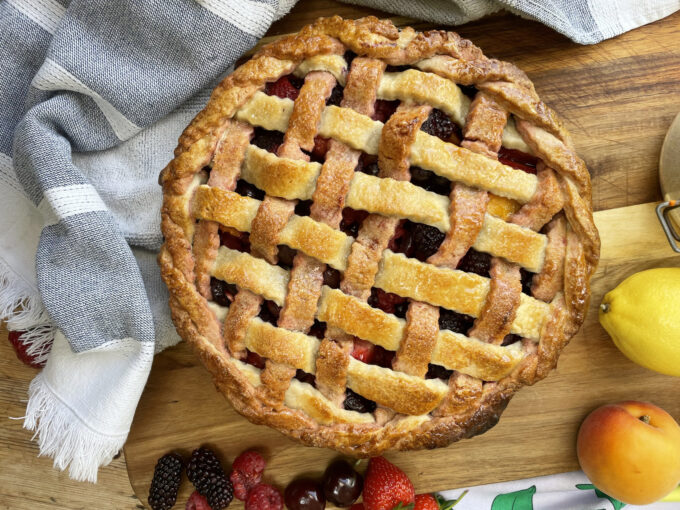 Berry, Cherry and Apricot Pie
 Now is the season for berries, cherries and apricots and, other than eating them by the trug-ful (which is something we tend to do if we visit one of our local pick-your-own farms.) I think they are best thrown under a sweet blanket of lattice pastry and left to their own devices.  I like to give them a sparse sprinkling of sugar, some lemon zest and lemon juice as I think it's their tartness that makes them taste so summery and we want that summer flavour to last as long as possible.
We have an amazing pick-your-own farm near us called the Galley Hill Farm that have a campsite too so you can pick your own fruit and then sleep off the fruit hangover!
For the pastry
400g plain flour
200g butter (I use a spreadable butter for convenience)
2 tablespoons icing sugar
2 egg yolks
A little cold water
 For the filling
50g raspberries
50g strawberries – trimmed and halved
50g blackberries or brambles
50g blueberries
50g cherries – de-stoned
2 apricots – quartered
The juice and zest of one lemon
2 tablespoons cornflour
I'm using a 20cm fluted pie dish with a loose bottom.
Make the pastry by placing the flour and butter into a large bowl and rubbing together until they form a light breadcrumb texture.  Sprinkle in the sugar and mix well, then add the egg yolks and a splash of water and combine together with your hand shaped like a claw until a dough ball forms. (You may need a little more water to ensure the ball comes together well.)
Flatten out into a disk, wrap in clingfilm and pop it into the fridge for at least 30 mins.
Meanwhile, add all the ingredients for the filling to a bowl and mix well.  Set aside whilst you roll out the pastry.
Pre-heat the oven to 180C (fan.)
Divide the pastry into two pieces; one piece for the base and one piece for the lattice top. (I always make the lattice piece slightly larger.)
Flour your work surface and roll out the piece for the base and line your pie dish with it.
Pour the filling into the pie dish, then roll out the pastry for the lid and cut into strips.  Lay the strips in a lattice pattern on top of the pie, taking time to ensure each pastry strip weaves under and over the one before.
Brush with egg wash and sprinkle with sugar and then bake for 25 – 30 mins until the pastry begins to turn a dark golden colour.  Serve warm with Greek yoghurt.
For more pie recipes, check these out on Dom in the Kitchen.
Eat and of course, enjoy!