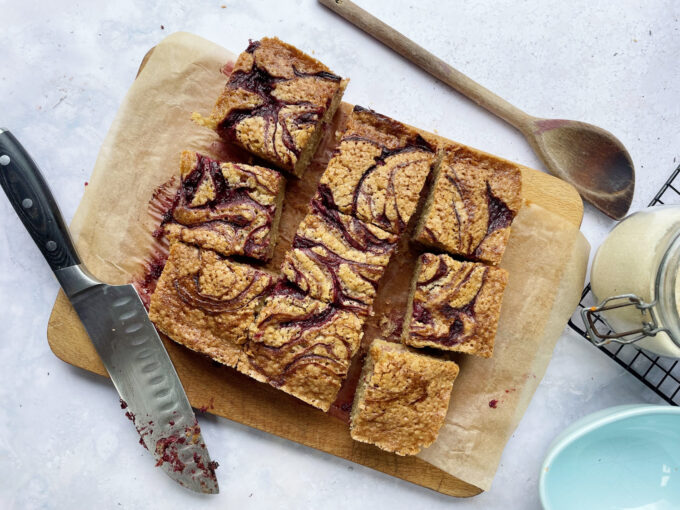 These Berry Swirl Blondies are essentially a sweet and fudgy slice of joy and (other than eating them fresh) a great way to enjoy the abundance of summer berries we have around at the moment.  If you're anything like me, I always buy a lot of berries and cherries when they're in season but they can go bad pretty quickly so the coulis I make here is a great way to use up some more of the squishier fruit.  Also, if you're on a budget (and who isn't at the moment?) you can use a bag of mixed frozen berries which are far more economical.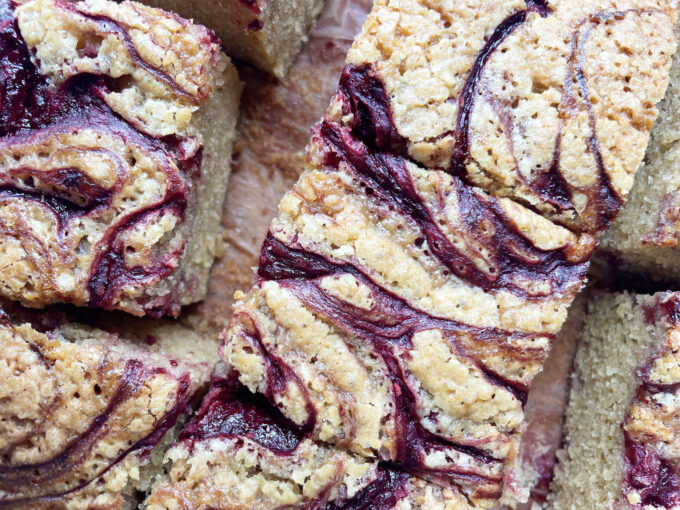 For the berry coulis
50g cherries – destoned
50g raspberries
50g strawberries
50g red currants
1 tablespoon golden caster sugar
For the blondies
175g butter, cut into cubes.
200g light brown soft sugar
100g caster sugar
3 eggs
1 tsp vanilla extract or bean paste
150g plain flour
50g ground almonds
½ tsp baking powder
Start with the coulis.  Place all the ingredients into a pan on a medium heat.  Stir well and let them gently simmer for 5 mins until the juices start to flow from the fruit.  Turn the heat off and set them aside until cool.
Place the fruit into a food processor or mini-blitzer and whizz until smooth-ish.  Set aside.
Onto the blondie. Grease and line a 25cm square baking tin – I used this one from the Naturals Range by NordicWare.
Place the sugars and the butter into a pan and melt them together.  The remove from the heat and allow to cool for 5 mins.
Add the 3 eggs to the pan and whisk together, then stir in the vanilla followed by the flours and baking powder. Ensure it's all well combined. Pre-heat the oven to 160C (fan)
Pour 2 tablespoons of the coulis into your cake tin, followed by 1/3 of the blondie batter, then another 2 tablespoons of coulis, followed by another 1/3 of the blondie batter, continue till its all gone and top with another 2 tablespoons of coulis.  (You should have some coulis leftover which will store in the fridge for about 5 days.)
Using a knife, swirl it through the batter until you create a marbled pattern.
Bake for 40-50 mins or until golden and risen and the top feels firm but springy to touch.
Allow it too cool for 10 mins in the tin on a wire rack, then pull it out and let it cool completely before slicing.
I think this blondie is best eaten cold from the fridge as it becomes beautifully fudgy.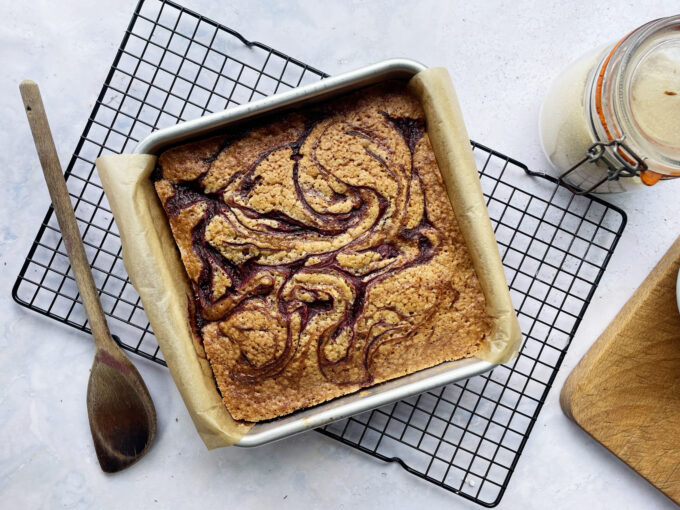 For more cake recipes, check these out on Dom in the Kitchen.
Eat and of course, enjoy!