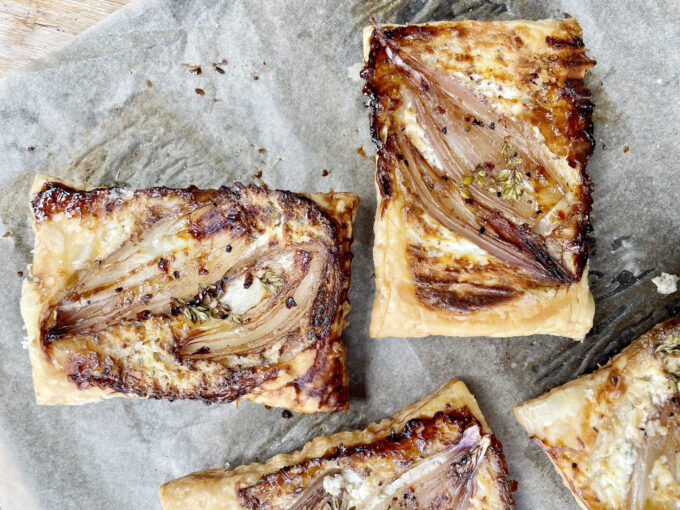 OK… so when your instagram reel goes viral and over 2 million people watch a video of an upside down puff pastry onion tart you know it's probably worth writing the recipe down.  So here it is:
1 sheet of ready-rolled puff pastry
3 banana shallots – peeled and sliced in half from root to tip
a little olive oil
a little balsamic vinegar
fresh thyme
salt and pepper
1 egg, beaten with a splash of milk
1 tub of herb cream cheese – I used the amazing Paysan Breton Garlic & Herb
Pre-heat the oven to 170C (fan) and line 2 baking trays with parchment paper.
Roll out the puff pastry and divide into 8 even rectangles – set aside
Drizzle a little olive oil onto the baking trays in the places where you're going to place the pastry (accuracy doesn't matter here.) I did 4 tarts per tray, so I drizzled in 4 quadrants of the tray.
Drizzle a few dashes of balsamic vinegar, then sprinkle each area with salt and pepper and a little fresh thyme.
Lay your onions onto the oil / seasoned mixture.  I used two pieces per tart.
Take one rectangle of pastry and slather it with a teaspoon of cream cheese and then lay it down onto the onions.  Repeat with the remaining pastry. Go around each pastry tart with a fork making indentations around the edges.
Brush each tart with the egg wash and then bake for 25 mins or until golden.  Once out of the oven allow them to cool for about 5 mins and then flip them over.  You may need to run a knife under the tart first.
For more tart recipes check these out on Dom in the Kitchen
Eat and of course, enjoy!