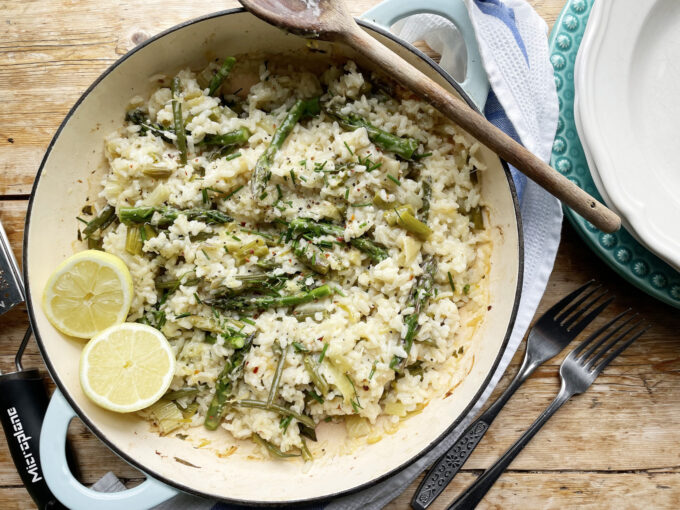 This asparagus and fennel baked risotto with lemon is one of those wonderfully simple dishes that is the epitome of Spring.  Even though this year it feels like Spring has been completely ignored and suddenly we're in Summer!  The dish has all the wonderfully light hallmarks of the season and is finished off with a twist of lemon so that it has a perky, zesty taste that elevates it from stodgy to sublime.  Plus, it's a 'no-stir' baked risotto so it really is a hassle-free delight all the way!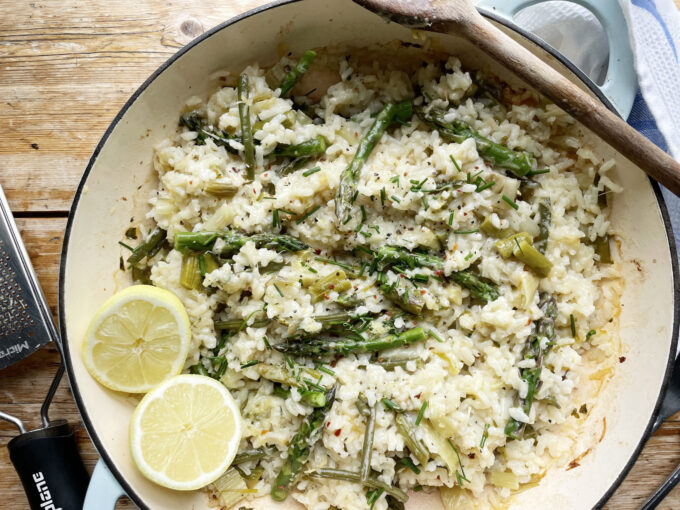 3 large salad onions – finely chopped
half a fennel – chopped
a handful of green beans – chopped
a handful of asparagus – chopped (set the tips aside)
2 cloves of garlic – finely grated
300g arborio rice
1 glass of white wine
fresh oregano and thyme
1lt vegetable stock – maybe a little more
the juice and zest of 1 lemon
150g finely grated hard cheese – I used Lincolnshire Poacher
Equipment
You'll need a pan that can work on the hob and in the oven.  I use a shallow, cast-iron casserole dish. Pre-heat the oven to 160C (fan.)
Time to cook
Start the risotto by gently melting a little butter in a pan with a dash of olive oil then throw in all the veg (apart from the asparagus tips) and garlic and sauté until soft.  Stir in the herbs and rice until all the grains are fully coated with butter and are beautifully glossy.
Stir in the glass of wine and then pour in the stock, reserving 50ml of liquid.
Place the dish into the oven for 25 mins, then stir in the asparagus tips, the lemon zest and the remaining stock and return to the oven for another 8 mins.
Stir in the cheese, lemon juice and a nob of butter just before serving.
For more risotto recipes, check these out on Dom in the Kitchen.
Eat and of course, enjoy!