I've made this roast marrow and coconut soup because my neighbour popped round the other day with what he described as a large courgette but as far as I'm concerned is a marrow.  Now as you probably know, marrow is one of the dullest veg on the planet and I think it needs a lot of work to make it worthy of eating.
I'd researched a lot of recipes and nearly all of them involved stuffing the poor marrow but that's been done a billions times and quite frankly most of them are very retro 70's and seem quite dull. I wanted something vibrant that would bring out the flavour and silky smooth nature of this vegetable and so this curried soup was born.
This recipe works in either a regular oven or an air fryer set on 'roast' at 200C.  I'm using my Haden Multi Pro Health Grill which is perfect for this.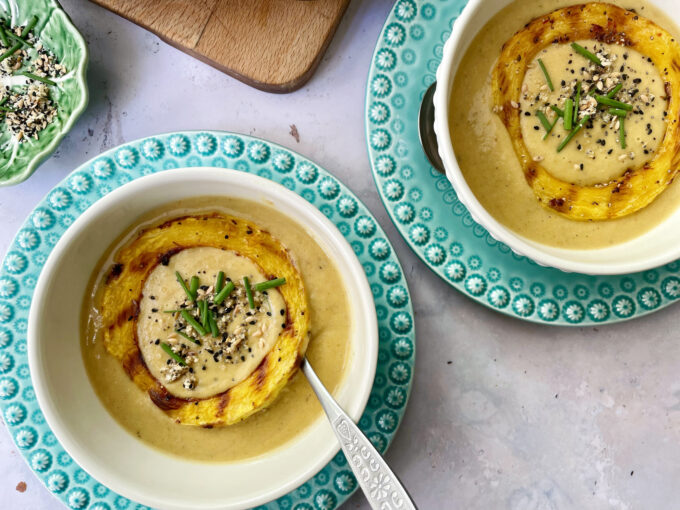 Recipe
A little olive oil
1 medium onion – roughly chopped
2 or 3 medium potatoes – roughly chopped
1 carrot – roughly chopped
2 sticks of celery – roughly chopped
1 marrow (about 750g), peeled, deseeded and roughly chopped
1-2 tablespoons medium curry powder
500ml vegetable
1 x 400g can chickpeas, drained
1 x 400ml can coconut milk
Method
Pre-heat the oven to 180C (200C for the air fryer.)
Place all the chopped veg into a large oven proof dish, drizzle with olive oil and season well with salt and pepper. Pop the dish into the oven and let it all roast together for 30 mins (20 mins in the air fryer,) until golden and glorious.
Stir in the curry powder and pop it back in the oven for a further 5 mins.
Pour in the stock, chickpeas and coconut milk and pop it back into the oven (or air fryer) and let it cook once more for a further 15 mins.
Remove from the oven and allow to cool by half. (If using an air fryer, simply open the ari fryer and allow the soup to cool.
Blitz until smooth.
For more marrow recipes check these out on Dom in the Kitchen
Eat and of course, enjoy!