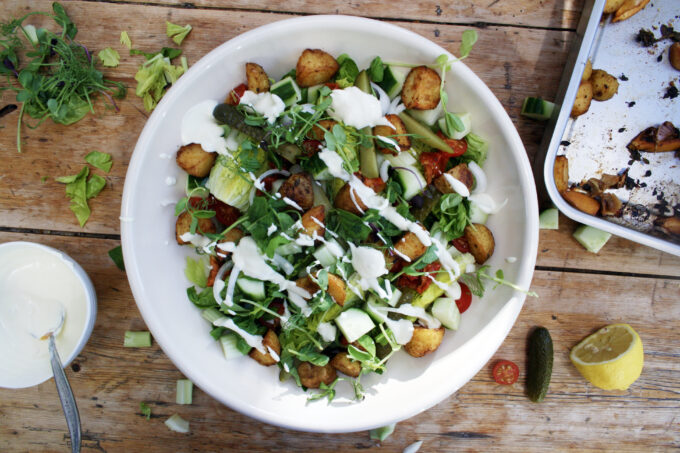 Could this roasted lemon, potato & oregano wedge salad with a Greek Yoghurt & roasted garlic dressing be the last salad of the summer? Possibly.  I woke up today and it was raining so heavily.  Windy too although when I actually ventured outside (still gotta keep those steps up) the temperature was still the weirdly humid warmth that we've been having lately… and now the sun has come out again so it seems a final fling at the summery salad is called for.
I've always adored roasting lemon with potatoes.  The lemons caramelise and ooze their sweet tartness into the potatoes.  The addition of sweet oregano only goes to enhance this.  I've also added paprika into the mix for a little heat.  All in all the potatoes make for an ideal topping to this wedge salad.
The dressing is also a breeze to make because you use the wonderfully soft and sweet garlic you've roasted in the tin along with the lemon and some greek yoghurt.  Summery perfection!

Baby Gem
The baby gem are also a favourite of mine and I love eating them in these quarter wedges.  It somehow reminds me of the gigantic salads you'd get in Californian restaurants. Slathered in a creamy sauce.  Utterly divine.
This recipe fed 2 greedy men for supper but would easily feed 4 less greedy humans for a light lunch.
for the lemon roast potatoes
4 or 5 large white potatoes cut into chunks
1 teaspoon paprika
2 tablespoons lemon olive oil or regular olive oil
1/2 lemon – cut into wedges
a handful of oregano – I used fresh but dried would work equally well
5 garlic cloves
salt and pepper
for the salad
2 x baby gem lettuce – cut into wedges
2 x sticks of celery – chopped
1/2 cucumber – chopped
a selection of cherry tomatoes and sun-dried tomatoes
a handful of pea-shoots
4 picked cucumbers – sliced into quarters down their long side
for the dressing
4 tablespoons greek yoghurt – I prefer FAGE
2 tablespoons mayonnaise
1 teaspoon mustard
2 tablespoons olive oil
the juice of half a lemon
the roasted garlic cloves – chopped
Start by placing the potatoes into a pan of boiling water and boil until just tender.  Drain and then add the rest of the ingredients for the roast potatoes, place the pan lid on a give it a vigorous shake.
Spread everything onto a roasting tin and roast on 180C (fan) for 30 mins until the potatoes are gloriously crispy. Set aside whilst you build the salad.
Build your salad how you like to.
Make the dressing by combing all the dressing ingredients with the roasted garlic and blend well – a stick blender would work well here.
Place the roasted potatoes onto the salad with a sprinkling of some fresh oregano if you have it.
Drizzle generously with the dressing
For more salad recipes check out Dom in the Kitchen
Eat and of course, enjoy!