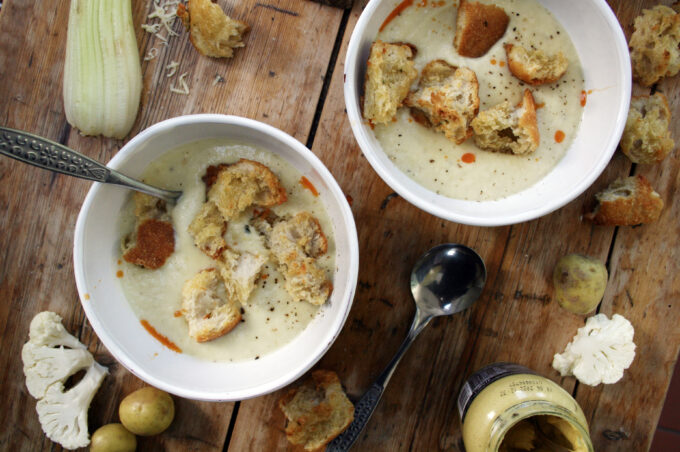 This cauliflower cheese soup is literally the food of the gods. I think it's the mix of really strong cheddar and manchego that does it.  That combination of cheeses is just the best for me. I think it's the nuttiness of the cheddar and the slight tang of the manchego that makes for the perfect combination.
sunday roast
This cauliflower cheese soup reminds me of mums Sunday roast.  She would always make a cauliflower cheese as a side dish and it always had crunchy breadcrumbs sprinkled on top.  Really creamy and really cheesy my brother and I would fight over who got the last roasty sticky cheesy bit stuck to the side of the dish.
For the soup
butter & olive oil
1 large onion – finely chopped
1 stick celery – finely chopped
2 garlic cloves – grated
fresh lemon thyme
1 large cauliflower head – chopped
1 medium-sized potato (I actually used 4 smaller new potatoes) roughly chopped
400ml milk – I just use what I had in the fridge which is skimmed milk
400ml vegetable stock
50g mature cheddar – finely grated
50g manchego cheese – finely grated
1 teaspoon Dijon mustard – I love the Maille one
salt and pepper
For the cheesy croutons
 3 slices of bread
1/2 tsp garlic granules
2 tablespoons olive oil
50g  mature cheddar – finely grated
Put the onion, celery, garlic, butter and olive oil into a large saucepan set over a low-medium heat. Gently cook the vegetables for 7–8 minutes until tender but not coloured.
Add the cauliflower, potato, milk and vegetable stock. Season with the fresh thyme, salt and freshly ground black pepper, stir well, half cover the pan with a lid and slowly bring to a gentle simmer.
Continue to cook for about 30 minutes, or until the vegetables are tender.
Whizz the soup until silky smooth then stir in the grated cheese and mustard. Taste and add more seasoning as required.
For the cheesy croûtons
preheat the oven to 160C Fan
Tear the bread into rough chunks and tip onto a small baking tray.  Drizzle well with olive oil, then sprinkle with the garlic granules and season with salt and freshly ground black pepper and shimmy them around to ensure they're fully coated.
Pop into the oven and cook the croûtons for about 7 minutes, or until golden-brown and crisp, shimmy them around halfway through. Scatter the cheese over the top of the croûtons and return the tray to the oven for a few minutes more to melt the cheese.
For more soup recipes check out these ideas on Dom in the Kitchen
Eat and of course, enjoy!