This basil and pea heirloom tomato tart is an homage to all the incredible heirloom tomatoes that are so beautiful ripe right now. I know that they are more expensive than your regular common-garden variety but the taste is incomparable. Plus I love their wobbly and unusual aesthetic. If you're fortunate enough to grow your own you're probably aware of the joys of the fragrance of a tomato and these heirlooms have that wonderful 'tomato' aroma.
Basil is such a wonderful friend to the tomato and so it works perfectly well in this savoury custard.  I've used one of those herby ricotta cheese rolls in the mix too just to add something a little creamier and it works really well.
The pastry is one of my 'go-to' favourites which is a cheesy rye crust.  I've used a piquant Lincolnshire Poacher cheese but any hard cheese would work well.
for the pastry
150g plain flour
100g rye flour
100g butter
50g finely grated Lincolnshire Poacher cheese (or any strong cheese)
1 teaspoon finely chopped fresh herbs – I used chives
water to mix
for the filling
3 tablespoons Greek Yoghurt – as always I use FAGE 0%
100g peas – I used frozen which I defrosted in the microwave for a few seconds
a generous handful of fresh basil
1 x 150g block of herby soft ricotta such as Boursin
3 large free-range eggs
a selection of heirloom tomatoes – thickly sliced
salt and pepper
I'm using a 20cm fluted tart tin with a loose bottom.  Pre-heat the oven to 170C and place a baking sheet in the oven. We're not blind-baking this tart today so we'll cook it on the baking sheet which will ensure the bottom isn't soggy!
Make the pastry by rubbing the butter into the flour in a large bowl until you have something resembling breadcrumbs, stir in the grated cheese and fresh herbs then add a tablespoon or two of cold water and bring together into a dough with your hands, you may need to add a little more water to create the dough but you will feel how 'short' the pastry is.  Wrap in cling film and pop in the fridge for at least 30 minutes
Grease your tart tin with butter and then roll out the pastry using plenty of flour on the board. Line the tart tin with the pastry then pop the tin back into the fridge whist you make the savoury custard.
Place everything for the filling in a large bowl and using a stick blender, whizz it all up to a light play green frothy blend.
Pour this into the tart case, lay some thickly cut tomatoes on top, season well and bake for 35 – 40 mins until slightly coloured on top.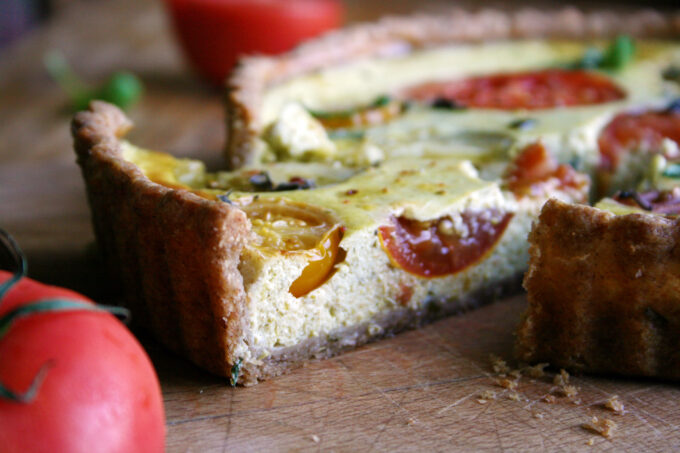 There are many more quiche and tart recipes here on Dom In The Kitchen
Eat and of course, enjoy!