stuffed peppers with orzo, leeks and mushrooms
I purchased some wonderful pointed sweet red peppers from our local greengrocers the other week and I was thinking for a while about what to cook with them. Usually I'd just chop them into a salad but I wanted to do something slightly more adventurous and I had both some Boursin creamcheese and some orzo left over from my baked orzotto that I made last week. So these glorious stuffed peppers with orzo, leeks and mushrooms were created and wow were they good!
a classic veggie dish
Stuffed peppers is actually quite a classic vegetarian dish but it's one of those dishes that became such a cliche in the 80's and always served for the poor veggie that they have fallen out of fashion in recent years.  It's a crying shame because they're actually delicious and if you get the stuffing right they can be packed with flavour. These pointed sweet peppers work so well as they add a wonderful sweetness to the mix and because they're long and flat they're a lot easier to stuff and eat, which is always a bonus
the stuffing
I'm stuffing them with a recipe that is very similar to the baked orzotto I made last week but with the addition of leeks and fennel which is simply glorious.  I love cooking with Boursin too, it's so rich and creamy and packed with flavour which is quite something for such a small block of cream cheese!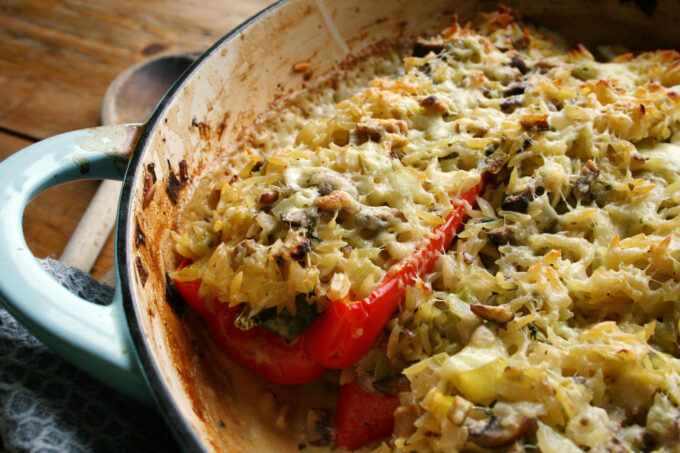 1 medium white onion – finely chopped
1 medium leek – finely chopped
1/2 fennel bulb – finely chopped
5 or 6 chestnut mushrooms – finely chopped
2 cloves of garlic
1 teaspoon fresh thyme (or dried would work)
1 block of Boursin cream cheese – I used the garlic and herbs one.
200g orzo pasta
200ml (maybe a dash more) of boiling water
2 large pointed sweet red peppers
a little cheese for grating
Pre-heat the oven to 180C. I'm using my large shallow casserole dish with a lid to cook everything in. This is great as this makes this a one pot meal!
In your pan heat some olive oil and a little nob of butter on a gentle heat, then sauté the onion, leeks, fennel and mushrooms until soft – this will take roughly 8 minutes with regular stirring.
Add the garlic and herbs and stir in well and cook off for another couple of minutes before stirring in the crumbled Boursin.
Add the orzo and stir in, then pour over the water and stir well.  Take it off the heat and let it cool down a little. I'm using the same pan to cook mine in the oven so I spooned the mixture out of the pan.
Halve the peppers lengthways. Lay them out in the pan, season well with salt and pepper and drizzle with a little oil. Then stuff the peppers with the filling.  Ensure you fill each one well and divide the liquid evenly between each pepper.
Place the lid on and bake in the oven for 20 mins.  Remove the lid, sprinkle the top with some strong grated cheddar and cook for another 10 mins until the top is golden and crunchy.
Eat and of course, enjoy!