Tick-tock, tick-tock, it's wild garlic season once again.  Looking back at last year I only managed to get in one recipe ; a rather fabulous pea and wild garlic soup but this was because we'd been in Mallorca and missed the very short window.  We're lucky here in Lincolnshire because the season is slightly later and ever so slightly extended from down in the south so I can be rest assured that once my foodie friends start tweeting about wild garlic in early April, I have at least 2 more weeks before I have to panic.  I have a few secret spots near to the cottage where the wild garlic grows but my old faithful is a little valley tucked away in the wolds where the stuff grows in such abundance that I quite literally have to pull up on the side of the road, open the car door and scoop down to pluck handfuls into a bag.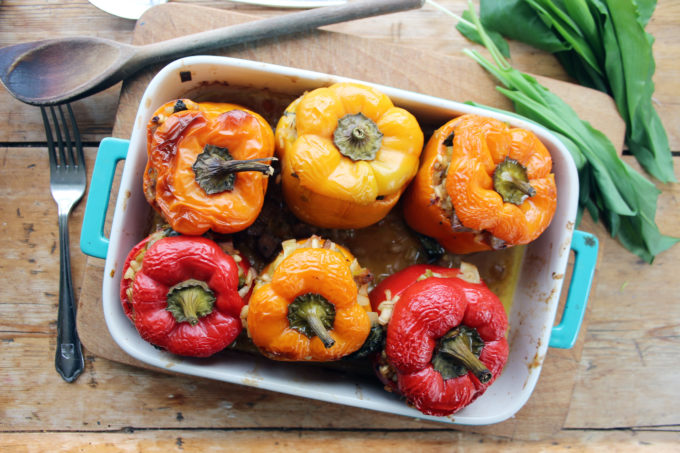 peppers stuffed with spicy sausage, pearl barley and wild garlic
This dish is essentially a pearl barley risotto stuffed inside peppers and finished in the oven.  I'm not really a big fan of peppers in general and they seem like a bit of an old vegetarian stalwart but I feel like they could do with a bit of a revival because they are actually very tasty and with this low and slow cooking method they are gloriously sweet and act as a divine vessel for the filling.  I've used vegetarian sausages but you could go for any kind of spicy sausage, chorizo would be particularly good here and you could dial back the paprika if you go for that.  The wild garlic gives the dish an incredible aroma and pungency but it's deep and glorious and adds so much earthy flavour you'll be going back for more.
4 large peppers – tops sliced off and de-seeded
butter and olive oil
5 banana shallots – finely chopped
2 medium leeks – finely chopped
1 medium carrot – finely chopped
6 sausages – chopped – I used vegetarian sausages but feel free to add any kind of sausage you desire
1 teaspoon paprika
1 teaspoon fennel seeds
1/2 teaspoon cumin powder
1/2 teaspoon cayenne pepper
75g pearl parley
1 glass white wine
1 large bunch of wild garlic – washed well and roughly torn
3/4 litre vegetable stock
75g strong cheddar cheese
seasoning
pre-heat the oven to 150C
i've used my shallow casserole dish to make the filling and an oven-proof dish to bake the stuffed peppers
gently heat your pan and then add the butter and olive oil and when the oil is hot add the sausages and paprika and let them cook until browned, then add the onions, leeks, carrots and the rest of the spices, stir and cook gently until soft – roughly 6 – 8 minutes.
stir in the pearl barley and let it sweat in amongst the rest of the ingredients for a moment before adding the white wine.  Let this soak into the vegetables for a moment before adding half the stock, then place the lid on and let the liquid absorb into the barley for about 10 minutes.
stir in the wild garlic and once soft, add any more liquid you think the dish may need… test the barley – if it feels like it's al dente then you're good, if it's too firm then add a little more liquid and let is bubble gently for another 5 mins – stir in the grated cheese and then set aside off the heat but with the lid on whilst you prep the peppers
cut the top off the peppers, pull out the seeds and white hulls and place them into an oven-proof dish so they're a tight fit… you may need to trim off a little of the bottoms of the peppers to make them stand up straight… keep the lids.
season the peppers well with olive oil, salt and pepper, then generously stuff each pepper with the pearl barley risotto mixture, place the lid on each pepper, wrap the whole dish in foil and bake slowly for 40 mins with with foil on then turn up the heat to 180C, remove the foil and bake for a further 10 mins, there should be lots of lovely liquid at the bottom of the dish which you can use to baste the peppers to keep them from drying out.
eat and of course, enjoy!