When people talk about the link between food, aroma and memories, I instantly go to rhubarb.  I think anyone growing up in the UK will have either a love or a loathing for the stuff but hopefully this rhubarb pudding will turn any potential for loathing into full-blown love. It reminds me of school dinners.  I can see and smell those giant metal trays of stewed rhubarb, pale to the point of grey/green, undoubtably served with lumpy custard.
School Dinners
I wasn't a fan of that, in fact I think I probably hated rhubarb for the longest time and it really wasn't until recently that I rediscovered the stuff.  Particularly this wonderful forced Yorkshire rhubarb which is in season right now.  It's not only delicious – it has that wonderful sweet / sour thing going on that you know I love, but it's also the most glorious shade of pink I think I've ever seen.
Hard to capture in a photo, let alone a sentence.  It reminds me of the acid-dyed asian fabrics from the street-markets I used to go to whilst at college in London.  Rolls and rolls of shades of neon pinks with an almost orange tint.  It's quite beautiful.
Pudding vs Cake
This is one of those 'eat straight from the tin' pudding / cake hybrids that just needs to be eaten slightly warm.  Utterly perfect for these cold February days!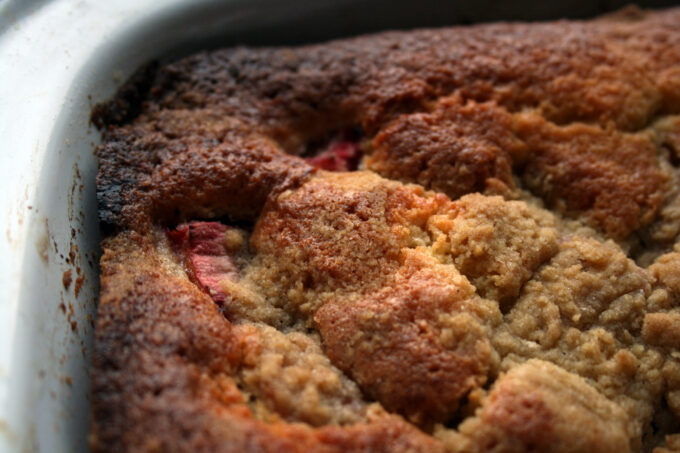 For the pudding
300g rhubarb – chop into 3cm pieces.
Juice of ½ lemon
100g self-raising flour
65g ground almonds
175g unsalted butter, softened
175g caster sugar
3 large free-range eggs
2 tsp vanilla extract
For the topping
25g unsalted butter
2 tbsp self-rising flour
1 tbsp caster sugar
2 tsp ground ginger
Preheat the oven to 180°C. Grease an enamel dish or square cake tin generously with butter.
Place the rhubarb in a bowl with the lemon juice and mix together.
In a separate bowl, beat together the flour, butter, sugar, eggs and vanilla extract. Fold in half the rhubarb and spoon the mixture into the bottom of the tin, spreading it out with a spatula. Scatter over the remaining rhubarb.
For the topping, rub the butter into the flour, then stir in the sugar and ginger. Sprinkle over the cake mixture and bake for 40-50 minutes. Leave to cool for 10 minutes, then serve giant spoonful's directly into your mouth!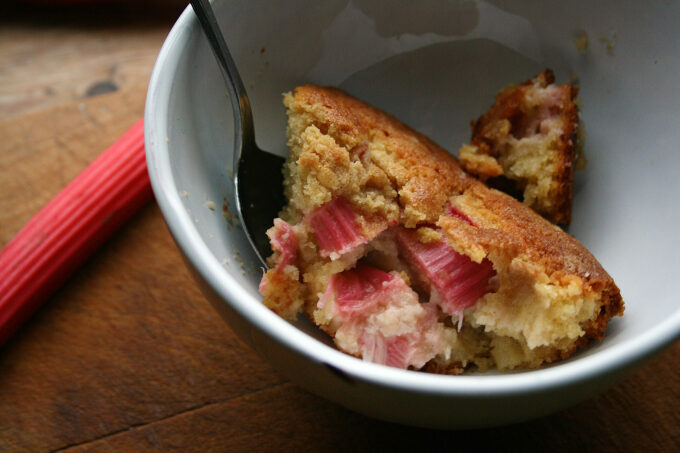 Eat and of course, enjoy!