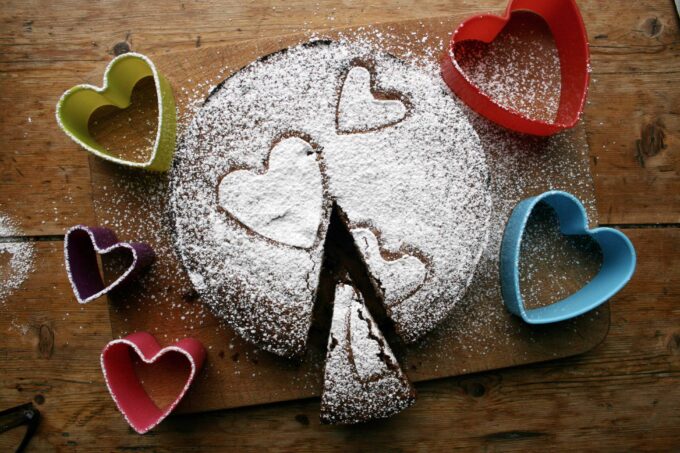 This recipe first appeared in the February edition of Lincolnshire Life Magazine.
Ahhhh February, the month of love.  Not entirely sure why we torture ourselves every year.  I remember when I was first in the bloom of youth and Valentines Day meant so much; would I get a card?  Would my secret love be reciprocated? Oh the pain and agony of young love. I guess nowadays Valentines can be about 'love' in general rather than fixed on just one person, it can be for the love of a friend or family, or just the joy of being alive.
This chocolate orange and almond valentines cake is the perfect little bake to show your loved one how much you care. I think baking cakes is always a great way to show love. Or if you don't have a significant other, it's the perfect way to pass a little love onto yourself. This is one of those fudgy, imperfect cakes that looks a little craggy but tastes divine and gives joy in spades but then I suppose that's love for you isn't it?
I've finished it with a very basic dusting of icing sugar using some heart-shaped cookies cutters as stencils but I actually think the simplicity works well here, obviously feel free to go as fancy as your heart desires!
 chocolate orange and almond valentines cake
250g unsalted butter – softened
250g golden caster sugar
3 duck eggs from the wonderful Scamans Farm (or use 3 large hens eggs)
50g plain flour (use gluten-free if you want the cake to be fully GF)
200g ground almonds
1 teaspoon baking powder
the zest and juice of one orange
1 tablespoon of Grand Marnier or similar orange liqueur
100g dark chocolate
Heat the oven to 180C/fan 160C/gas 4 and line a 20cm springform cake tin with baking paper.
To make the cake, beat the butter and sugar with an electric mixer for about 5 minutes or until light and fluffy. Gradually add in the eggs, one at a time, beating well between each addition.
Add in the flour, baking powder, ground almonds, orange juice and zest, as well as the orange liqueur and beat in until combined.
Finally, add in the melted chocolate and stir until just combined.
Pour into the prepared cake tin and bake in the oven for 40 – 50 minutes – the cake should still be slightly fudgy in the middle.
Remove the cake from the oven and leave to cool completely in the tin. It might sink a little on cooling but don't let this worry you, it's supposed to be slightly imperfect, just like love.
Eat and of course, enjoy!