My sister Matti is here to stay for the weekend so we thought it would be nice to bake this gluten-free banana bread together.  Matti has an intolerance to gluten and whist I have an intolerance to people with an intolerance to gluten I love my sister and I wanted to enjoy cake with her so we made this.
I absolutely love banana bread.  I think it's one of those cakes that is as close to comfort food in cake form as you can get.  It seems to be a pretty universal cake too as many cultures makes something similar.  My confession is that I got addicted to the Starbucks banana bread which whilst I know it isn't, tastes like a homemade cake and has all the qualities of a good banana bread; moist, crumbly, sweet and moreish.  If ever in doubt I will always revert to a banana bread because it seems to be a firm favourite with kids and adults alike but not only do you get the incredible tasting cake, your home will also permeate with the stunning aroma of baking bananas, sugar and cinnamon.
It's an adaptation of my mums recipe and it's foolproof every time, even substituting the regular flour for gluten-free flour and ground almonds, it's still robust and delightfully good.  It's not fancy but it's unbelievable easy to make, there's very little to it.

gluten-free banana bread
250g self-raising flour (we substituted with 125g ground almonds and 125g Doves Farm gluten-free self-raising flour)
125g butter
125g golden caster sugar
2 medium bananas – very ripe
2 large free-range eggs
1 teaspoon vanilla extract
2 teaspoons ground cinnamon
100g walnut halves
pre-heat the oven to 170C and grease and line a 2lb loaf tin
Place the flours, butter and sugar into a large and with your hands, rub them together.  You should end up with either a dough-like paste or crumbs, either is fine.
In a cup or bowl, mash the bananas with a fork, then add the eggs and beat through. Add then vanilla extract and cinnamon and stir though.  Add this mix to the crumbly dough and mix well together – a whisk or a wooden spoon will do this really easily.
Stir in the walnuts and then pour the batter into the loaf tin.  Sprinkle the top with a little more sugar and crumble some crushed walnuts on top, then bake for 45 minutes or until the cake has risen and is nicely dark and a skewer inserted comes out clean. Place on a wire rack to cool, then remove from the tin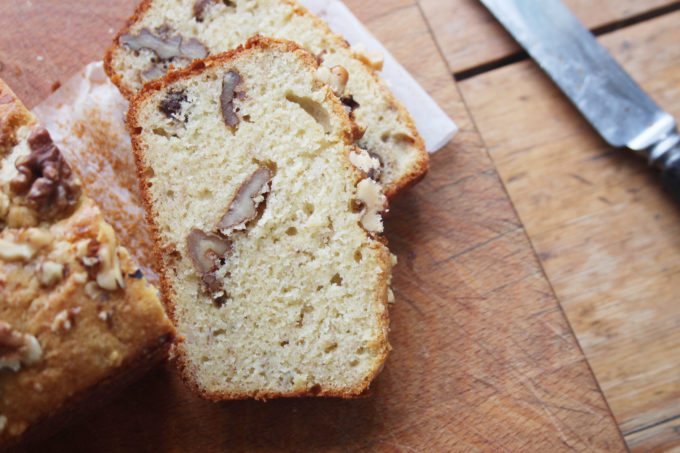 eat and of course, enjoy!