Other than it's incredible flavour, the best thing about this slow roasted tomato, basil and mozzarella tarte tatin is the intense aroma that exudes from the kitchen when you cook it. To me, the fragrance of roasting tomatoes in balsamic vinegar with basil and oregano is the smell of summer.  It reminds me of warm evenings in some Spanish town, salty sun-kissed skin and cold crisp white wine. Which, as I look out of my, now-closed, kitchen doors into the rain-soaked garden, we could really do with right now.
As I look back over the blog to last week, I can't believe how I reflected on how summer was finally here and yet now i'm in long trousers and a jumper.  A jumper! In June! There is nothing we hate more here at Belleau Cottage than being stuck in the house and this weather makes it impossible to be outside without being uncomfortable.  We went for a drive up into the Wolds but it just made it all the more depressing as the sheets of rain came flapping down onto the landscape.  Sure, it looked spectacular but please, leave it to the winter.

slow roasted tomato, basil and mozzarella tarte tatin
Another upside down dish, this tomato tarte tatin couldn't be further in flavour from last weeks Apricot Upside Down Cake.  More of a rustic pizza with ambition, I love how the balsamic vinegar turns so sweet and sticky as it bubbles together in the oven with the tomato juices.  The addition of the mozzarella prior to the pastry top gives the dish more of a pizza vibe than a tarte but it works really well and if you can wait till it cools down, makes a delicious deli-style or picnic dish sliced into wedges.
You can use any tomatoes you like in this dish (even the nasty pale salad tomatoes with exclude flavour if slow-roasted like this) and there are an abundance of them in the supermarkets at the moment, but it's nice to use a mix of sizes like i've done here as I think it makes the final dish look a little more rustic.
a large nob of butter and some olive oil
1 tablespoon fresh oregano (if you don't have fresh, dried oregano is more than acceptable)
fresh chives – finely chopped
3 medium to large tomatoes – sliced in half (I used 3 Jubilee tomatoes)
roughly 10 cherry vine tomatoes – sliced in half (I used Vittoria variety)
salt and pepper
fresh basil
150g mozzarella
a drizzle of balsamic vinegar
1 pack of puff pastry – I prefer the block to the ready rolled sheets as I like to have the pastry quite thick (or make your own)
i'm using my 32 inch shallow casserole pan for this but you could genuinely use any vessel.  A frying pan would work or even a traditional tarte tatin pan but I like the casserole dish as I can cook with it on the hob and then transfer it to the oven making the whole dish a one-pot meal which is always very satisfying.
pre-heat the oven to 160C
place your pan on the hob, turn the heat to medium and melt some butter with a little olive oil, add the oregano and chives and let them sizzle a little whilst you cut the tomatoes
lay the tomatoes cut-side down into the pan and really squeeze them in there, then turn down the heat and let them gently plop away for about 5 mins, then place the lid on the pan and let them bubble away for another 5 mins.
take the lid off, drizzle the top with balsamic vinegar (no more than 2 tablespoons) and torn basil and then place the dish into the oven and let them slowly roast for at least 20 mins… there will be a lot of juices at first but they should eventually begin to reduce to a sticky sweet sauce… remove them from the oven, turn the oven up to 180C  and set aside whilst you roll out the pastry
flour your work surface and roll out the pastry to a large, rough circle that will easily cover the tomatoes in the pan.  I used a large dinner plate to then cut out a circle.
take your mozzarella and tear it into chunks and put them randomly onto the roasted tomatoes, then sprinkle over some more basil and season well with salt and pepper, then lay the circle of pastry onto the tomatoes and roughly tuck the edges in all the way around. This really doesn't need to be particularly precise or pretty.
bake in the oven for at least 20 minutes or until the pastry has risen and turned a glorious golden colour, then remove from the oven and let it settle and cool for at least 10 minutes before turning over onto a plate or board.  Be careful as the tomatoes exude a lot of moisture and juice and you don't want to lose this but you also don't want it to turn the pastry soggy, so letting the tart settle for 10 mins usually does the trick of allowing the juices to be somewhat re-absorbed back into the dish… you also may want to run a spatula around the rim of pastry to loosen the cheese from the pan before turning it over.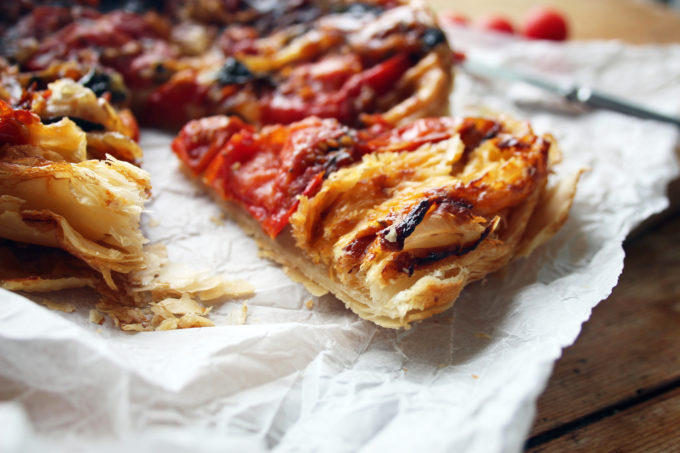 eat and of course, enjoy!