OK, so I realise this is hardly ground-breaking stuff but this is such a lovely recipe it's a shame not to share it plus I know as a matter of fact there are many people out there who simply don't know how to make soup or how easy and stuffing soup-making is.
I can't remember a time when, as a child at home, there wasn't some kind of homemade soup on the hob… and when there wasn't there was mum, in the kitchen, making the soup.  I used to think was some kind of strange alchemy; the process of placing ingredients into a large pot and those same ingredients coming out as soup.  That was until I showed a spark of interest and asked mum about it.  She gave me three soup recipes I will never forget (Mushroom and Chestnut soup, 'Green' soup and Leek and Potato soup) and not only the basic life-skills of how to turn vegetables into an incredibly divine liquid of the gods but also the passion for cooking in general.  My newly found passion then led me on to discovering other peoples soup recipes, from my grandmothers Turnip and Watercress soup to my best friend Jenny's Roast Bramley Apple, Parsnip and Cheddar soup. Every cook worth their weight in salt, from restaurant chef to home cook has their own signature soup (which has no doubt been passed down to them from some wonderful family member or friend) and I wouldn't trust them if they didn't.
And soup styles change enormously over the decades.  Many of my grandma's soup recipes are influenced by her heritage in Northern Europe with ingredients such as beetroot and turnips, whilst others come from region and religion such as my maternal grandma's chicken soup. Many of my mum's soups came from 1960's and 70's cooking trends and recipes she cut out from magazines when we were kids, so had more 'fancy' ingredients such as (shock horror) Chantrelle mushrooms and, wait for it… rocket! There's also the blended vs non-blended types of soup.  Sometimes I adore a chunky Minestrone – a celebration of vegetables in all their glory but other times I love the comfort of a blended soup – its velvety goodness sliding down my throat on a cold winter evening.
What I love best about soups is that there are no rules.  You can make them with your favourite ingredients or just with whatever you have laying about in the back of the fridge.  I have laid out some of my basic soup-making methods below but this is really just for a guide.  Go with what you like. Make small batches at first,  it's just vegetables and water after-all and if it doesn't taste good then it's an inexpensive experiment and you can start again and change it up.
I honestly believe that if you can master the soup, you will master the kitchen so here are my soup guidelines to help you get started.

the classics
If you're a novice then start with the classics… leek and potato, cream of mushroom, minestrone. Find a recipe you like and try it out a few times.  Then you can start to adapt it; maybe swap out a leek for a stick of lemongrass, or how about bringing in some wild mushrooms and garlic into that mushroom soup?  What vegetables are in season, why not add them to your chunky vegetable soup?
the stock
For a long time I was a big fan of the powdered bouillon stock, Marigold and Kallo brands both do very nice ones but I found that after a few years many of my soups started to taste of the stock rather than the ingredients and so I changed it up a little.  I now use the Kallo vegetable stock cubes but when I can I have time I try and make my own using left-over vegetables and vegetable peelings. Whatever stock you choose please try and go for a palm-oil free stock.
meat-soups
I very rarely make meat-based soups… these are stews to me.  I will occasionally make a chicken soup or a left-over roast chicken soup and a smoked haddock chowder is a thing of beauty but the meat-based soup is not my thing.  Plus, we already eat enough meat throughout the day, let's leave it out of the soup course shall we?
the base, the vegetables and the seasoning
Whatever soup i'm making, I always start with a medium white onion, finely chopped.  For me it seems to flavour the pan and add a depth of flavour to the soup.  All other vegetables are fair game and if they've been hanging around in the back of the fridge for too long then all the better… but don't be fooled by the humble vegetable.  A solid root vegetable may seem robust but as any slow-cooker veteran will tell you, if you treat them well and allow them to cook gently then they will deliver the taste in bundles.  This also goes for the fresher spring veg.  Treat them well.  Don't over-boil them but at the same time, remember you're not making smoothies, you don't want them raw.  I've seen recipes where the chef pours boiling water over green vegetables and then blends them.  This is disgusting.  They need to saute and soften first. The cooking will allow them to impart such incredible flavours as they mingle with their vegetable and herby friends.  On this note, remember to season well.  Herbs and spices can go in with the onions during the sauté stage whilst salt and pepper can go in at the end.  Many stocks already have plenty of seasoning in them so it's worth discovering this first.  You can always add seasoning at the end but you can't take it away!
ever so slightly curried vegetable soup
Here's my recipe for a divine, mild curried vegetable soup.  It's very simple but has some specific guidelines that need to be followed in order to deliver something special.  The reason it's called 'ever so slightly curried' is because it's really about a delicate balance here.  However much you 'love a curry', you're not actually making a curry here.  You're using the warm spices to bring out the flavours of the vegetables so there's a gently, underlying depth of flavour but it's still, most definitely vegetable soup. I've used the left-over vegetables from Christmas Day.  By this I mean the fresh, un-cooked veg not the already roasted ones that really should have been eaten by now!  of course you could follow my recipe to the letter but your carrots are no doubt bigger than mine and your parsnips could be smaller so the two soups will never taste quite the same.  This doesn't matter and i'm not going to give you weights of the veg i've used because that's utterly stupid and nobody lives like that.
1 medium white onion – finely chopped
2 stalks of celery – finely chopped
2 large carrots – finely chopped
1/2 teaspoon fennel seeds
1/2 teaspoon medium curry powder
3 medium parsnips – finely chopped
3 smallish potatoes – finely chopped
1 litre of stock made up from 200ml milk and 800ml vegetable stock
salt and pepper
olive oil and butter
in a large heavy pan with a lid, gently heat some butter and olive oil.
add your onions, carrots and celery and stir well, then saute gently for 5 minutes
add your fennel seeds and curry powder, stir well and saute for another couple of minutes
add the rest of the veg, a little salt and pepper, stir well, turn the heat to low and place the lid on and let the vegetables sweat for 5 minutes until they begin the soften
add the stock and the milk and on a very low heat let the whole thing bubble and plop away with the lid off for 15 minutes, stirring occasionally.  I then take the pan off the heat and let it cool down by at least half before blitzing with a hand-blender until gloriously smooth and velvety.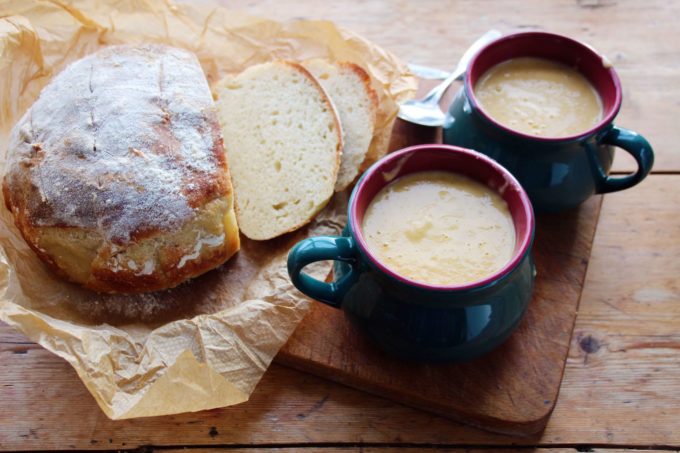 eat and of course, enjoy!