basa and broccoli gratin
Basa is a simple white fish that is a good alternative to cod or haddock.  I wasn't actually looking for a cod-type fish but the lovely man at Morrisons persuaded me to try it and I'm glad I did as it actually pushed me to make this very simple cheesy bake.  The flesh is quite robust and so holds up well as a pie-fish and the flavour is very nice.  The thing with fish is that, whilst I actually eat quite a lot of it, I tend to buy it ready-cooked and have it in salads, or will occasionally buy some sea bass and pan-fry it so I rarely actually cook with it. So this dish, made with some left-over veg and a very dubious back-of-the-fridge swede is actually quite refreshing for a change.  With the amount of cheese i've used i'd be pushing it to say it's a lighter and healthy alternative January dish but to be honest it's very low-carb yet delivers that 'mac n cheese' comfort food that we all love and desperately need during these miserable winter months… so i'm happy.
butter and olive oil
4 shallots – chopped
1 leek – chopped
1/4 swede – very finely cubed
roughly 8 stalks of tenderstem broccoli – chopped
2 basa filets – chopped into large bite-sized chunks
salt, pepper and fresh thyme
2 large tablespoons butter
2 tablespoons plain flour
1/4 litre milk
1/4 litre vegetable stock
100g strong cheddar cheese
the great thing about this dish is that you can cook it all in one dish, each stage of the cooking adding to the flavour of the next so that by the time you make your white sauce you're cooking it in all the buttery, fishy juices which just makes the whole thing so divine… I used my large shallow cast iron casserole dish (and in the end transferred it to an oven-proof baking dish but could have easily baked it in the casserole.)
place your pan on a medium heat and melt some butter with a little olive oil (remember, leeks LOVE butter so be as generous as you dare!) and throw in the shallots, leeks and swede.  Stir well and saute for at least 8 mins until the leeks have turned translucent and the swede is beginning to soften.
throw in the broccoli and thyme, season well with salt and pepper and stir. Place the lid on and let the veg sweat for 4 mins or so until they're all softer but still have a little bite.
carefully remove the veg from the pan and set aside in a bowl
place the pan back on the heat and melt a little butter and once bubbling gently fry your fish… very lightly, just one minute on each side and then spoon this into the bowl with the veg whilst you make the white cheese sauce (spoon it out of the pan, leaving any juices and sauce for your white sauce)
melt the butter on a gentle heat and add the flour and stir well. The flour will thicken quickly but stir constantly and you'll avoid lumps (I usually do this just off the heat as I have more control.) Add a few splashes of milk (again off the heat) and stir well – again, it will thicken quickly but keep adding a splash of milk and stirring constantly and you'll soon have a thick sauce.  Once all the milm is used, place the sauce back on a gentle heat and slowly stir in the stock.  The sauce should continue to thicken so you have the consistency of custard or very thick cream.  Let is bubble away for a few minutes and then stir in the grated cheddar
if you're using the same pan to bake the gratin in the oven then pour the veg back into the cheese sauce and stir well… or if you're using a baking dish them simply combine it all together in the dish
bake in an oven set to 170C for 15-20 mins until it begins to turn golden on top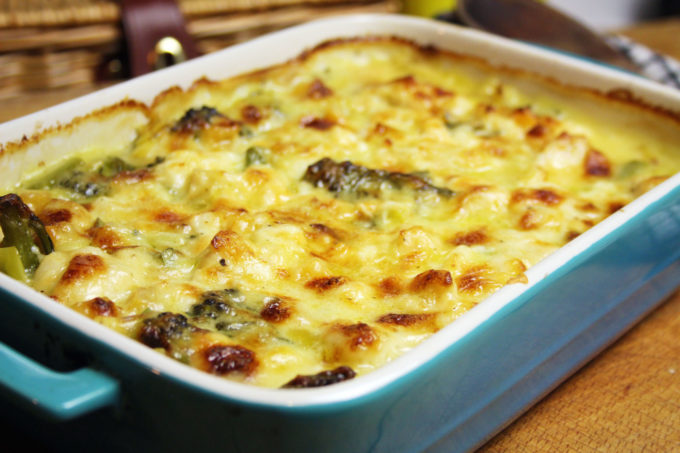 eat and of course, enjoy!