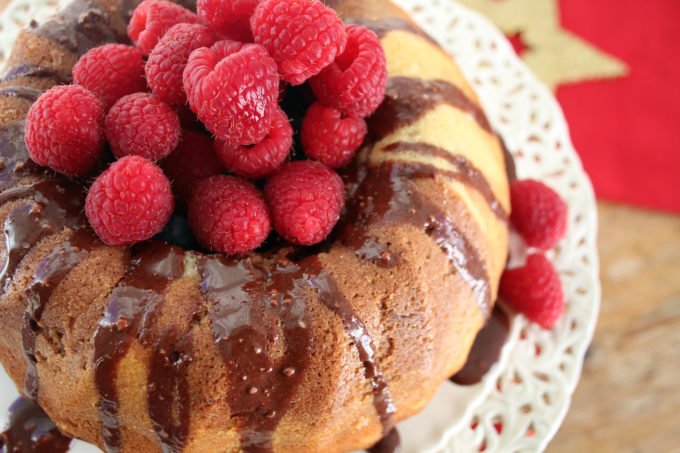 At last we are home and at the cottage for the rest of the year… I have already donned a fresh set of my most velvety soft pyjamas, fluffy socks and baggy jumper and I intend to stay thusly until I am forced by visitors or smell to shower and change.  Even though I plan to stay in bed for giant swathes of time it's actually unlikely this will be a reality because I get bored very quickly but I will give it as good a go as I can… other than that I'm sure there will be cooking and drinking and watching TV and general laying about.  I am of course wishing for very cold weather and snow but this is so unlikely I really shouldn't bother because I know i'll be disappointed, still the fire will be on and it will be cosy whatever happens.  I am literally over-joyed!

chocolate clementine marble cake
This is a very simple cake but for me it's the absolute taste of Christmas and if like me, you're not that keen on the classic Christmas Cake or Christmas Pudding then this is a great alternative.  Chocolate orange always means Christmas to me because as a kid it was when Grandma Jennie would arrive with Terry's Chocolate Oranges for us grandkids.  I've pepped it up a little with some Grand Marnier orange liqueur but this only goes to enhance that incredible chocolate-orange taste.  Of course the clementine is in here for some festive flavours but it's such a subtle difference it's essentially chocolate orange.  Have I said chocolate orange enough?  The other thing I love about this cake is that whilst it's very sweet, it's still not as sweet and cloying as a christmas cake or pudding and served with some fresh fruit it just makes a lovely change. There's also something wonderfully old-fashioned about a simple marble cake that makes is special.  It's the kind of thing mum's used to make before instagram and it was marvellous enough to cut into it and see the marbling effect. To be honest we're usually so stuffed after the turkey there's very few people who even take up the offer of pudding so this is also very nice later on in the day with a cuppa in front of the telly.  The perfect day.
225g butter – room temperature
225g golden caster sugar
3 large free-range eggs – beaten
180g self-raising flour
90g ground almonds
1 teaspoon baking powder
2 or 3 tablespoons milk
the finely grated zest of a clementine
1 tablespoon good quality cocoa powder
1 tablespoon orange brandy or orange liqueur (or the juice of a clementine if you want this cake to be alcohol free)
I used a large bundt tin but I recon a 20cm loose-bottomed cake tin would do you nicely, line and grease well and pre-heat your oven to 170C.  I'm also using my smeg stand-mixer with the batter paddle but a large bowl, electric whisk or even a wooden spoon with work well.  You will need a second bowl to make the chocolate-flavoured batter
combine the flour, baking powder and ground almonds and set aside
place the sugar and butter in a large bowl and beat well until soft, pale and creamy – this will take 7 minutes in a stand mixer and about 9 minutes with a wooden spoon
next add half the beaten eggs and beat in followed by half the flour mixture and beat in until incorporated
next, add the remaining eggs, flour mix, the clementine zest and milk and beat well until combined and you have a relatively slack batter with no lumps – take out half the batter and place it into a clean bowl
add the cocoa powder and either clementine juice or orange liqueur and stir in well until fully combined
spoon alternative spoonfuls of the dark and light batters into your cake tin, layering up as you go, there's no need to be neat or have any particular method, just get the batter in… then, using a skewer or knife, swirl the batter together to create an attractive marbling effect – don't do too much swirling as you want to see the results not a plate brown all in one cake!
bake for 40-50 mins or until a skewer inserted comes out clean
eat and of course, enjoy!