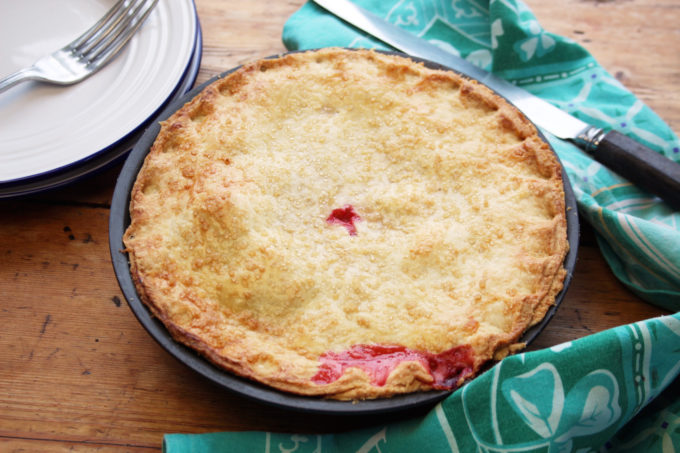 … back at the cottage once more after the last weekend in Devon for the wedding of a good friend.  It was such a wonderful weekend, the weather was utterly glorious, the sun just the perfect side of warm and shiny without being sweltering for the wedding party and the location was bucolic perfection with the little old church nestled in the rolling Devonshire countryside and the wedding breakfast set in a stunning listed Georgian house.  Much merriment was had… and then this weekend literally couldn't be more noticeably different.  It's like winter again. Constant drizzling rain and it's cold outside.  Proper cold.  Like, we need to light a fire again cold… oh well, there's only one thing for it and that's rhubarb, apple and raspberry pie…

rhubarb, apple and raspberry pie
it's finally rhubarb season… not that you'd notice by the weather outside but it's fought its way through the solid earth and it's glorious.  I've always adored rhubarb.  With it's bitter-sweet and sherbet flavour it's a kick on the tongue and then a burst of tanginess on the taste buds.  What I hate is when it's served as mush with custard and it seems it was always served this way at school.  I like to keep away from the custard and keep my rhubarb firm.  I do this by cutting it into large chunks and not pre-cooking it too much, just enough to soften it slightly as the rest is done in the oven.  I'm mixing it up a bit with apple, an obvious choice but also raspberry which is simply superb with rhubarb.  My mum got me into this combination and i'm so glad she did.  You must try this rhubarb, apple and raspberry pie.
for the pastry
300g plain flour
3/4 teaspoon baking powder
112g caster sugar
150g unsalted butter
100g full fat cream cheese
75g ground almonds
1 egg yolk
a little milk to bind
for the filling
5 long stalks of rhubarb – thickly sliced
2 apples (I used regular red eating apples) – roughly chopped
200g raspberries
2 tablespoons caster sugar
1 teaspoon cinnamon
1 teaspoon vanilla bean paste
start with the pastry… sift the flour, baking powder and sugar into a bowl, add the butter and rub until it resembles breadcrumbs then add the cream cheese, ground almonds and egg yolk, take a knife and mix until it comes together into a dough, you may need to add a little milk here, as I did.  Place the dough onto some cling-film, flatten it out, wrap it up and chill the dough for at least 30 mins.
meanwhile, place the rhubarb, apples, sugar, cinnamon and vanilla into a large pan and heat gently, stirring occasionally.  You want to cook these for roughly 5 mins to soften slightly but you don't want the rhubarb or apples to be too soft, I like to keep some bite and remember they will cook in the oven too.  Once you're happy, stir in the raspberries and set aside whilst you roll out the pastry
butter your pie dish – i'm using my 22 inch metal pie dish and pre-heat the oven to 180C
generously flour your work surface – this is very important because this pastry can be very tricky to handle so you need to treat it with respect and be in control – cut the pastry in half and set one aside back in the fridge
place the piece you're going to use onto the flour and pat it down with your hand, turning the dough as you go to ensure a nice round shape – sprinkle more flour on top and then gently roll out with a rolling pin.  I tend to do one roll, then turn the pastry one quarter clockwise, a little more flour, roll again and turn, then I flip it over and repeat till I get the thickness I need.
carefully lift up the pastry and swiftly transfer it to the greased tin, press well into the base and trim the edges
pour the cooled filling into the tin on top of the pastry, then roll out the other half of the pastry as per before.  Lay the pastry on top, trim and get creative with the edges
brush the top of the pie with an egg and milk wash and bake for 30 mins or until golden brown
eat and of course, enjoy!
SaveSave