… a couple of weeks ago, as I walking into my HIIT class, someone opened a door into me.  It hit my right shoulder with quite some force but because I was seconds away from the start of the class I kind of brushed it off with an embarrassed grimace, rubbed it a little and wiped away the tears from my eyes.  I wanted to scream and shout but I managed to vent my anger at my own stupidity into the punch bag.  My shoulder bruised up nicely but more than anything it ached.  It ached deep into the joint.  I was quite amazed how doing the smallest things like stretching or yawning made my shoulder ache.  I've been managing the pain and over the past week its been lessening with each passing day… until yesterday.  Yesterday I had a proper old man moment.  There's a new supermarket in town and of course it's very popular.  So much so that the carpark is already over-crowded and a bit of a bitch to drive around (mainly because everyone else is stupid..) So I tend to park across the road in a regular parking spot.  It's actually closer to the store than some of the parking spaces in the car park but you do have to dash across a busy road to get there.  So I complete my shop and I have two large bags of shopping balanced in my hands and am crossing that busy road back to the car when the tied laces of my left boot (the bow) catches into the metal hook of my right boot. (I'd made the choice to wear my practical walking boots because its been so rainy and there's mud everywhere…) And before I know it, i'm on the ground, having landed hard on my right shoulder, with all my shopping strewn across the road.  Being British, I ignore any offers of help, chase oranges and cucumber across the tarmac and run back to my car, shaken and a little confused.  Of course this all means that my healing shoulder is now back to being bruised and aching and of course my ego is well and truly smashed.  I also have a pair of walking boots for sale if anyone is interested…?

creamy onion, broccoli and mushroom pie with a ruff puff pastry crust
This, or variations of it,  is my favourite 'go-to' veggie pie whenever i'm in the need for some pastry-lined comfort food.  I love the creamy sauce – here with the kick of mustard and white wine, mixed with all the lovely vegetables.  I think Mushroom and creamy sauces are excellent bed-fellows and the onions and broccoli give the whole pie a wonderful depth of flavour and texture.  Try and leave everything chunky.  There's nothing worse that too-smooth food and sometimes these creamy vegetable fillings can tend to turn to mush.  This pastry is also rather epic.  If you've never made or have a fear of making puff pastry then try this simpler ruff puff version.  It couldn't be easier, you just need a little patience and a cold fridge.  I would also recommend splashing out on a good quality butter too as this pastry is pretty much 50% butter so you may as well make it a good one!  The pastry is always a success and very robust.  I promise you won't regret making it.
for the ruff puff pastry
250g strong plain wholemeal flour
1 teaspoon fine sea salt
250g butter – taken from fridge 30 mins ago
about 150ml cold water
for the creamy mustard sauce
40g butter
40g plain flour
2 teaspoons mustard powder
1 pint of milk or 1/2 pint of milk and 1/2 pint stock
2 tablespoons white wine
2 tablespoons single cream
pepper
for the filling
2 large white onions – roughly quartered
4 large flat mushrooms (field or portobello) – halved and then thickly sliced
1 sprig of rosemary
1 prig of thyme
fresh chives
1 packs (240g) tenderstem broccoli 0r one head of regular broccoli – roughly chopped
salt and pepper
olive oil and butter
start with the pastry… sift the flour and salt into a large bowl. Using a large grater, grate the butter into the bowl and rub it loosely into the flour. You need to see bits of butter.
make a well in the bowl and pour in about two-thirds of the cold water, mixing until you have a firm rough dough adding extra water if needed. Flatten the dough out onto some cling film and leave to rest for 20 mins in the fridge.
turn the dough out onto a lightly floured board, knead gently and form into a smooth rectangle. Roll the dough in one direction only, until 3 times the width, about 20 x 50cm. It should look marbled with butter.
fold the top third down to the centre, then the bottom third up and over that. Give the dough a quarter turn (to the left or right) and roll out again to three times the length. Fold as before, cover with cling film and chill for at least 20 mins before rolling to use – I put mine in the freezer.
pre-heat the oven to 170C and butter a 20cm round pie-dish
to make the pie, gently heat some olive oil and a little butter in a large pan, saute the onions for about 6 minutes until they being the colour, then pop in the mushrooms and fresh herbs, stir and pop on the lid for 6 minutes.. the large mushrooms should release all their water and soften quickly, then remove the lid, turn up the heat a little add some salt and plenty of black pepper and saute until the mushrooms take on the lovely golden colour
add the chopped tenderstem on top of the mushrooms in the pan, pop the lid back on, turn the heat to it's lowest and let the tenderstem gently heat through for 6 minutes – you really don'tt need to cook them for very long as they are so tender and the crunch of the vegetables add a great texture –  then turn the heat off and set aside until you've made the mustard sauce
make the sauce by melting the butter gently in a small pan, once melted, remove from the heat and stir in the flour into a smooth but thick paste then add a dash of the milk/stock and stir into a paste.
place the pan back on a gentle heat and slowly add a little milk at a time, stirring well between additions… if it looks like it may become lumpy take the pan off the heat and stir until smooth.  Continue this way until all the milk is gone and you have a nicely thick sauce.  In a small dish, add some milk to the mustard powder and stir to a thick paste, then stir this into the sauce along with the wine – let it bubble away very gently on the heat for 10 minutes, stirring regularly.
set the sauce aside for a few moments, then pour it over the vegetables and mix it all together – set aside.
take your pastry out of the fridge and divide it into two even pieces… dust your surface with flour and roll out one piece for the base of the pie and lay it into the pie dish – I like my pie crust nice and thick – trim the edges and pour in the vegetable and sauce filling
then roll out the second piece of pastry and lay it over the pie, trim again and then pinch the rim of the pastry to seal the pie crust to the base.
brush with a little beaten egg and score with a knife before baking for 30 mins or until the pastry is golden crisp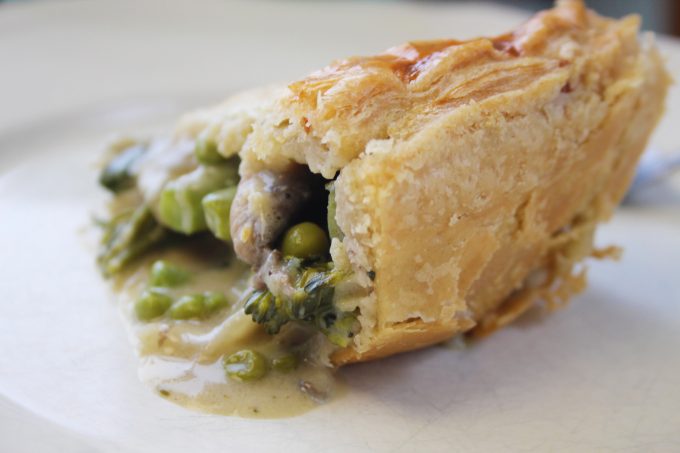 eat and of course enjoy!
SaveSave