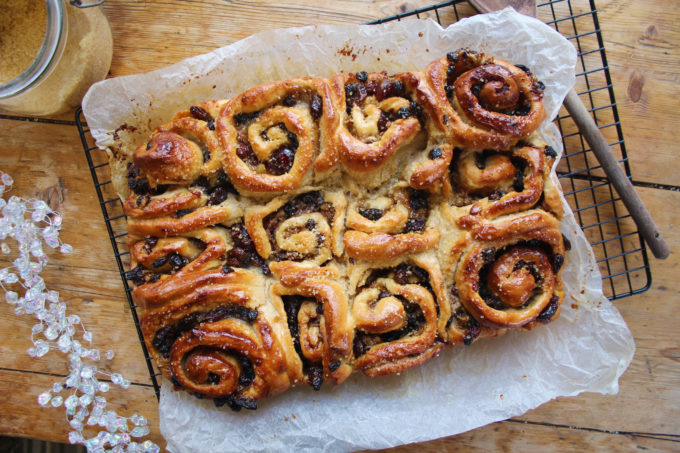 … I knew it would happen eventually but i've got myself a nasty little cold.  It's a proper cold too, the kind with a blocked and runny nose (how is this possible?) Plus a sore throat.  I'm not sleeping and finding it hard to be interested in food which is also making me grumpy.  As you can imagine, i'm a right laugh to be with.  In one way it's really rather horrid but in another i'm really pleased I've got this now and not closer to the big day itself.  That would be really rather mean.  I think it's all finally come to a head now the year is wrapping up but I'm not particularly pleased.  The worst thing is that I can barely taste anything and I hate that… even these stunning buns didn't really get a look in but The Viking tells me they were rather nice.


mince pie chelsea buns
I do love a rich fruit bread at Christmas… there are so many to chose from such as the divine Italian Panettone, the German Stollen or the colourful Mexican Rosca de Reyes but I do really adore the classic Chelsea Bun.  I realise it's not particularly a Christmas thing but they look so festive with their fruit-laden swirls and don't take much adaptation from the norm to make them seasonal.  I've simply used a jar of my favourite mincemeat and some extra cinnamon along with the grated pear which lifts it rather nicely.  The dough is an enriched bread dough with sugar and eggs so you need patience with this.  It takes a day to make with very little time to spare so ensure you have plenty of time and you're not planning too much.
for the buns
500g strong white bread flour, plus extra for dusting
30g caster sugar
1 tsp salt
7g (1 teaspoon or 1 packet) fast-action dried yeast
300ml whole milk
75g unsalted butter, plus extra for greasing
the zest of 1 clementine
2 tsp mixed spice
1 large free-range egg
for the filling
100g unsalted butter, very soft or at room temperature
100g light brown sugar
1 large jar mincemeat
1 large pear – grated
the zest of 1 clementine
100g mixed dried fruits
for the glaze
50ml milk
50g caster sugar
start with the dough… put the flour, caster sugar, salt and yeast into a large bowl and set aside. Put the milk, butter, clementine zest and mixed spice into a small saucepan and cook over a low-medium heat until all the butter has melted. Set aside until just lukewarm.
make a well in the middle of the flour mixture, then pour in the milk mixture and add the egg. Mix with your hands to form a rough, soft dough. Tip out onto a lightly floured work surface and knead for about 10-15 minutes until smooth and elastic. (I did this in my stand mixer, using the dough hook on low speed for 10 minutes.) then put the dough in a lightly greased bowl and cover with cling film. Leave it to rise for about 1-1½ hours or until it has doubled in size.
once it's risen, tip out the dough onto a lightly floured work surface and use a rolling pin to roll into a 40cm x 50cm rectangle. Using a spoon or spatula, spread the 100g butter in an even layer across the entire surface of the dough, then spread the mincemeat, grated pear, clementine and sprinkle over the 100g sugar. Top with mixed dried fruits and gently press with your hand to secure in place. Roll up the dough into a cylinder along the long edge, keeping the spiral tight. Using a sharp knife, cut into 12 even slices.
grease and line a baking tin roughly 20cm x 3cm and arrange the buns snugly in the base. Cover the tin with cling film, set aside and allow the buns to prove for 45-60 minutes until risen and puffy. While the buns are proving, heat the oven to 180°C Once proved, bake the buns for 25-30 minutes or until golden brown. While the buns are baking, prepare the glaze: put the milk and caster sugar in a small pan, then bring to the boil over a low heat. Remove and allow to cool.
Remove the buns from the oven and immediately brush with the cooled milk glaze, then sprinkle over some demerara sugar.
eat and of course, enjoy!
SaveSave