so i realise that this dish really isn't the most attractive thing i've ever posted on Belleau Kitchen but I can tell you now that it's probably one of the tastiest and quite frankly it doesn't have to look good to taste good… plus (another excuse) i'm stuck London this weekend without my camera so these pics are all done on the trusty iPhone…
… I also have to apologise because this is a short post as i've spent most of the weekend in bed.  I can't quite put a finger on exactly what's ailing me but I think i'm notching it down to a combination of a very strange stomach ache and exhaustion.  I am absolutely knackered and I knew this malaise would hit me at some point.  I've been working hard and perhaps playing a little too hard (even though at my ripe old age, two glasses of wine is now my version of 'playing too hard') and it's finally taken its toll.
I genuinely thought i wouldn't be posting anything this weekend because I needed to rest but a man's gotta eat right?


baked cheddar polenta and salmon with crushed pea and garlic
I managed to haul myself out of bed for long enough to create this really easy bake… there are a few steps that need consideration but once done it's pretty much 'leave well alone' which is exactly what you need when you're feeling this gloopy.  The creamy, cheesy polenta is a must if you're feeling under the weather.  It's like baby food but rich and thick and cheesy and totally comforting.  The peas add some sweetness and much needed green whilst the salmon adds a little edge of sophistication and maturity to the dish… made me feel so much better.
for the polenta
1 litre good quality vegetable stock
150g (about a mugful) of polenta or cornmeal
25g good butter
50g freshly grated cheddar cheese
Olive oil and salt and pepper
for the crushed pea and garlic
150g fresh or frozen peas
4 cloves garlic – skin on
olive oil
2 salmon fillets
you will need an oven-proof dish lined with a large sheet of scrunched parchment paper (large enough to wrap entirely around the fish… pre-heat your oven to 160C
place the garlic into a small ramekin or oven-proof dish, drizzle with oil and a sprinkling of salt and pepper and bake gently in the oven for 30 mins until the the garlic is darkly golden and soft – squeeze them out of their skins and set aside
to make the polenta, pour the stock into a large pan over a medium heat. Slowly add the polenta in a steady stream, whisking as you go. Cook for 5 minutes, or until the polenta thickens a little, then turn the heat down and simmer for 10 minutes until cooked, stirring frequently (at least every 5 minutes) to make sure that it doesn't stick or go lumpy. The polenta is cooked when it has lost its grainy texture and feels smooth.
add the butter and cheddar to the cooked polenta, then season to taste with salt and black pepper and then set aside
steam or boil your peas for about 5 minutes until they are soft and hot, then drain and set aside, once cooled pour them into a bowl with the soft roasted garlic some olive oil and fresh chopped herbs and either whizz together with a hand-held blender or crush with a fork
spoon the polenta into the ovenproof dish with the parchment and then swirl 2/3 of the crushed peas into the polenta
lay the salmon on top, season well then lay the rest of the crushed peas on top and wrap the whole thing tightly in the parchment and bake in the oven for 15 minutes, then turn the oven up to 180, open up the parchment and roast again for a final 5 minutes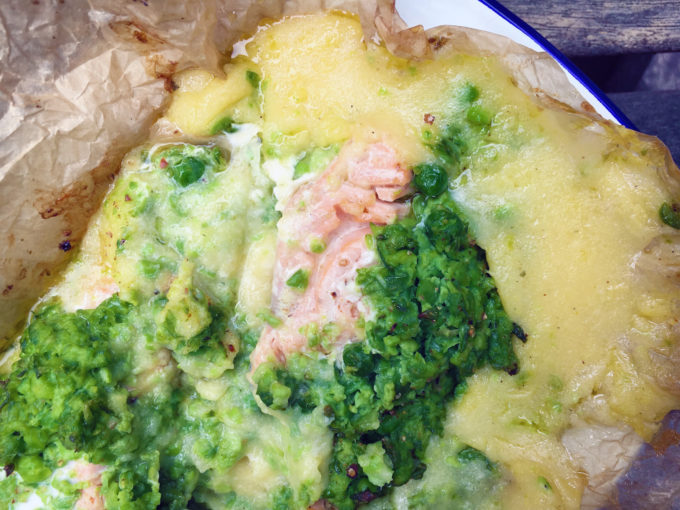 eat and of course, enjoy!