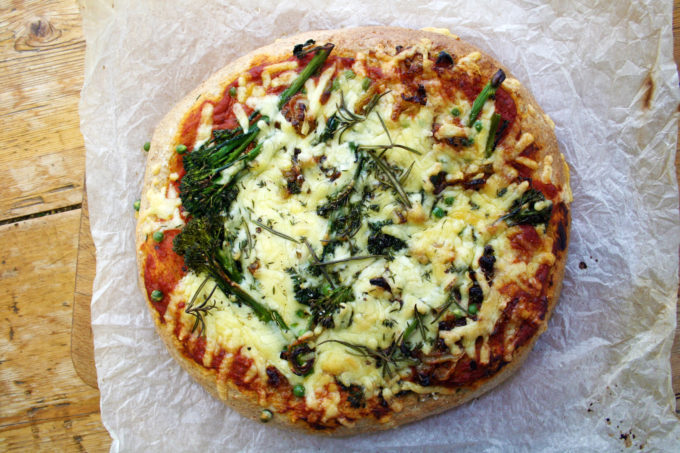 … I think that The Viking and I lead a pretty healthy lifestyle.  Yes, there's a lot of cake and yes we love to eat heartily but we also exercise regularly and eat a lot of green stuff so I don't worry too much.  One thing we do eat huge amounts of is cheese.  We both absolutely adore cheese.  Any kind, from your regular block of British Cheddar to the smelliest Camembert we will eat it all day long.  Our treat in the evenings are slices of cheese, carrots and celery… or if we're really lazy, slices of cheese.  So you can imagine that it came as quite a shock to us when the good people at Arla asked me to take up their two week #LactofreeChallenge which involves replacing my usual dairy products with Arla Lactofree alternatives.
Now, you may be thinking 'what is he talking about?' because you realise that lactofree dairy is still dairy just with the lactose removed but up until I actually tasted the delicious soft white cheese and then read the actual package I didn't really have a clue – slapping the forehead kinda moment, I know!
The Arla Lactofree range comprises the same classic dairy products you know and love (milk, cheese, yoghurt, cream and spreadable) but minus the sugar lactose, which triggers unpleasant reactions in the intolerant. Basically, it's an exact match for taste and consistency and can be swapped for the same volume of traditional dairy in any recipe – but comes without the digestive discomfort that bothers people with intolerances.  Which is great right?  It's quite amazing that there's so much choice out there these days and that the choice is of such high quality for both us and the welfare of the cows, which is also really important to me.
Now I don't believe I am but up to 15 per cent of the UK population are thought to be lactose intolerant, according to research published in the 
American Journal of Clinal Nutrition
 With common symptoms of lactose intolerance include stomach cramps, bloating and irritable bowels – not nice.
We were sent a really generous amount of milk, cheese, yogurt and spreadable and really didn't notice any difference at all over the two week challenge period, which I guess is really great.  My favourite product was the soft white cheese which we managed to get through in one sitting, spread onto crackers and eaten with avocado. We enjoyed it so much that I actually had to change the recipe I was going to cook (a pea and broccoli risotto) with the one below. We also enjoyed the yoghurt and the strong cheddar which was in fact a perfectly delicious replacement for our regular strong cheddar in texture and taste.


lactofree red pesto broccoli and pea wholemeal pizza
for this challenge post I wanted to make something ordinary and everyday but with a little special twist that pushed me to explore the products that the lactofree range had to offer so the pesto here is made with the lactofree mature cheddar cheese.  It may look like a long process below as i've made the pesto and the tomato sauce from scratch but feel free to skip this and use your favourite brand of sauces if you want something a little less laborious!
the pizza base (enough for two medium pizzas)
500g wholemeal flour
2 teaspoons fast action dried yeast
2 teaspoons salt
1 tablespoon olive oil
300ml tepid water
the topping
one large white onion – peeled and finely sliced
100g tenderstem broccoli
100g peas – frozen or fresh
150g grated Arla Lactofree strong cheddar
the red pesto
1 garlic clove
50g cashew nuts
260g semi-dried tomatoes in oil, drained
1 red chilli, deseeded and roughly chopped
175ml extra-virgin olive oil
Pinch of sea salt
50g Arla Lactofree strong cheddar – grated
the tomato sauce
this sauce needs a minimum of two hours, longer if possible
2 medium onions – finely chopped
2 cloves of garlic – crushed
2 teaspoons dried chilli flakes (more or less to your taste)
Alta Lactofree spreadable and olive oil
2 x 400g tins of chopped tomatoes
1 x tin's worth of half white wine, half stock or water
rosemary, thyme and oregano
start with the tomato sauce as this takes the longest – but it can be made well ahead of time and jarred for up to a month – add the garlic and onions to a large hot pan with olive oil and a little spreadable and gently saute them for about 20 mins on a medium heat, with a pinch or two of sugar and some chopped fresh herbs… keep your eye on them, they want a little golden colour but you don't want them to stick
once they're done, remove and set aside a couple of large tablespoons for the pizza base and then add the tinned tomatoes, wine and stock, turn the heat to it's very lowest and let them plop away gently for at least 2 hours if not longer.
next make the red pesto which is super simple, in a food mixer or a nutribullet, simply add all the ingredients and whizz to a fine pulp – then set aside.
once the tomato sauce is ready, let it cool completely and then stir in the pesto – set aside or jar.
make your pizza base by placing all the ingredients into a bowl and bring together with a rubber spatula.  Once combined either oil your work surface and knead for 10 mins or pop it into a stand mixer with a dough hook and set it to knead for 10 minutes
once the dough is soft and elastic place it into a large oiled bowl, cover tightly with clingfilm and set aside until the dough doubles in size – this can usually take roughly an hour.  If you want to reduce stress and make the dough ahead of time simply place the dough in the fridge until you're ready to use it – it will last overnight.
when you're ready to assemble your pizza, pre-heat the oven to 190C and place either a large baking tray or a pizza stone in the warming oven, then split the dough into two setting one half aside.
gently steam your peas and broccoli until just al dente – then set aside.
oil your work surface and your hands and place a large sheet of baking parchment onto the oiled work surface.  Slap the dough ball onto the baking parchment and begin to spread the dough outwards creating a large rough circular shape.  I do this with the ball of my hand, teasing it out gradually but you could be more brave and toss the dough in the air to stretch it, or just use a well oiled rolling pin.  The dough will naturally reach a size where it can't get any larger.  I like my pizza's with a relatively thick base and crust but go as far as you dare.
once it's the size you like it, spoon on a generous spoonful of tomato-pesto sauce, leaving a nice, sizeable bare crust, then add your topping… I like to be really generous with the peas and the broccoli and then sprinkle with a little onion, then large handfuls of the grated lactofree cheese
using the edge of the parchment, carefully drag the pizza onto a large board or upturned baking tray and use this to transfer it to the hot oven, again using the edge of the parchment to drag it onto the pizza stone or baking tray already in the oven
bake for 20 mins or until golden and glorious
post promoted by Arla Lactofree
eat and of course, enjoy!