… it's that really odd period between Christmas and New Year that doesn't quite have its own home… don't get me wrong, The Viking and I are having some much needed time off and we're loving this lull but we're really bad at relaxing if we're not on an actual holiday… so far we've cleared out the loft, thrown away a huge amount of what can only be described as stuff, re-arranged the garage and even started on the garden shed… i've given the kitchen a mini Spring-clean too and this has all been punctuated by huge amounts of food, wine and game playing… some would say we're mad but to us, this is our idea of heaven.
little apple, marmalade and cinnamon pies
just because I wanted something a little fresher and cleaner than your average mince pie but I wasn't quite ready to give up Christmas just yet… the apples are cut into teeny pieces so they go in raw mixed with one of those 'hotel' pots of marmalade and a squeeze of clementine juice… but the real reason i'm making them is to give this stunning pastry one last outing before the new year.  I urge you to give this pastry a go.  It is by far the best sweet shortcrust I have ever baked or ever eaten and everyone who tries it tells me so.  I cannot claim the recipe for my own, it originates from Dan Lepard's brilliant Short and Sweet which i've adapted slightly over the years… just find an excuse to make it, that's all…
for the almond and cream cheese pastry
200g plain flour 
1/2 teaspoon baking powder 
75g caster sugar 
100g unsalted butter 
90g full fat cream cheese (I used cottage cheese which was excellent) 
50g ground almonds 
1 egg yolk a little milk to bind
the finely grated zest of a clementine
for the filling
2 medium apples – peeled, cored and finely diced
1 mini jar of marmalade (42g)
the finely grated zest and juice of a clementine
1 tablespoon runny honey
1 teaspoon cinnamon
start with the pastry – sift the flour, baking powder and sugar into a bowl, add the butter and rub until it resembles breadcrumbs – add the cream cheese, ground almonds, grated clementine and egg yolk, take a knife and mix until it comes together into a dough, you may need to add a little milk here, as I did. – chill the dough for at least 30 mins
once you've peeled, cored and chopped the apples, place them in a bowl along with the marmalade, honey, cinnamon, clementine juice and zest and mix them all together
pre-heat the oven 170C
roll out your pastry with plenty of flour on your work surface and then cut out circles large enough to fit into your deep muffin tins
place a generous amount of filling in each and then cut smaller circles of pastry to create lids which you can place on top and seal with the handle of a spoon or knife
bake for 20 mins or until golden brown, then allow to cool before dusting with plenty of icing sugar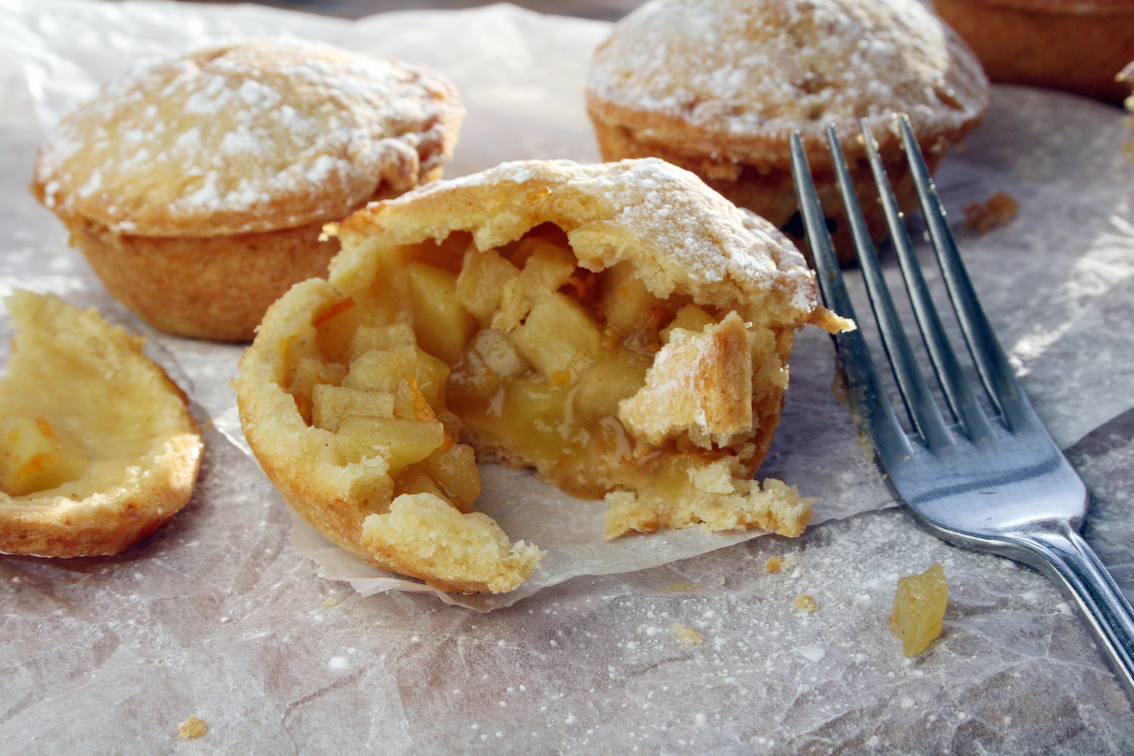 eat and of course, enjoy!