… i'm enjoying experimenting with the whole gluten free thing at the moment.  I've been spurred on by my sister Matti's visit but since she's departed we've continued to experiment.  It's not that I have a gluten issue but The Viking suffers from terrible arthritis in his hands and it's thought that arthritis could have a link to gluten intolerance so i'm more than happy to see where this leads and in fact it gives me an excuse to play around with recipes.  I haven't been brave enough to actually bake bread but I may give it a go this weekend… all in the name of science you understand…
oven roasted tomato, basil and mozzarella quiche with gluten-free pastry
on my regular trip through blog-land I spied this scrummy Mediterranean Summer Tart pie from Kate the Gluten Free Alchemist… I love the way it's so completely packed with veg and the GF pastry looked so wonderfully crumbly too I was utterly inspired.  What i've made takes its flavour heritage from the classic Italian combo of tomato, mozzarella and basil and i've gone for a more traditional style quiche filling, albeit using a low fat creme fraiche and cottage cheese… the quiche was glorious and very pizza-like when it was warm out of the oven as the mozzarella was still soft and oozing but it changed quite considerably once it had cooled down to become a firmer quiche-like tart.  It can be a little time consuming baking the tomatoes first but the aroma filling the kitchen is well worth it.  The gluten free pastry was very very crumbly, nothing like regular pastry at all and not particularly easy to work with but it tasted divine… which is all you need to know…
for the gf almond pastry – taken from Kate's blog
130g brown rice flour/rice flour
50g corn flour
1 teaspoon xanthan gum
½ teaspoon sea salt
40g ground almonds
110g cold butter (cut into small cubes)
1 large egg
1 tablespoon cold water
fresh chives – finely chopped
please note I didn't have any xanthan gum but I used 180g of lovely
Doves Farms
gf flour which contains the rice flour, corn flour and xanthan gum
for the quiche filling
250g baby plum tomatoes or similar vine ripened baby toms – halved
olive oil
balsamic vinegar
fresh oregano
150g mozzarella
fresh basil
4 large free-range eggs
300g cottage cheese
200ml creme fraiche 
seasoning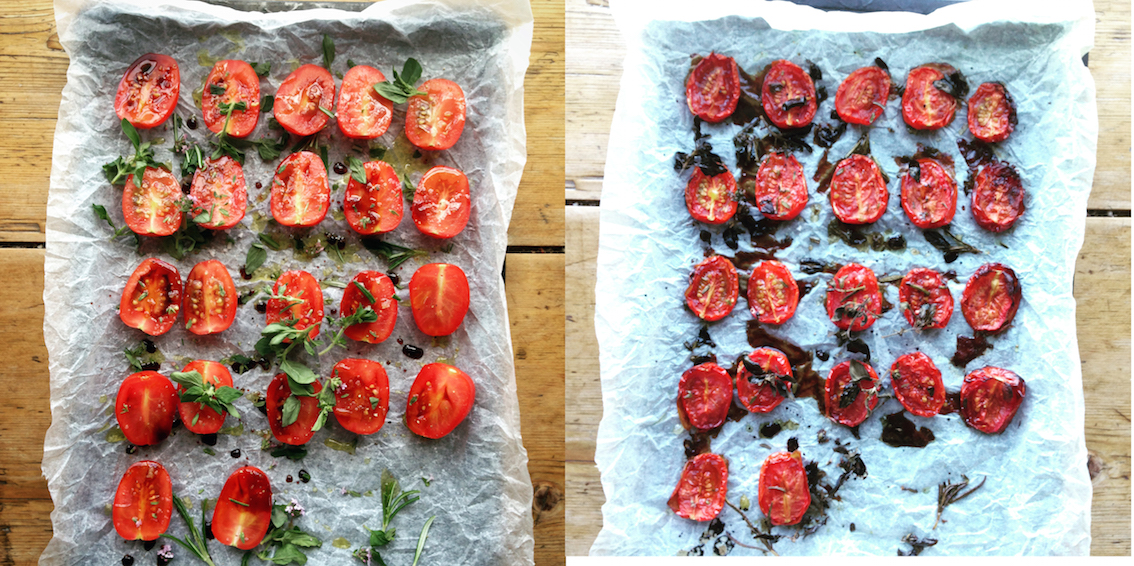 turn the oven to 140C, line a baking sheet with oven-proof paper and lay your tomato halves cut side up on the tray.  drizzle with olive oil and a little balsamic vinegar and season well with salt and pepper and freshly torn oregano – bake for at least 30 minutes but longer if possible – I do mine for up to an hour, turning the heat down to 100C after 30 mins
next make the pastry by placing the flours, salt, ground almonds and butter in a large bowl and mix together with your finger tips until you have a crumbly texture.  Stir in the chopped chives then beat the egg and water together and add to the pastry and begin to stir together with a knife.  Once it comes together get your hands stuck in and bring together to form a ball of dough.  
flatten out the dough a little then wrap in clingfilm and pop in the fridge for 30 mins.
butter well a 20cm fluted flan dish and then once the dough has had time to rest in the fridge carefully roll it out on a well floured work surface and lift it into the dish… my pastry fell apart and was an utter mess but I managed to jigsaw it into the dish and press it all together and it worked fine.
lay some parchment paper on top of the pastry and fill with baking beans and bake in the oven on 160c for 15 minutes until a pale golden – then remove from oven and set aside.
beat the eggs together with the creme fraiche and cottage cheese and pour it into the pastry case then tear the mozzarella and drop it onto the filling along with the torn basil, then lay the roasted tomatoes on top
bake for 30 mins on 170C until golden and glorious and eat as soon as it's cooled slightly 
i'm entering this quiche into the
Pastry Challenge
founded by Jen over at
Jen's Food
and hosted this month by Lisa over at
United Cakedom
with the theme of breakfast and brunch… and I think a quiche falls perfectly into the brunch category.
eat and of course, enjoy!