… one day when I finally give up the big smoke and retire to the country I will open a little deli that sells gorgeous homemade goodies… it will be a simple and humble place, hopefully somewhere where weary folk can rest their tired bones and refresh on my good, simple but tasty food.  Maybe i'll run a couple of little cookery sessions on how to bake chicken thighs or low-knead bread but I know it'll be a happy place which allows dogs to snooze in the sun whilst their owners walk around the garden where they'll stare enviously at the herb and vegetable patch that The Viking has cultivated so beautifully over the years…  I'll sell proper freshly ground coffee served by people who have been trained how to make a decent cup and i'll serve proper loose-leaf tea in pots.  I will ensure there's a couple of decent vegetarian dishes on the menu that don't involve copious amounts of goats cheese and mandarin and i'll make decent door-wedge sandwiches fat with fillings… I will also serve the best quiche you'll ever eat…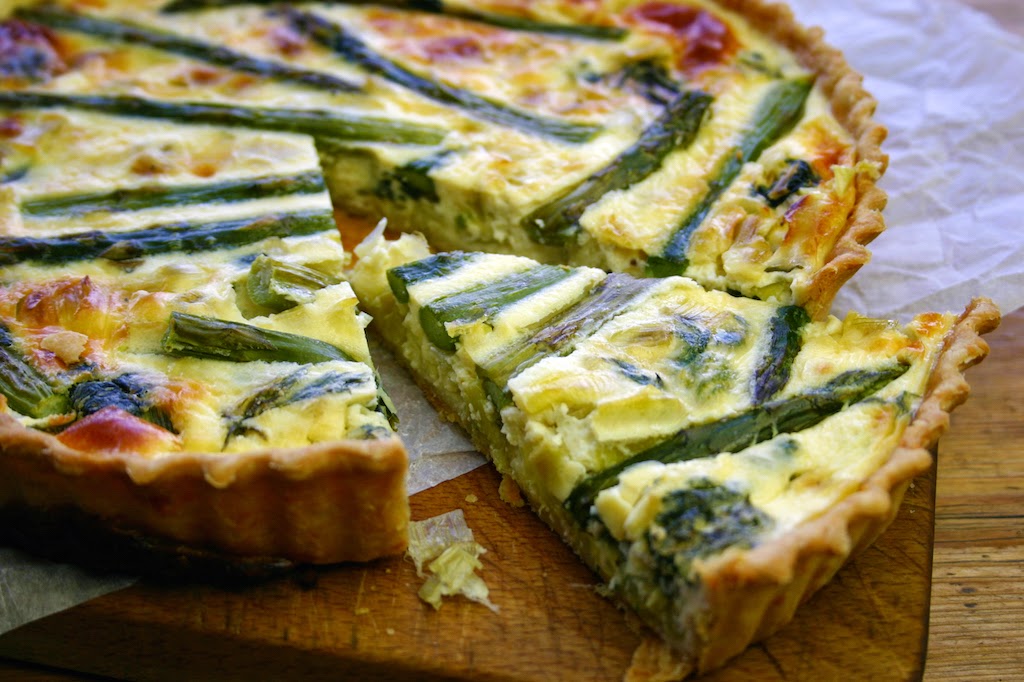 spring quiche
the season has never quite begun until quiche is served don't you find… of course this is a ridiculous statement to make but in all honesty the quiche doesn't usually make its appearance until a few days of sunshine have warmed the land a little at least and here in the UK the past few days have been utterly glorious so there's no doubt that it's the season for quiche.  This quiche is phenomenal and it's the reason I make this same quiche, with different fillings, every year.  It's a recipe slightly adapted from the quiche my mum always served and still serves to this day at all family functions or summery Sunday's.  It's a stunning quiche that freezes beautifully and which both the vegetable fillings and the cream mixture can easily be changed.  If you're not a fan of cream try cottage cheese or creme freche.  If you're not a fan of leeks try mushrooms, spinach or salmon.  Whatever you try, try it.  You won't regret it.
for the pastry
250g plain flour
100g butter
50g finely grated strong cheddar cheese
water to mix
for the filling
6 or 7 Spring onions – chopped
1 medium leek – finely sliced
15 nettle tops
11 asparagus spears
butter and olive oil
fresh chives – finely chopped
salt and pepper
4 eggs – beaten
150ml single cream
100ml soured cream
i'm using a 25cm, 3cm deep fluted tin with a loose bottom which i've greased well
start with the pastry by rubbing the butter into the flour in a large bowl until you have something resembling breadcrumbs, stir in the grated cheddar then add a tablespoon or two of cold water and bring together into a dough with your hands, you may need to add a little more water to create the dough but you will feel how 'short' the pastry is.  Wrap in cling film and pop in the fridge for at least 30 minutes
carefully pick the nettles… you'll need rubber gloves for this… when picking nettles you only want the top 4 leaves of smaller, younger plants.  I pick them a place them directly into the tub of my salad spinner so I can wash them directly after picking whilst I still have the gloves on… then spin them and set them aside till you need them
place the asparagus in a large bowl, boil the kettle and pour the boiling water over the asparagus and set aside
in a large pan gently melt a generous amount of butter with a little olive oil and throw in the spring onions and the leeks and plenty of pepper and let then sweat for a little until they begin to soften, then add a little salt, then turn up the heat a little and saute them further, then add the washed nettles, stir then add the blanched asparagus, place the lid on, turn off the heat and steam for another eight minutes until cool
now your pastry should be ready, roll it out and line your greased quiche pan. Scrunch up some baking parchment and then lay this into the pastry case and pour some baking beans on top. Blind bake for 15 minutes on 150C
once your pastry is turning golden, take it out of the oven and set aside whilst you beat the eggs into the cream… pour leek and nettle mix into the pastry case followed by the cream egg mix and then lay the asparagus on in a random fashion and  bake on 160C for about 15-20 minutes until golden and risen, set aside on a wire rack to cool.  The quiche should easily slide out of the tin.
eat and of course, enjoy!