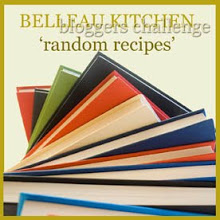 … this being the 25th episode of random recipes I realise that i'm now beginning my third year of this bloggers challenge, which is a pretty incredible thing if you ask me and something that I feel quietly proud of… looking back at the first one I still strongly believe in the concept and it's clear from that first round-up that you all did too… and so lovely that there are still some familiar faces taking part, even after 2 full years of me torturing you… and it's been a fun and sometimes bizarre journey that we've all been on… (cue flash-back wobble and soppy music…) remember the one which was Just Desserts or the one that was First and Last and who can forget everyone's favourite where we got to peek into other peoples kitchens… and of course let's not forget poor Ruth's Banana Soup…
… so to celebrate going in to our third year i'd like you to choose your book your way… however you do it make sure you pick a random recipe from it and celebrate our love of recipe books and those wonderfully talented people who write them…
as usual the rules are pretty simple:
1 – choose a cookbook… don't mind how you do it, the choice is yours!
2 – close your eyes and open your chosen book at a random page and make the recipe on that page – do not cheat, you're only cheating yourself!
4 – you may adapt the recipe for health/dietary/product availability purposes only
5 – post the recipe on your blog linking back to me and my blog
6 – include the random recipes badge in the post
7 – email me a link to your post to dominic(at)belleaukitchen(dot)co(dot)uk
8 –
 challenge deadline is Feb 28th 
9 – if you tweet your posts please mention @belleaukitchen, and use the hashtag #randomrecipes and I will retweet all those I see
10 – your post can be submitted to other blogging challenges, just make sure this complies with the rules of the other challenge.

… for my own recipe this month I picked a book one of my neighbours in the village bought for me for Christmas and I haven't had the chance to even glance at it yet so this is the perfect opportunity… it's called Rambler's Rewards – Cooking from Coast to Coast by Elizabeth Guy and Pat Kirkbridge and it's a virtual plethora of local UK treats that you would come across should you find yourself on the quintessential Wainwright's Coast to Coast Walk … taking in much of the beloved northern English landscape whilst you do… just a quick skim of this book and i'm already thinking of this years holiday…

… and after flipping it open with a flourish, there on page 134 there's a beautiful recipe for Salmon en Croute, which is something i've never made and always loved… so i'm very happy with my random selection… now off you pop and go choose yours!