… i've recently discovered a new Lincolnshire based fashion blog called Stella and Alf… it's written by two young uber-cool designers called Paris and Charlotte and they write about this wonderfully cool world of fashion and art that I used to be part of more than 20 years ago… they've very kindly asked me to write a guest post on their blog based on one of the twelve days of christmas… I got Day Six and here's what I did…
… yes dear friends, even though it seems like only yesterday, here comes christmas once again… don't panic… take a deep breath… you should be having fun, tis' the season of good-will, after-all and if you happen to have friends and family popping in unannounced over the next few weeks you should be so fabulously prepared that nothing will phase you… and you know we'll all get through it together if we follow these three simple rules…
one… calm down and have a little something to drink, I promise it will all seem better through the fog of a swift thimble of whisky
two… try and let go a little… if you're anything like me, your kitchen is your special haven and nobody messes with your sacred space… this is all very well at any other time of the year but this is christmas and people like to wonder around and help… let them in… again I promise it will be ok
three… buy puff pastry, it will save your life – Sainsbury's sell two types of ready-rolled puff pastry, their regular one is perfectly nice but their all-butter one is wonderful for a little naughty luxury… and this is where it's ok not to bother making your own… keep 3 or 4 rolls in the fridge and between the door-bell ringing and the first bottle of champagne downed you'll have a collection of glorious piping hot mince pies ready to serve…
… oh and whilst making your own mincemeat is pretty simple, one other time saving little tip I would add is to jazz up shop-bought mincemeat by adding a dash of your favourite christmas liquor, a sprinkling of almond slithers and some grated orange or lemon peel…
Mince Pie Palmiers
1 sheet of ready-rolled puff pastry
1 jar of mince meat
so simple it would be a crime not to make them… simply spread the mincemeat onto the puff pastry sheet and then roll up each end until they meet in the middle.
Half an hour in the fridge should make them easier to slice, after which lay them on a baking sheet and bake at 170C for 20 mins
Classic Mince Pies with Cream Cheese Pastry
These are now my go-to mince pies, mainly because the pastry is simply the best sweet pastry you will ever make.
I use the left-over egg white to make some simple soft meringue tops but you can also cut shaped pastry lids for them too.
For the pastry
200g plain flour
150g butter
75g cream cheese
50g ground almonds
1 egg yolk
50g sugar
in a large bowl crumble the butter into the flour using your hands, until it resembles breadcrumbs, then add the rest of the ingredients bringing it together with a little water or milk until you have a soft dough – wrap in cling-film and pop in the fridge for 30 mins
roll out the chilled pastry and cut out rounds of pastry big enough to fill a muffin tin or cupcake tray.
Fill each case with mincemeat and then either top with a pastry lid or whisk up the left-over egg white with a tablespoon of sugar until you have stiff peaks and spoon on top.
Bake for 20 mins on 170C.
Dust with icing sugar to serve.
Pinwheel Puff Pastry Mince Pies
1 sheet ready-rolled puff pastry cut into 8cm squares
1 jar of mince meat
This may look like it would be fiddly but it's so easy you'll wonder why you'd never tried this classic pastry technique before.
If my instructions aren't clear try
this link
for a very clear instruction videos.
Take a square of pastry and slice a cut from each corner diagonally into the centre, stopping before you reach the centre.
Place a teaspoon of mince meat in the centre and then fold every other half-cut corner into the centre, leaving the other half flat, pushing into the mincemeat until you have done all four. I have made mini pinwheels to go on top of each one but you can simply brush them with beaten egg and bake on 170C for 20 mins.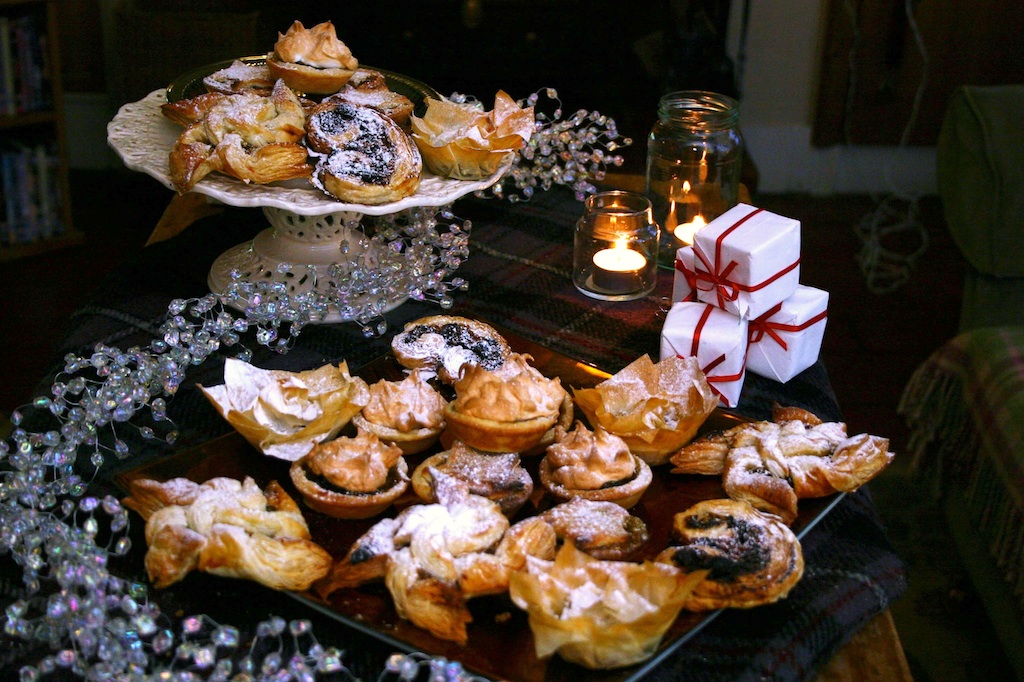 Filo Pastry Mince Pies
You will need a muffin tin or cupcake tin to make these.
I use a 12 hole muffin tin that I brush with melted butter.
1 jar of mince meat
melted butter
cut the filo into squares that are slightly larger than the holes in your muffin tin.
Brush each square with butter and lay it into the muffin hole, brushing it in to shape then layer each hole with 4 sheets of filo.
Don't worry if they look messy or they tear, this will enhance the finished look.
Fill each one with a teaspoon of mincemeat and then, with the left-over squares, create pastry roses by scrunching them up with your fingers and laying them on top.
Bake for 20 mins on 160C until golden.
A light dusting of icing sugar when cooled will make them sparkle!
eat and of course, enjoy…and if you listen closely you can hear the sound of sleigh-bells!