… last week I spent a few days baking Christmas treats for my December Lincolnshire Life Magazine article… it was quite odd having the aromas of sweet mincemeat and sausage rolls wafting through the house on a rainy November Wednesday but it was nice to have that wonderful feeling of Christmas begin to bubble up inside… i'm such a pathetic sod really, i just love all the tinsel and glitter… inviting guests to the cottage for a glass of warm spiced wine, home-made goodies ready to serve… I think if salads were invented for the Summer then surely pastry was developed for the Winter months…
…one of the little treats on my list are some yummy mini-quiches, they're so simple to whip up and yet they have that wonderfully rich quality to them that makes them feel like they've taken ages to make… I make mine in advance and then pull them out of the freezer and re-heat like some kind of frenzied version of the perfect domestic 1950's housewife… I made a bucket load for the photo-shoot and then with all the pastry flying around I had quite a bit left over to treat myself to a regular sized quiche of my own…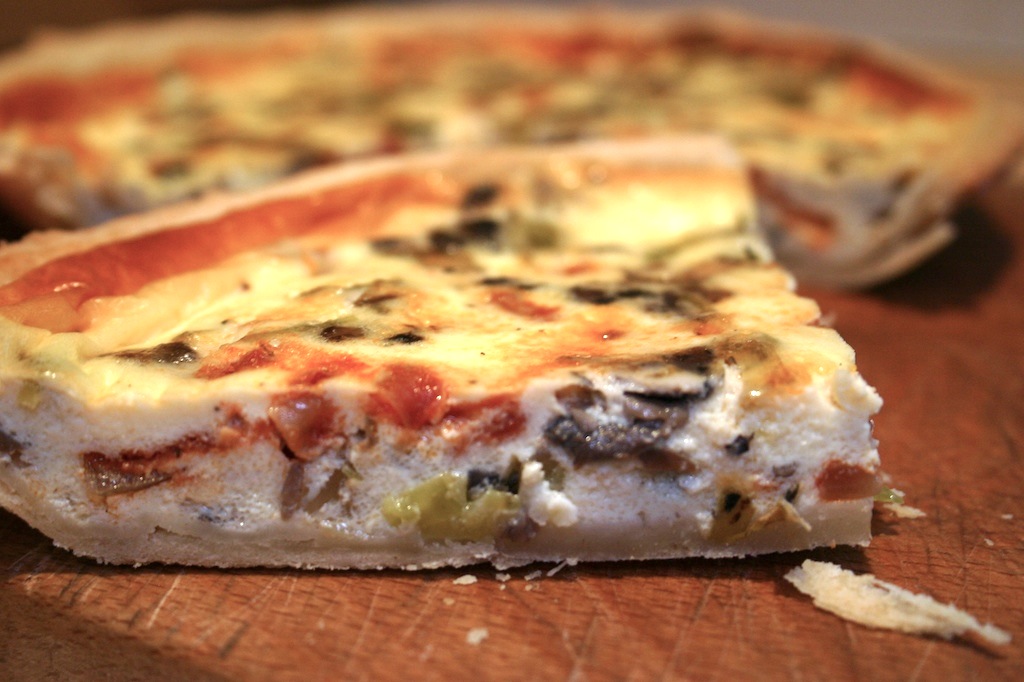 baby leek, mushroom and tomato jam puree
is it wrong that I wanted my quiche to be Christmas coloured, red and green… and the combination of leeks and mushrooms, that I think is heavenly, works so well for this that i'm not complaining… the addition of
tomato jam
is one of my 'quick tips for christmas' as I think having a jar or two around is so useful as it works with so many things…
on pizza's
…
in risotto's
…
roasted with a chicken
… plus if you pop it in little jars it makes a very nice gift too… i'm also a little obsessed with putting cream-cheese into my shortcrust pastry… it works for both sweet and savoury dishes and adds a little something special to the finished crust
for the pastry
8oz plain flour
4oz butter
2oz full-fat cream cheese
salt and pepper
some water to mix
for the filling
5 baby leeks – finely sliced
6 medium mushrooms – very finely chopped
3 tablespoons tomato jam (recipe in the link above)
4 eggs
360ml single cream
150ml soured cream
– make the pastry by crumbling the flour with the butter until you have evenly distributed breadcrumbs, season, then add the cream cheese and bring together with your hands and a little water if needed until you have a rough dough, wrap in cling film and pop in the fridge for 30 mins
– saute the leeks and mushrooms in plenty of butter until soft and the leeks are translucent and the mushrooms have turned a dark brown, season well and set aside
– in a large bowl whisk the eggs with the two creams, then add the leek and mushroom mix and stir well
– on a floured surface, roll out the pastry nice and thin and line a flan dish or pie dish… I used a brilliant George Wilkinson pie dish which i'd been very kindly sent to test, which is quite shallow so I didn't blind bake the pastry first… I find that if I place the pie dish on an oven tray it provides enough heat to bake the pastry fully leaving me with no soggy bottoms!
– pour the cream and leek mixture into the pastry-lined dish and then dollop the tomato jam on top and gently swirl it into the mix
– bake on 180C for 25-30 mins until gloriously golden
i'm entering this quiche into one of my favourite blogging challenges Alphabakes, which is hosted alternatively each month by Caroline from Caroline Makes and Roz from The More Than Occasional Baker.  The letter this month is J… and whilst i'm a big fan of the tenuous link I think you'll find that Jam starts with the letter J…
eat and of course, enjoy!