This leek and shallot cottage cheese quiche has the most wonderful hidden layer of pea and cottage cheese puree than elevates the dish from mere quiche to sublime deliciousness!
THE CHEESY HERB PASTRY
250g plain flour
120g butter
30g cheddar cheese – finely grated.
1 teaspoon finely chopped fresh herbs – I used thyme and oregano
water to mix.
FOR THE PEA PUREE
100g frozen peas – boiled for 3 mins and drained well
1 tablespoon greek yoghurt
1 tablespoon cottage cheese
salt and pepper
1 tablespoon lemon olive oil (or olive oil and a squeeze of lemon juice)
THE FILLING
1 leek – cut into 1 inch lengths
3 banana shallots – halved from root to tip
Butter and olive oil
fresh rosemary and thyme– finely chopped.
salt and pepper
2 eggs – beaten.
50ml single cream
150ml cottage cheese
I'm using a 22cm round fluted quiche tin with a loose bottom which I've buttered liberally.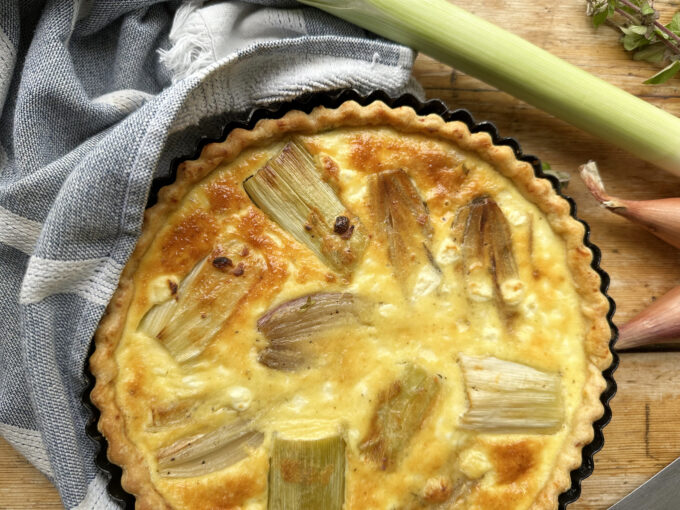 STEP 1: MAKE THE PASTRY.
Place the flour and butter into a bowl and rub lightly with your fingertips until it resembles breadcrumbs. Stir in the grated cheese and mixed herbs and then add a couple of tablespoons of water and using your hand shaped like a claw, mix until a ball of dough forms.  You may need to add a little more water to get a nice smooth dough that holds together. Wrap in cling film and pop in the fridge for at least 30 minutes.
STEP 2: COOK THE LEEKS & ONIONS.
In a warm pan melt a nob of butter and a tablespoon olive oil, then add the leeks and shallots and sauté gently for roughly 10 mins until they turn lightly golden.  Place the lid on and turn off the heat and let them soften in the pan whilst you make the rest of the quiche.
STEP 3: ROLL OUT THE PASTRY.
Now your pastry should be ready, roll it out on a lightly floured surface and then lay it into your pre-greased quiche tin. I don't bother blind-baking my quiches but feel free to do so if you wish.  I always bake my quiches on a metal tray which forces the heat up under the quiche and prevents any soggy bottoms.
Pre-heat your oven to 170C (fan.)
STEP 4: MAKE THE PEA PUREE
Place all the ingredients for the puree into a blender and blend until smooth.  Set aside.
STEP 5: MAKE THE EGG BATTER.
In a bowl, beat the eggs into the cream and cottage cheese and season with salt and pepper.  Pour into a jusg with a spout.
STEP 6: BUILD THE QUICHE AND BAKE.
Spoon the pea puree into the bottom of the quiche. Then lay the shallots and leeks on top. Pour the egg batter on top.  Bake on 170C for about 30 minutes until golden and risen, set aside on a wire rack to cool.  The quiche should easily slide out of the tin.
For more quiche recipes, check these out on Dom in the Kitchen.
Eat and of course, enjoy!