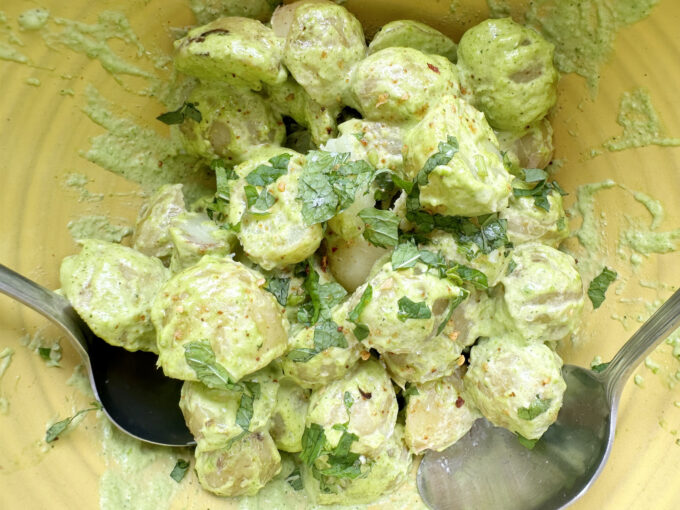 OK, this potato salad with pea mayonnaise will elevate your potato salad to another level.  I promise you, the flavour is beyond epic and you won't ever want to go back to regular potato salad. I've squished quite a lot of ingredients into the pea mayo, including basil and mint which has made it quite a chunky mayo but feel free to pull back or add your own ingredients as you see fit.
I'm using the immersion blender method to make this may which I have found pretty much impossible to mess up.  You need a stick blender and a large jug. Most stick blenders come with a jug. I'm using the Smeg HBF02PBUK Immersion Blender.
for the pea mayo
50g peas – cooked
fresh basil – a few leaves
fresh mint – a few leaves
1 garlic clove – peeled
1 egg yolk
1 teaspoon dijon mustard
the juice and zest of half a lemon
roughly 100ml olive oil
for the potato salad
750g new potatoes
water
salt
Boil your potatoes in salted water until soft, drain and set aside.
Cook your peas.  Drain well.
Place the warm peas, basil, mint and garlic into the bottom of the immersion blender jug and blitz until smooth-ish. Add the egg yolk, mustard and lemon juice and zest and bits again and remove the blender.
Pour in the olive oil, then place the immersion blender back into the bottom of the jug and blitz, then slowly bring the blender up to the top of the jug whilst blitzing all the time.  You should notice the ingredients will begin to emulsify and thicken to a glossy green paste.
Taste and add more salt and pepper or lemon juice if needed.
Pour the cooked potatoes into a large bowl and spoon over as much of the mayo as you want.  Stir well and serve.
For more salad recipes, check these out on Dom in the Kitchen.
Eat and of course, enjoy!