This pear and chocolate almond cake is so divine.  It reminds me of one of those wonderful cakes you'd buy in a fancy Parisian bakery you just happen to stumble across on the Rue de la Foie Foie. (This isn't a real place, it's just I've always wanted to be one of this people who says something like 'oh you must visit this wonderful cafe I stumbled upon in a secret corner of Paris on the Rue de la Foie Foie.) Don't worry, I hate me too…
Anyway, it's actually a wonderfully simple cake to make and is a great way to use up any abundance of pears you may have been mysteriously left on your doorstep by a friendly neighbour.   Chocolate and pear have a great taste synergy and these pears are so gloriously peary that they are such a treat with the rich dark chocolate in this cake.
recipe
85g butter
85g dark chocolate, broken into pieces
85g golden caster sugar
1 tablespoon whisky – I'm using Ardbeg
3 large eggs, separated
85g ground almonds
4 very ripe pears, peeled, halved and cored
icing sugar, for dusting
Grease and line a 25cm loose-bottomed cake tin.  I like to use melted butter to do this. Pre-heat oven to 180C (fan)
Melt the chocolate and butter in a bowl over a pan of hot water, (or if you're like me and not averse to risk, do it in the microwave in small bursts of heat.) Remove from the heat, stir in the whisky and leave to cool.
In a large bowl, whisk the egg yolks with the sugar until pale and thick, then fold this into the melted chocolate along with the ground almonds.
In a separate bowl, with a clean whisk, beat the whites until they reach a soft peak (try not to whisk them too stiffly or you'll have trouble folding them in). Stir a spoonful of the whites into the chocolate mix, then carefully fold in the rest of them in 2 additions. Spoon into the prepared tin. Level, then arrange the pears over the mixture, cut-side down.
Bake for 40 mins until the pears are soft and the cake is cooked all the way through. Leave to cool in the tin slightly before releasing it, then place on a rack to cool completely. Dust with icing sugar.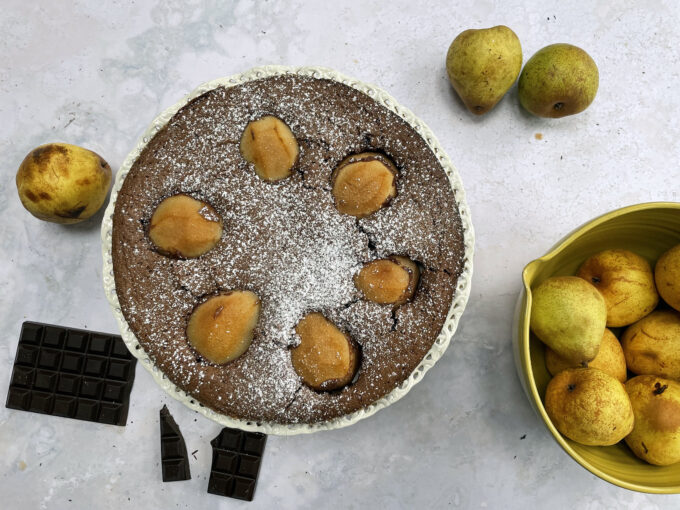 For more cake recipes, check these out on Dom in the Kitchen.
Eat and of course, enjoy!