Is there anything more wonderfully simple than a one-pot meal?  Literally just bung it all into a pot and let the oven do its thing. This Lincolnshire Sausage One-Pot Stew is perfect for a tasty mid-week dinner.  You can make it in the morning, or even the night before and then enjoy it for lunch the next day.   For me, this is all about one of those easy, midweek meals that will fill everyone up and warm the cockles of even the coldest hearts.
Plus it's cheap and cheerful.  Sausages, vegetables and stock.  What's not to love?
Grasmere Farm
I'm lucky enough to be working with the guys at Grasmere Farm, a local Lincolnshire based pig-farm who produce the most wonderful pork.  They've asked me to develop a couple of recipes with their gorgeous produce and of course I'm happy to work with such wonderful people and great tasting pork!
They've also very generously given me a discount code to offer you my readers. (This code will be live on Tuesday 8th Nov at midday.)  If you pop over to their website and use code: DOM15 at checkout you'll receive a whopping 15% off that order.  They ship all over the UK.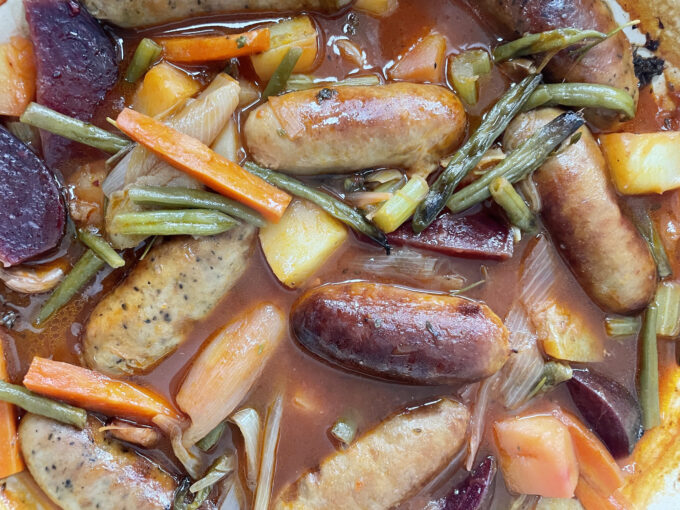 recipe
olive oil
6 sausages (I'm actually using 3 Lincolnshire and 3 caramelised onion sausages from Grasmere Farm)
3 banana shallots – halved and peeled
1 stick of celery – chopped
1 carrot – cut into batons
1 beetroot – cut into quarters
a handful of green beans – chopped
5 cloves of garlic – unpeeled
fresh rosemary and thyme – chopped
1 potato – chopped
1 tablespoon plain flour
100ml white wine
500ml good quality vegetable stock
1 teaspoon tomato puree
I'm using my Denby 30cm cast-iron shallow casserole dish with a lid but any oven-proof dish would work. Pre-heat your oven to 180C (fan.)
Place all the veg into the pot along with the garlic and herbs and sprinkle with salt and pepper and a slug of olive oil. Lay the sausages on top and pop into the oven for 30 mins (without the lid.)
After 30 mins, take it out of the oven, sprinkle over the plain flour and stir well.  Add the wine, the stock and the tomato puree and stir.  Place the lid on, then place it back into the oven for another 30 mins with the lid on, then remove the lid for a final blast for 15 mins.
And that's it!  Serve in deep bowls.
For more stew recipes check these out on Dom in the Kitchen.
Eats and of course, enjoy!