We are now deep into comfort food territory.  It's about snuggling down on the sofa in front of a warm fire with a big bowl of your favourite soup.  This roast tomato and feta soup is a bowl of comfort that tastes like a hug.  Sweet and rich from the slow roasting with a little bite of heat from the dried chilli and all rounded off beautifully with the salty tang from the feta cheese.  It is quite literally perfection in soup form plus the wonderful orange colour is bound to brighten up even the gloomiest of days.
For the soup
1 x 400g tin of chopped tomatoes (I love the Napolina brand)
1 red onion – peeled and cut into wedges
1 medium potato – peeled and chopped
3 gloves of garlic – skin on
1 length of vine tomatoes (roughly 12 small tomatoes)
1 teaspoon dried oregano
1 teaspoon salt
1 teaspoon pepper
½ teaspoon chilli flakes
1 teaspoon tomato puree
Extra virgin olive oil
¾ litre of vegetable stock
A dash of white wine (optional)
150g feta cheese
For the croutons
1 x ciabatta – torn into pieces
1 tablespoon truffle oil
Salt and pepper
1 teaspoon dried oregano
I'm using by 30cm shallow cast-iron casserole pan which can go into the oven but any oven-proof dish would work. Pre-heat the oven to 170C (fan.)
Empty the tin of chopped tomatoes into the pot and then add the onions, potatoes, tomato puree and garlic. Lay the vine tomatoes on top (still on the vine is fine.) Season well with salt and pepper, chilli flakes and dried oregano and then drizzle liberally with olive oil.
Place into the oven and roast slowly for 30 – 45 mins until the potatoes ar tender and the onions have begun to brown.
Carefully remove from the oven and remove the vine from the tomatoes.  Pour over the stock and the wine (if using.) Then crumble over 100g of the feta and stir well.
Pop the lid on and place it back into the oven for a further 20 mins.
This gives us the perfect time to make the croutons.  Place the torn pieces of ciabatta into a bowl and drizzle with truffle oil.  Season well and stir.  Lay them out onto a baking sheet and roast in the oven for 10 mins or until golden.
Let the soup cool by half before blending with an immersion or stick blender. Serve with the truffle croutons and some more crumbles feta.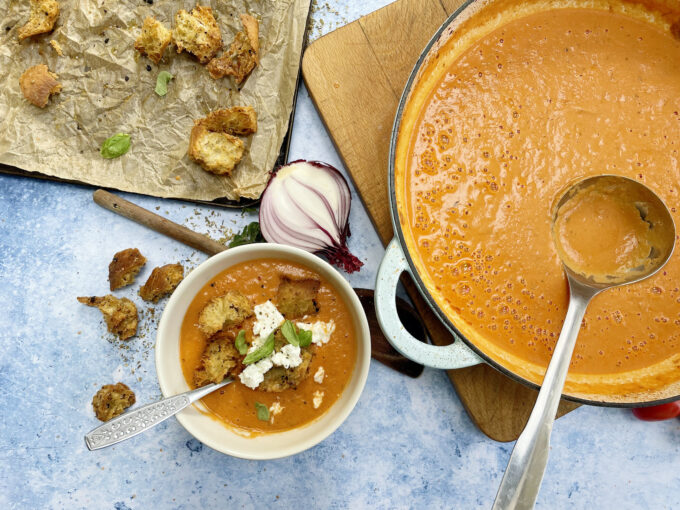 For more soup recipes, check these out on Dom in the Kitchen.
Eat and of course, enjoy!