confession time
So, I have a confession to make.  These Air Fryer Chicken Thighs are quite literally the best chicken thighs I've ever eaten.  So moist and tasty and that crispy skin… SO crunchy and delicious.  You'd think I'd be happy but to be honest I'm not really sure how I feel. As regular readers will know I have an aversion to over-complicated kitchen gadgets. Or any big, ugly gadgets at all to be honest and up until this point I had a really negative attitude towards the air-fryer in particular.  It's just a regular oven right? I couldn't have been more wrong!
And then all of a sudden…
an email appears from the wonderful folk at Very.co.uk asking if I'd like to help them develop some recipes for a campaign they're working on to create healthy Air Fryer recipes and help reduce waste in the kitchen. Well, I really couldn't say no.  It felt as though I'd manifested this to happen and I am all for helping promote good food practices.  Plus I get to discover what all the Air-Fryer fuss is all about.
Plus I got to choose my own Air Fryer from the extensive range available at very.co.uk. I went for a Ninja Air Fryer Max 5.2ltr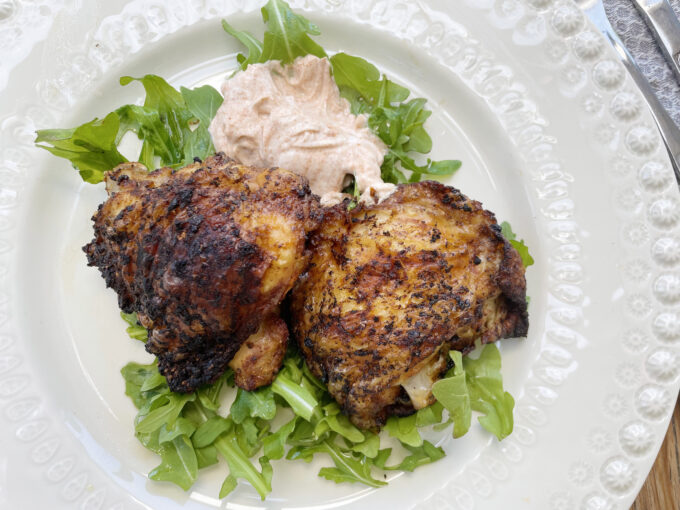 Chicken Thighs
And of course what's the first thing I wanted to cook in my new air-fryer?  Chicken Thighs of course.  Chicken thighs are by far the tastiest part of the chicken.  All that wonderful fat wrapped around the thigh, then covered with that wonderful skin.  They're also the cheapest bit of the bird to buy so if you're on a budget I couldn't recommend them high enough. They also make such a versatile meal. You can serve them with a simple salad, mashed potatoes, in a stew or just on their own as a quick snack.
Recipe
This recipe is for 4 chicken thighs.  Simply double it for 8 and so on but remember that depending on the size of your air fryer, you don't want to overcrowd the pan so cooking 4 at a time is the best way to get them nice and crispy.
4 chicken thighs – skin on and bone in (there's literally no point in using skinless chicken thighs for this recipe so don't bother asking!)
1/2 tablespoon olive oil
2 teaspoons of your favourite spice mix – I used this cajun spice mix from Tesco
1/2 teaspoon salt
Method
Pre-heat your Air Fryer by setting it to 200C and turning it on for 3 mins.
In a large bowl, place all the ingredients and then rub them well into the chicken thighs.
Place the coated chicken thighs skin-side-down into the pan of the air fryer and cook for 8 mins on 200C, then carefully turn them over so they're skin-side-up and cook for a further 6 mins on 200C or until they're beautifully crispy.  You can give them a final blast on the 'Air Crisper' setting for 2 mins.  I did this and the skin became extra crunchy!!
Smoked Paprika Mayo
3 tablespoons mayo
2 teaspoon smoked paprika
Simply place the ingredients into a small bowl and blend together with a spoon.
And that's it! How easy and simple is that?
For more chicken thigh recipes please check out these on Dom in the Kitchen.
Eat and of course, enjoy!