So, if truth be told this air fryer biscoff brownie lava cake was supposed to be just a regular brownie but I'm experimenting with the air fryer and I clearly got the timings wrong.  As it happens, it turned out to be a stunning lava cake (well, that's what I'm calling this hot melting mass of gooey chocolate.) Then I popped it in the fridge, it solidified and became more like it's intended mass of fabulousness.
The recipe for this air fryer biscoff brownie lava cake below is what I followed. It's my classic brownie recipe with a few additions, so I know it works.  I've also laid out the timings for exactly what I did.  I think if you want exactly this, then go for it.  If you want solid brownies, I'd add another 15 mins to the air-fryer timer!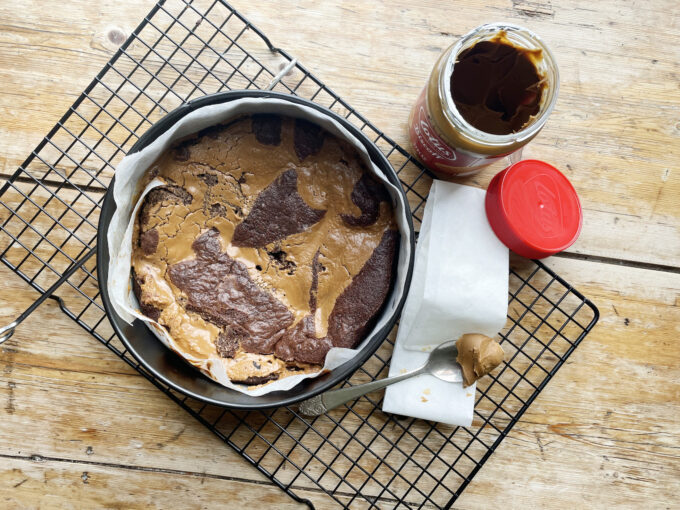 200

g

 d

ark chocolate

200

g

butter

3 large free-range eggs

275

g

 c

aster sugar

90

g

 f

lour

35

g

 c

ocoa powder

half a jar of

 

Biscoff Spread
I'm using my Ninja Max 5lt Air Fryer and used a 18cm round cake tin which I greased and lined with parchment paper.
I also cut a length of parchment that I ran under the cake tin and up the sides to act as a handle to life the cake tin out of the hot air-fryer.
In a pan, on a medium heat, melt the chocolate with the butter.  Set aside to cool whilst you make the rest of the lava cake.
Whisk together the eggs and sugar until it doubles in volume and becomes really thick and mousse like.  I used my stand mixer on full speed for 5 mins but an electric hand whisk will do the same.
Fold the chocolate/butter mix into the eggs.  Do this gently to avoid deflating the beaten eggs. Then gently fold in the flour and cocoa powder until you have a luscious dark and fluffy batter.
Add 5 or 6 teaspoons of biscoff spread and gently fold in. (Don't mix it, just fold it in a few times.)
Pre-heat your air fryer for 3 mins on 160C
Pour the batter into the cake tin, lower it into the air fryer pan and then add some more teaspoons of biscoff spread on top. I did about 8 teaspoons.
Set the air fryer to 160C and the timer to 15 mins.  Bake, then reduce the temp to 140C and bake for 30 mins for lava cake or 45 mins for more set brownies.
Carefully remove the cake tin from the air fryer pan and set aside on a wire rack to cool by half before serving as lava cake, or let it cool entirely if serving brownies.  2 hours in the fridge will also give you the most wonderful fudgy
brownies ever!
Eat and of course, enjoy!