The lovely folk at Keepmoat Homes have asked me to develop a couple of BBQ recipes that will inspire and delight any number of guests you may be inviting over to your garden this summer. I think these recipes for grilled chunky guacamole & cajun chicken ciabatta are really simple, absolutely heavenly and utterly delightful.
Keepmoat Homes is a top 10 UK home builder and leading partnership focussed home builder providing high quality, affordable homes across the country.
I always think that the BBQ should be thought of as an extension to the kitchen.  Another grill where you can cook your supper rather than an alien space reserved only for when the masses come round. Of course it's fab for big gatherings but this doesn't have to mean 500 burnt sausages and some raw chicken drumsticks, I think we're a little more evolved than that now!
This guacamole has a touch of smokiness to it as you grill the chilli, red onion and avocado first.  The chicken marinades in a wonderfully spicy Mexican-inspired sauce which compliments the guac perfectly.
For the Spicy Chicken Ciabatta (feeds 4)
4 chicken breasts
3 tablespoons plain yoghurt
1 pinch of salt
1 pinch of pepper
1 tablespoon olive oil
1 tablespoon Cajun Spice Mix – Schwartz do a great one, available at Tesco
2 baby gem lettuce
4 ciabattas
Place all the ingredients into a large bowl and mix together.  Ensure the chicken is fully coated in marinade.
Transfer to a sealable storage container and pop it in the fridge for at least an hour, if not longer.
Once it's ready, fire up the BBQ. Grill the chicken breasts on both sides for at least 8 mins or until it's fully cooked.  If you're unsure, cut into the chicken to ensure it's no longer pink.  Set aside the cooked chicken whilst you grill the ciabatta.
Cut the ciabatta in half longways, then drizzle a little olive oil onto the cut sides and place them face down onto the grill for at least 4 mins or until they are scorched and golden.
Cut the baby gem in half, leaving the stalk in place which will hold the lettuce together. Drizzle the cut sides with olive oil and place them on the grill until they have light scorch marks on them. Then set aside.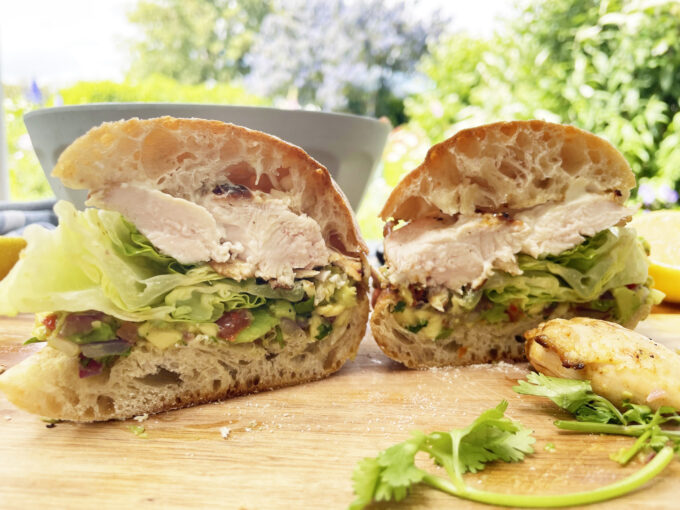 For the guacamole
½ a small red onion
2 fresh red chillies – sliced in half longways and de-seeded
3 ripe avocados – quartered and peeled (if they're slightly under-ripe for this recipe, that's actually quite a good thing!)
1 bunch of fresh coriander
8 cherry tomatoes
2 limes
extra virgin olive oil
a pinch or two of the amazing Mexican Salt from The Cornish Sea-Salt Company
Peel and slice the onion into thick rings and place them into a large bowl along with the chillies and avocados.  Give them a generous squeeze of lime and a pinch of the Mexican Salt, then a glue or two of olive oil.
Mix them gently till all the veg are covered in oil and seasoning and set aside whilst you fire up the BBQ.
Once your BBQ is nice and hot lay the veg out onto the grill and grill them until they're all lightly golden.  You don't want anything too soft.  Gather them up and take them back into the kitchen.
On a large chopping board, roughly chop your tomatoes, then tip the grilled veg onto the board along with some coriander leaves and get chopping.  You can go as small or chunky as you like.  I prefer this on the chunky side but ensure you chop and mix and chop and mix until it's all combined.
Place it all into a bowl, add some more olive oil, salt and lime juice and stir well.
Now it's time to assemble
Take an open side of ciabatta and slather it generously with the chunky guac.  Then lay the grilled lettuce on top followed by a chicken breast.  I've also used a generous squish of mayo to bring it all together.  Cut in half and serve!
TIP
Prep the cajun chicken the day before you want to eat as it tastes so much better once it's has 24 hours bathing in the wonderful marinade.
For more BBQ recipes check out DomInTheKitchen.com
Eat and of course, enjoy!